Vice President Joe Biden said the Islamic State's momentum has been halted, heralding the success of the Iraqi unity government and the international coalition ahead of the Iraqi prime minister's meeting with U.S. leaders next week.
"The momentum is in the right direction," Biden said Thursday at the National Defense University in Washington. "ISIL's aura of invincibility has been pierced."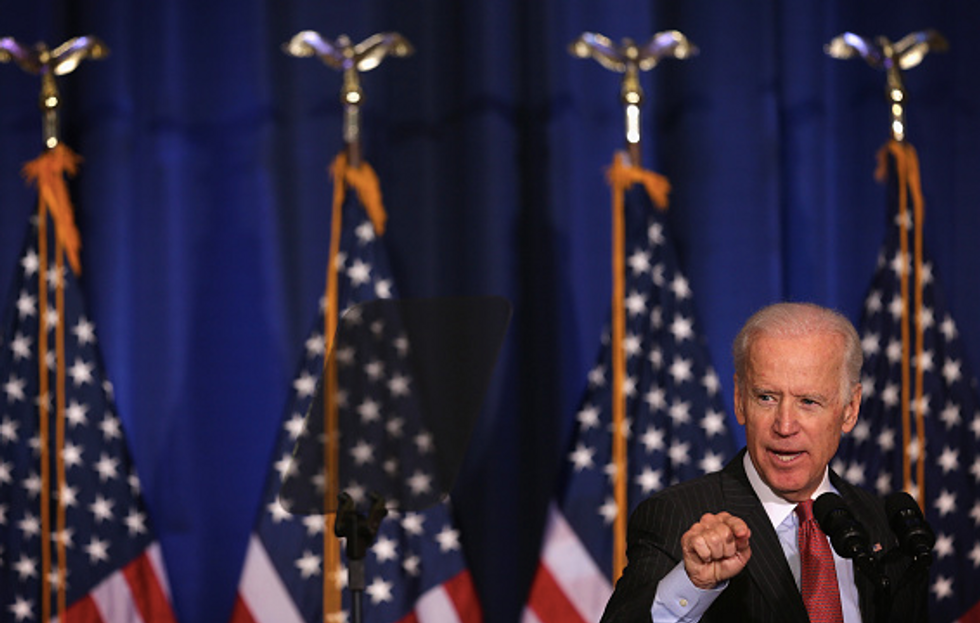 Vice President Joseph Biden delivers remarks on U.S. policy in Iraq at the National Defense University, April 9, 2015 in Washington, D.C. (Alex Wong/Getty Images)
"We are providing that help in a smarter way. Small number of advisers backed by a large coalition," Biden said. "This large coalition is backed by the most capable Air Force in the world. We are pounding ISIL from the sky, nearly 1,300 U.S. airstrikes alone. Thus far, thankfully, we have not lost – knock on wood – a single, solitary, U.S. serviceman to enemy fire. But this is a dangerous, dangerous, dangerous place."
He said that other coalition partners have engaged in combined 500 additional airstrikes, while other allies provided other support roles.
"Eight months ago, ISIL was on the offensive everywhere in Iraq," Biden continued. "No force in Iraq or Syria had proven capable of defeating ISIL head on. Today in Iraq, ISIL has lost large areas it used to dominate. ISIL's momentum in Iraq has halted and in many places has been flat out reversed. Thousands of ISIL fighters have been removed from the battlefield. Their ability to amass and maneuver has been greatly degraded. Leaders have been eliminated."
Biden noted critics who say the U.S.-led fight against the Islamic State has stalled and that "Iraq itself is likely to be a thing of the past doomed to split apart because of sectarian violence."
"Without a united Iraqi government, there was no chance of defeating ISIL," Biden said. "The irony of all ironies is that Iraq helped form its government because of ISIL. ISIL, the outfit that intended to tear Iraq apart."
In 2006, while serving in the Senate and mounting a presidential campaign in the midst of the U.S. involvement in the Iraq War, Biden supported dividing Iraq into three separate regions along sectarian lines.
But Thursday, Biden praised the reforms made by Iraqi Prime Minister Haider Al-Abadi, who next week will make his first visit to Washington to meet with President Barack Obama. Biden noted during the Thursday speech that he had been deeply involved in working with Al-Abadi.
"Not that we haven't discussed it a lot. He and I have probably spent more time on the phone than I have with my wife," Biden said.