Experts are baffled by a roughly 1,300-year-old structure built on an island in the middle of a Siberian lake, according to the Siberian Times.
Described as "Russia's most mysterious archaeological site," the Archaeological Institute of America says Por-Bajin is located roughly 20 miles from the Mongolian border and boasts outer walls that are 40 feet high.
The structure was reportedly excavated in the 1950s and 1960s, but archaeologists were unable to determine what the purpose of the intricate structure was. Irina Arzhantseva of the Russian Academy of Sciences has begun her own expedition, and is determined to get to the bottom of the ancient mystery.
Mysterious sight in the middle of nowhere http://t.co/rOQEN0gn7I http://t.co/us0092asZJ

— news.com.au (@news.com.au) 1428328912.0
The Archaeological Institute has some background on what is known about the site so far:
The few artifacts unearthed at the site seem to date it to the mid-eighth century A.D. During this period, Por-Bajin was on the periphery of the Uighur Empire, which lasted from A.D. 742 to 848 and was held together by forces of warriors on horseback.

Were some of those warriors once garrisoned at Por-Bajin? The Uighurs also might have built the site on an island for reasons other than defense. Perhaps the island was the site of a palace or a memorial for a ruler. Por-Bajin's unique layout, more intricate than that of other Uighur fortresses of the period, has led some scholars to suggest that it might have had a ritual role.

[...]

Determining how the site was used might also help archaeologists understand why it was abandoned. There is some evidence of a great fire at Por-Bajin, but could there be other reasons the Uighurs eventually left?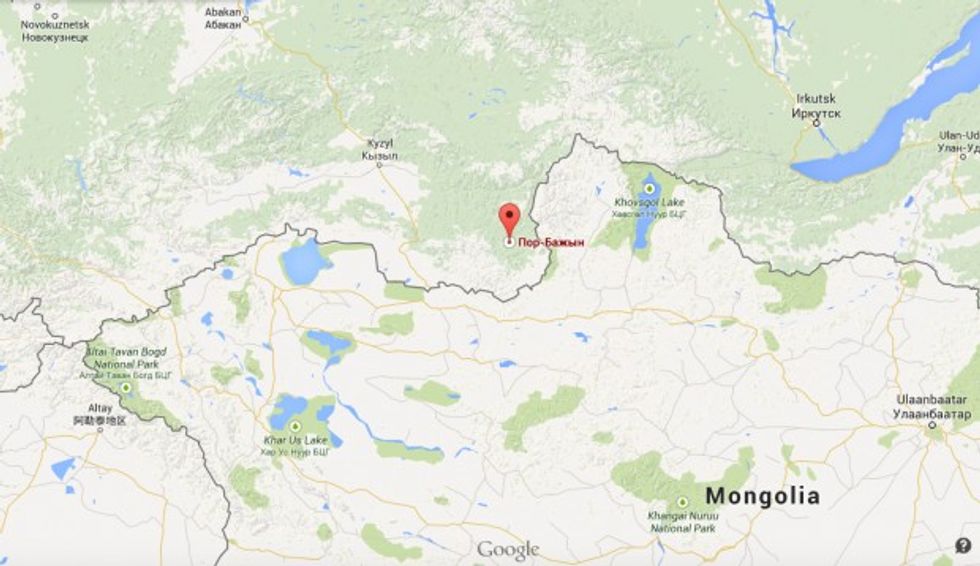 Image credit: Google Maps
According to the Siberian Times, archaeologists have found clay tablets of human feet, art on the walls, giant gates and fragments of burnt wood. There are also indications the structure was influenced by Chinese architectural tradition, yet the purpose of the isolated structure remains unknown.
Get the full story from the Archaeological Institute of America.
(H/T: Daily Mail)