President Barack Obama was surprised that one of the questioners in the audience at a town hall forum in Kingston, Jamaica was a native of his hometown of Chicago.
The woman, who is studying abroad, said, "I love my city but the violence is terrible, particularly among young black men."
She added, "I know we are talking an awful lot about police brutality. But I've lost a lot of friends from people who look just like me. So that's the problem and I would like to know what you believe is the true source of the violence and what is one solution to an extreme problem."
Obama explained there was no one solution, but said it was four steps: fighting the drug trade, gun control, better education and communities stepping up. And he tied communities stepping up with recent events of police shootings.
"Government has to act. We have to have effective policing, which means policing that is actually protecting, as opposed to some of the things we've been seeing of late in the United States and I'm sure is true of other countries," Obama said days after a South Carolina police officer was charged with murder for shooting death of an unarmed black man.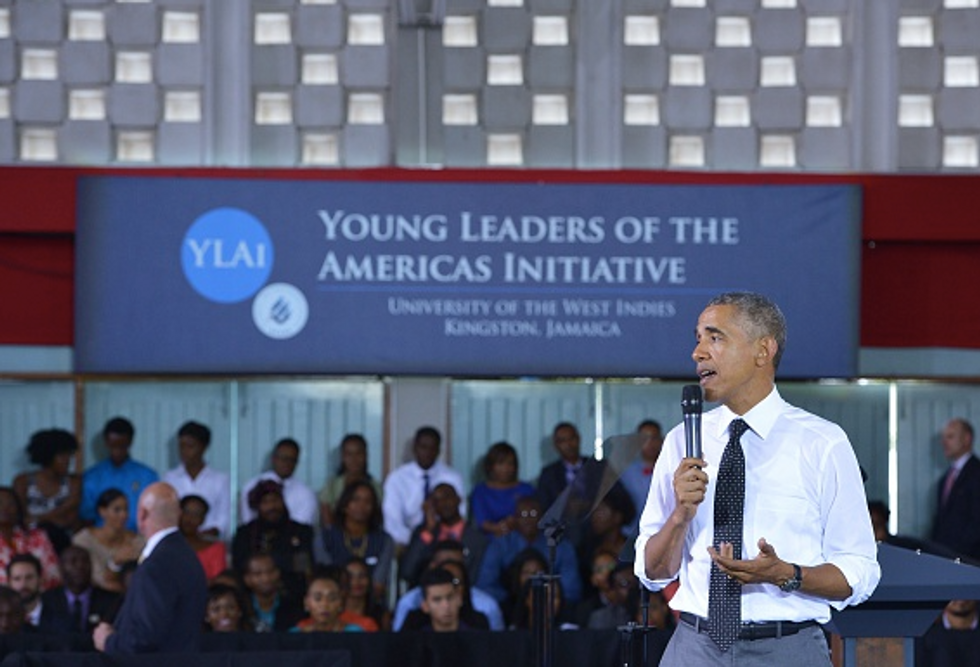 President Barack Obama speaks during a town hall meeting with young leaders at the University of the West Indies on April 9, 2015 in Kingston.  (MANDEL NGAN/AFP/Getty Images)
Last year, there were two major incidents, one in Ferguson, Missouri, another in New York, where police confrontations led to the deaths of black men.
"Police have an extraordinary difficult job," Obama continued. "The overwhelming majority do a great job under severe circumstances. But there has got to be trust built between the communities. I had to put a task force together that put together excellent reports in the wake of Ferguson as to how we can do that."
Obama identified the "illicit drug trade," as the top cause of violence, which he said creates a market for other crimes. Though earlier in the town hall forum, he said the war on drugs has been counterproductive, mostly criticizing over incarceration.
He named guns as a second problem, and referenced the 2012 school shooting in Newtown, Connecticut.
"It is a mistake that we do not do a better job of putting in place common sense gun safety regulations that would keep guns out of the hands of criminals," Obama said. "But apparently a majority of Congress doesn't agree with me, even after six-year-olds were viciously gunned down in their classroom."
The third solution is giving young people "alternative paths" from crime by "investing in early childhood education," and spending more for better schools.
The fourth solution, Obama said, is "our own responsibility," adding, "We have control in our own community," referring to individuals and local governments.
"There are a whole bunch of folks who have really tough backgrounds, that come from terrible circumstances, and are really poor, but they don't go around shooting somebody," Obama said. "They don't beat somebody over the head for sneakers or because they looked at them the wrong way."
—