It happened in a specific part of Chicago – and now it's happening across one region of Virginia.
The keyless car remotes commonly used among drivers to lock and unlock their vehicles aren't working, and no one seems to know why.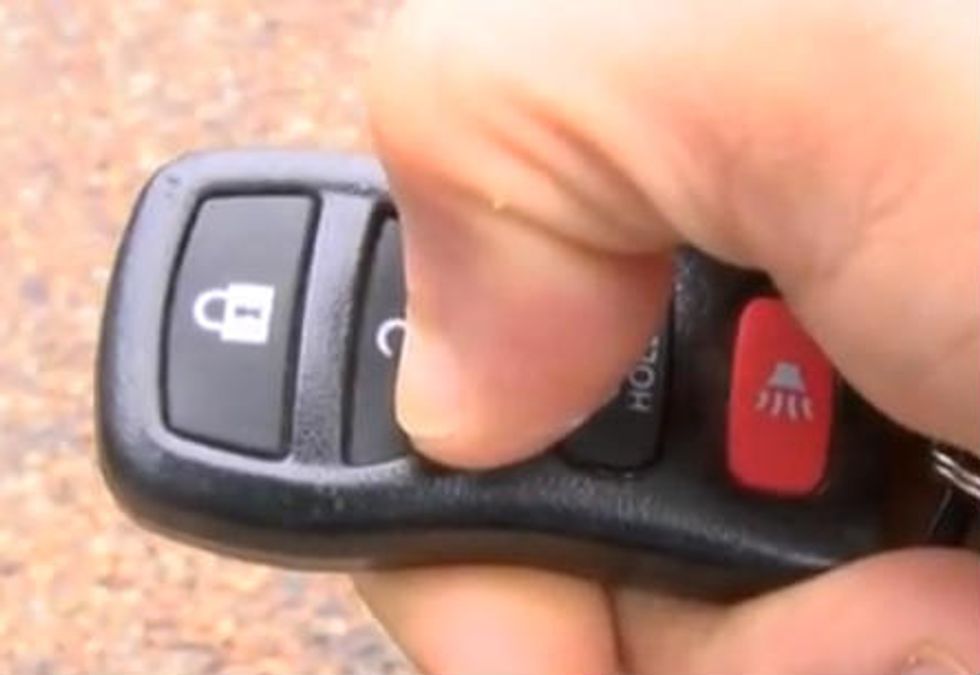 Image source: WAVY
Near the Virginia coast, some have speculated that the keyless remote radio frequencies were interfering with the frequencies at the nearby Norfolk Naval Shipyard. The shipyard launched an investigation to see if that was the case, WAVY-TV reported.
"Recently, Norfolk Naval Shipyard (NNSY) has received inquiries regarding issues related to possible radio frequency (RF) interference disabling remote keyless entry devices," a representative for the shipyard told the local TV station. "NNSY has looked into the matter and at this time has not been able to identify any equipment at NNSY generating RF signals that could be the source of this problem. As the source is unknown, NNSY cannot speculate on the range or duration of the interference."
As officials try to figure out what might be causing this to happen, calls from across the coastal region of Portsmouth, Norfolk, Chesapeake and Virginia Beach have been pouring in.
"If I walk away and I press the button, I assume the car is locked. It's not locked. Someone could get in your car easily, no problem," Shawn Loutzenhiser told WAVY.
But while this mystery has attracted a lot of attention recently, this isn't the first time it's happened.
The Virginian-Pilot reported on similar occurrences in 2009, when Virginia motorists also pointed at the naval shipyard, but the shipyard said it couldn't determine the cause.
Randy Miller, the co-owner of a store in Chesapeake that sells and services garage doors and electric openers, told the Pilot in 2009 that military aircraft have been known to affect keyless entry devices, but he said the openers he dealt with hadn't been affected for years since the military stopped using the same radio frequency.
Watch WAVY's local coverage below:
Just weeks ago, drivers hundreds of miles away in Chicago reported having similar problems. A pastry shop owner said her key fob doesn't work whenever she parks in a specific spot just outside of her shop; a local reporter who parked his own car in the same spot experienced the same.
Mechanic George Clos was baffled by the mystery, especially since he said this isn't the first time a customer has come to him about it.
"There [have] been many occasions where customers have called me and couldn't get into their car, couldn't make it work. [They] towed their cars in, and everything starts to work fine when we get them in there," Clos told WFLD-TV.
(H/T: WAVY-TV)
—
Follow Jon Street (@JonStreet) on Twitter