When British Prime Minister David Cameron was photographed at an election rally earlier this week, the resulting images appeared to show a robust and enthusiastic crowd.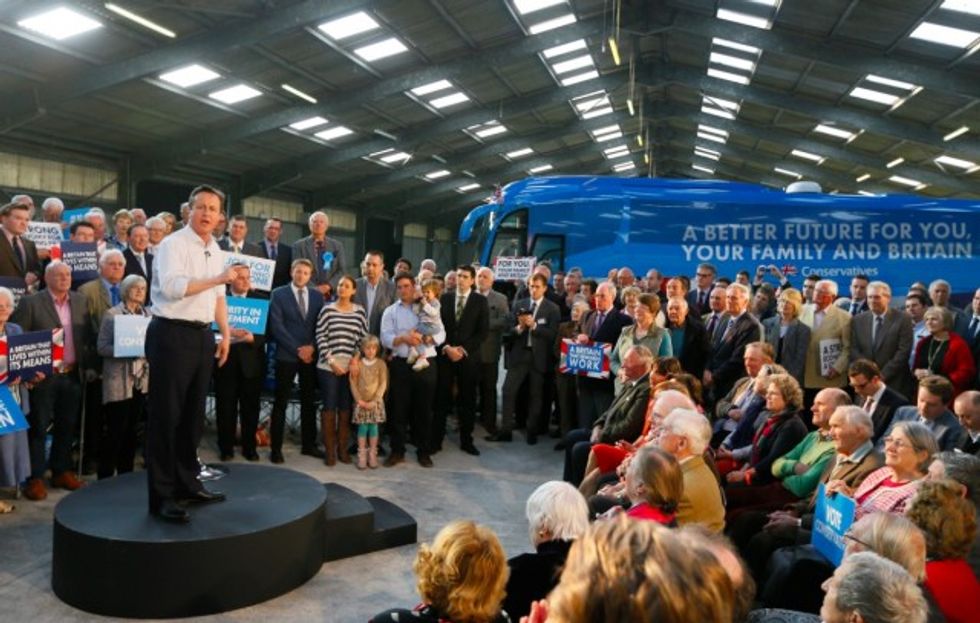 Britain's Prime Minister David Cameron speaks during a Conservative Party rally at The Royal Cornwall Show ground near Wadebridge, south western England, Tuesday, April 7, 2015. Britain goes to the polls in a General Election on May 7. (Image source: AP/Kirsty Wigglesworth, Pool)
Britain's Prime Minister David Cameron (Image source: AP/Kirsty Wigglesworth, Pool)
But as the Spectator reported, alternate angles on the proceedings seemed to tell a different story:
The PM is currently holding a rally in Cornwall, in what appears to be a massive cow shed pic.twitter.com/eJh6RrnsQ6

— Niall Paterson (@skynewsniall) April 7, 2015
To give you a better idea of the size of this barn, and the size of the rally, the event is entirely behind this bus pic.twitter.com/4SPBJ8B1X7

— Niall Paterson (@skynewsniall) April 7, 2015
The Spectator added that Cameron's "rally" wasn't quite that, particularly in the "traditional sense where normal people turn up. This appears to be a rallying of party activists toward the cameras, a photographic backdrop for the Prime Minister featuring the converted, not the curious."
In fairness, the paper noted that other political parties employ similar tactics, pointing out that the audience for former Prime Minister Tony Blair's Labour speech on the same day was seemingly filled with built-in, ardent supporters who excoriated detractors.
Top UK business leaders back Tony Blair's warning over possible EU exit http://t.co/nLbWAzXkDg

— The Guardian (@guardian) April 7, 2015
This Tony Blair event very nostalgic. A member of the audience even called me "Tory scum" for asking a question.

— James Landale (@BBCJLandale) April 7, 2015
Modern trait of crowd booing journalists who ask the most relevant questions. Expect more of it to come. #Blair

— Chris Gibson (@ChrisGibsonNews) April 7, 2015
"The parties summon these applauding placard-bearers from their membership lists or sympathetic organizations in order to create an atmosphere for the cameras and evening news bulletins, rather than to persuade anyone present at the 'rally,'" the Spectator added.
—
Follow Dave Urbanski (@DaveVUrbanski) on Twitter