As self-driving cars become a more tangible reality for the future of road travel, their ability to let riders do something other than pay attention to the road is one of the main draws. But one detail might have been slightly overlooked on this front and that's the factor of motion sickness, a new study says.
Anyone who has been a passenger on a road trip and has tried to read while riding has probably experienced some level of queasiness.
Researchers at the University of Michigan's Transportation Research Institute surveyed more than 3,200 adults from six countries, including the U.S., about the types of activities they would do instead of driving in an autonomous car. More than a third said they would do things like read, text, watch movies, play games and work, a news release about the study stated.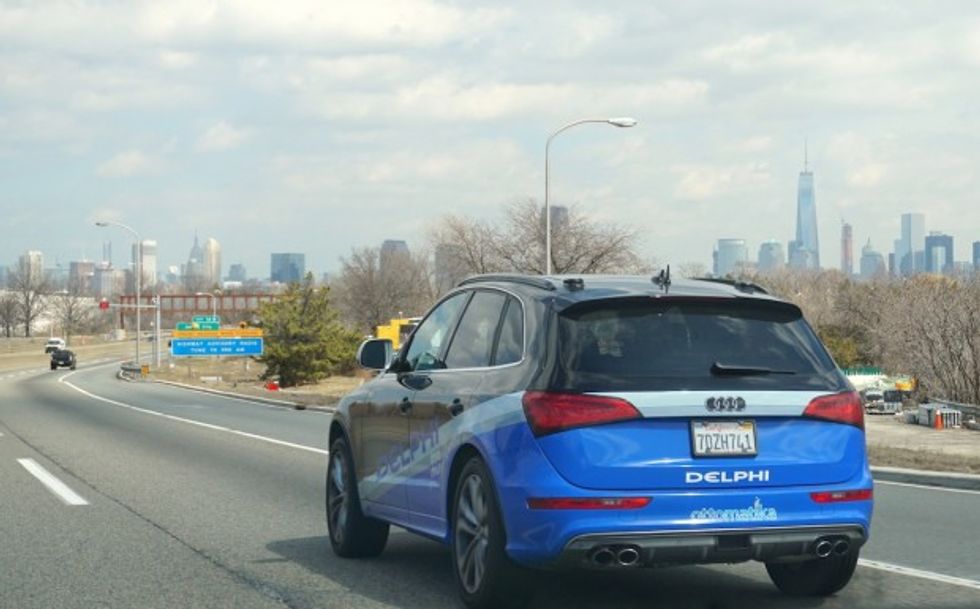 In this Monday, March 30, 2015 photo provided by Delphi Corp., the company's autonomous car approaches New York City, its final destination of a 3,400-mile road trip across the U.S., near Jersey City, N.J. Ninety-nine percent of the time, the car steered itself; only in very tricky situations, like a construction zone, did drivers take control. Now engineers will take the reams of data from the trip and use it to further advance autonomous technology. (AP /Delphi Corp.)
Only 6-12 percent of Americans, and similar percentages from other countries, would experience moderate to severe motion sickness as a result in a self-driving car, but the researchers still say it's something that should be considered by manufacturers.
"Motion sickness is expected to be more of an issue in self-driving vehicles than in conventional vehicles," Michael Sivak said in a statement. "The reason is that the three main factors contributing to motion sickness — conflict between vestibular (balance) and visual inputs, inability to anticipate the direction of motion and lack of control over the direction of motion — are elevated in self-driving vehicles."
In order to reduce the likelihood of motion sickness for people who want to engage in these activities while on the road, the researchers suggested car manufacturers include large windows, transparent video displays and fully reclining seats and require passengers to sit facing forward.
Sivak said that "the frequency and severity of motion sickness is influenced by the activity that one would be involved in instead of driving."
Most people surveyed said they would look at the window, talk on their phones or sleep while on their way from point A to point B in a self-driving car. These activities are less likely to contribute to motion sickness.
For more details on motion sickness and why it happens, check out this TED Talk:
Several auto manufacturers and even Google are in the process of road testing driverless cars. In fact, just last week an autonomous car completed a 3,400-mile road trip.
Auto supplier Delphi Corp. fitted an Audi Q5 with radar, cameras and laser sensors to navigate the 15-state journey from San Francisco to New York, mostly traveling on highways. The car drove itself 99 percent of the time, Delphi said Thursday.
Along the way, the autonomous Audi never drove above the speed limit, even when everyone else did. As a result, other drivers subjected the car — and its human occupants — to "a few hateful gestures," said Jeff Owens, Delphi's chief technology officer Jeff Owens.
The person sitting in the car's driver seat intervened once when traffic was weaving around in a construction zone, and again when the car didn't want to move into a busy left lane to avoid police stopped on the right shoulder. The car also got a little skittish when it was next to semi-trailer trucks, edging over to avoid them. But for the most part, it easily navigated bridges, traffic circles and open highways, even in heavy rain, Owens said.
"We expected we would be in autonomous mode most of the time, but to be in it close to 99 percent of the time was a pleasant surprise," Owens told The Associated Press Thursday. "The equipment was flawless."
Watch this report about the successful trip:
(H/T: SlashGear)
—
The Associated Press contributed to this report.