There have been reports in recent years that Islamic State militants have raped women in the parts of Iraq and Syria they have captured.
Those allegations reached a new low this month when a Canadian aid worker said a 9-year-old girl had been sexually abused by 10 jihadist fighters in Iraq and was now pregnant.
The girl "was sexually abused by no fewer than 10 men," Yousif Daoud, a Canadian aid worker, told the Toronto Star Thursday. The Star reported that Daoud asked that the paper use a pseudonym for him to avoid his losing trust with the Yazidis he helps.
"Most of them were front-line fighters or suicide bombers who are given girls as a reward. She was in very bad shape," he said.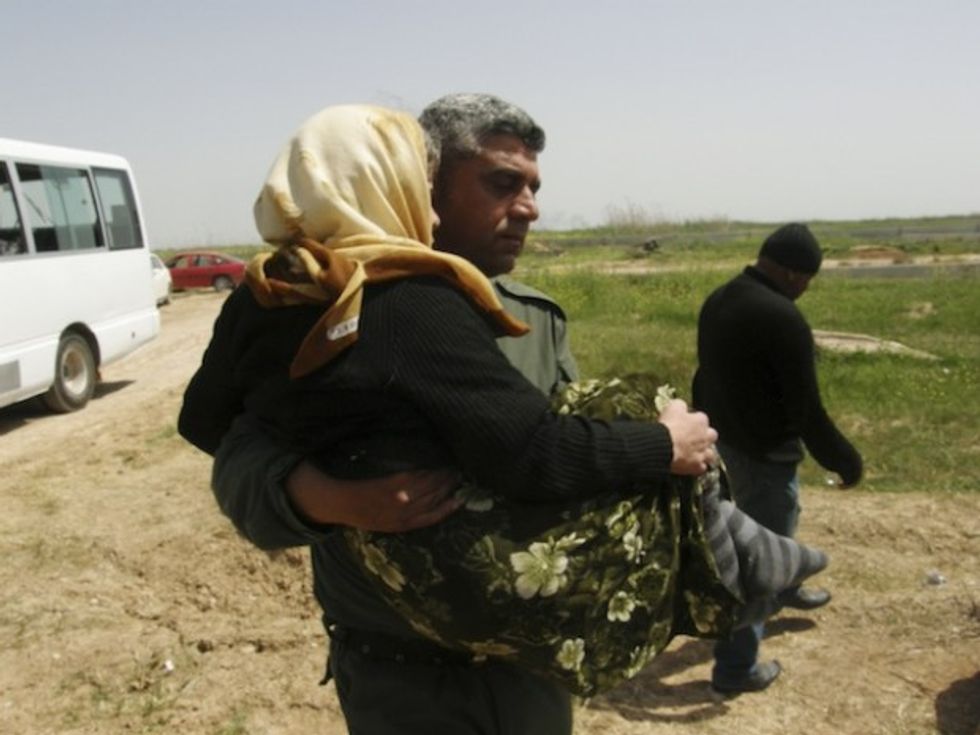 A man carries a Yazidi released by Islamic State group militants as she arrives in Kirkuk, 180 miles north of Baghdad, Iraq, Wednesday, April 8, 2015. The Islamic State group released more than 200 Yazidis on Wednesday after holding them for eight months, an Iraqi Kurdish security official said, the latest mass release of captives by the extremists. (AP Photo)
The aid worker said the girl had been flown to Germany by a Kurdish charity for medical attention.
"This girl is so young she could die if she delivers a baby," Daoud told the Canadian paper. "Even a caesarian section is dangerous. The abuse she has suffered left her mentally and physically traumatized."
The girl was among 200 Yazidis released by Islamic State militants Wednesday after spending eight months in captivity.
Gen. Hiwa Abdullah, a peshmerga commander in the northern Iraqi city of Kirkuk, told the Associated Press that those released were in poor health and had been either abused or neglected. Among those released were 40 children.
Yazidi girls and women have previously reported being raped, tortured, forcibly married or enslaved by Islamist militants, the Toronto Star noted.
"If they are married, their husbands won't take them back if they are pregnant. And it's clear that the babies will never be accepted," Daoud said.