On Tuesday, CNN host Wolf Blitzer bluntly asked Rep. Debbie Wasserman Schultz, the chair of the Democratic National Committee chair, if it's "OK to kill a 7-pound baby." He did not get a yes or no answer.
Blitzer's question was the result of an ongoing spat between Schultz and GOP presidential candidate Sen. Rand Paul (R-Ky.), who told the host last week that it sounds like Schultz is "OK with killing a 7-pound baby." She responded in a statement, saying she supports "letting women and their doctors make this decision without government getting involved."
Schultz repeated many of the same talking points on Tuesday, again declining to answer the actual question. But she also speculatively asked if Paul would "let a woman die" rather than allow her to get a life-saving abortion.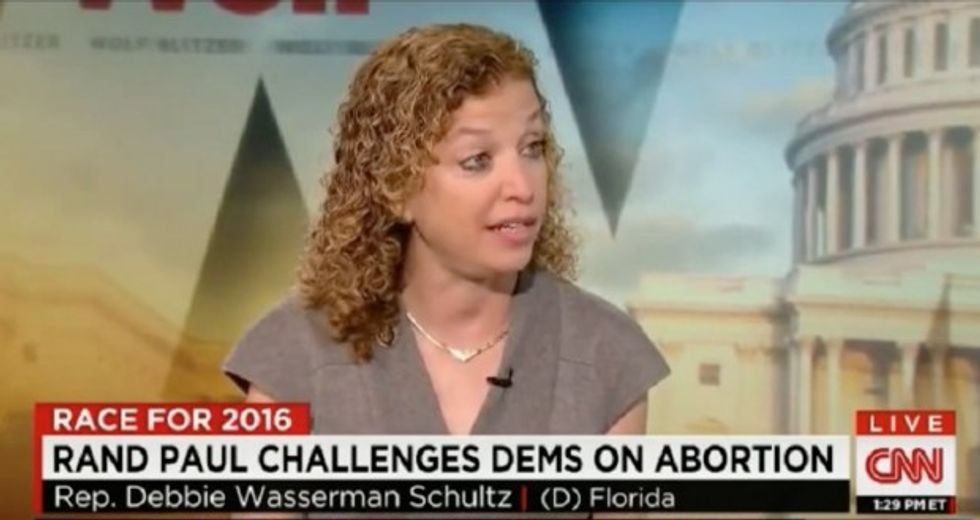 (Screengrab via CNN)
"But is he right when he says that it's OK, from your perspective, to kill a 7-pound baby in uterus? Is that your position?" Blitzer asked.
"We have very different definitions of personal liberty. I made that clear in my response the Democratic Party's position is we are pro-choice," Schultz said. "We believe a decision on a woman's reproductive choices is best left between a woman and her doctor and I am still waiting for Rand Paul to say whether or not he supporting exceptions when a woman is raped, going to force a woman to carry a baby to term and not allow her to make that choice? When she's the victim of rape, the victim of incest? Are we going to let a woman die? Would Rand Paul let a woman die because she's carrying a baby or is he going to let her make that choice with her doctor?"
Earlier in the segment, she accused Paul of wasting his time debating her on abortion during the launch of his presidential campaign instead of focusing on important issues like the "economy, jobs, and helping people reach the middle class."
Watch the video via CNN below:
(H/T: Mediaite, Fishbowl DC)
---