The director of U.S. Immigration and Customs Enforcement clashed with Rep. Louie Gohmert (R-Texas) over the Obama administration's immigration policies during a Tuesday House Judiciary Committee hearing. Things eventually got so tense that ICE Director Sarah Saldana actually had to ask Gohmert to stop "yelling."
Gohmert noted that Judge Andrew Hanen has temporarily halted President Barack Obama's executive actions to shield millions of illegal immigrants from deportations — and then accused the administration of misleading the judge in its past approval of benefits for eligible immigrants.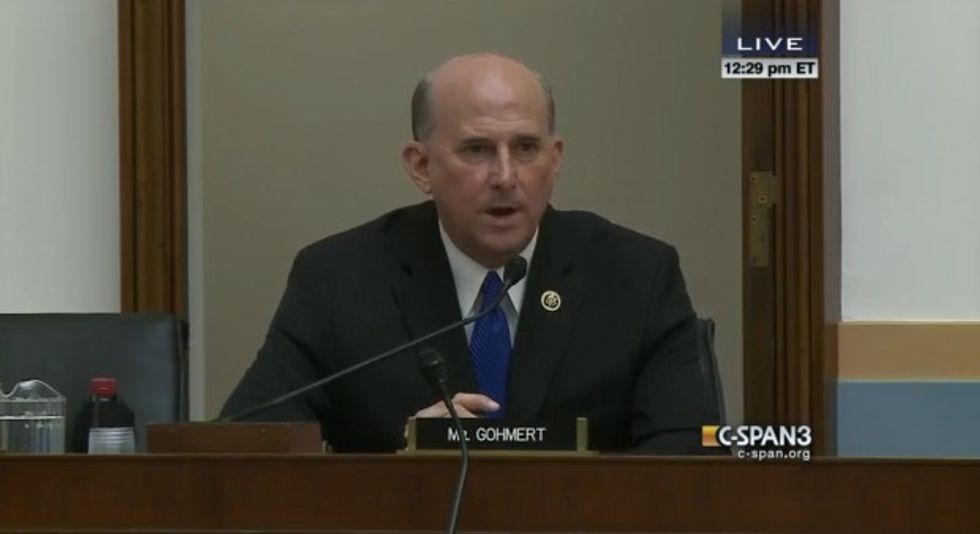 C-SPAN 3
The Obama administration apparently argued in court and in legal documents that the president's immigration plan would not be implemented until late February, according to Hanen. However, the Department of Justice later told Hanen that more than 100,000 illegal immigrants had been issued three-year deferrals between November 20 and February 16, when the injunction was ordered, a move that irked the federal judge.
Gohmert then made the case that the three-year deferrals are "illegal" following the court ruling.
"I want to know why you didn't deport people who got three-year benefits when those three-year benefits were illegal," Gohmert said.
"I'm not aware of that being the facts," Saldana replied. "I have not seen anything that says that someone that was granted status or lawful status under the 108,000 has anything to do with me. We are enforcing the priorities, that's how we are going about our business."
After reading some of Hanen's scathing remarks on the Obama administration's unilateral immigration actions, Gohmert's started increasing in volume.
"If you don't like fraud, does it bother you that your Homeland Security Department that you work for has actually instigated a fraud among the United States District Court for the Southern District of Texas?" Gohmert said.
"Representative Gohmert, with all due respect, I would appreciate you not yelling. I will answer your question as best I can, but—" Saldana responded before being interrupted.
"Well, thank you for your dilatory answer, but I'd like an answer," the Texas congressman shot back.
Saldana then pointed out that the issue of more than 100,000 illegal immigrants who have been granted three-year deferrals is currently tied up in litigation and she doesn't oversee all of the federal agencies involved in the program.
"I can only speak to questions regarding ICE, and I'm glad to do so if you've got one that connects the subject to ICE," she added.
Before yielding the floor, Gohmert asked the ICE chief for the second time if she had any idea who issued a November "guidance" that authorized the three-year deferrals prior to the injunction.
"As they say in federal court, asked and answered," Saldana said.
---