The owners have been mining there for a century.
The Bureau of Land Management is trying to step in and assert control.
Now the armed citizens of the Oath Keepers are streaming in to take a stand against the government.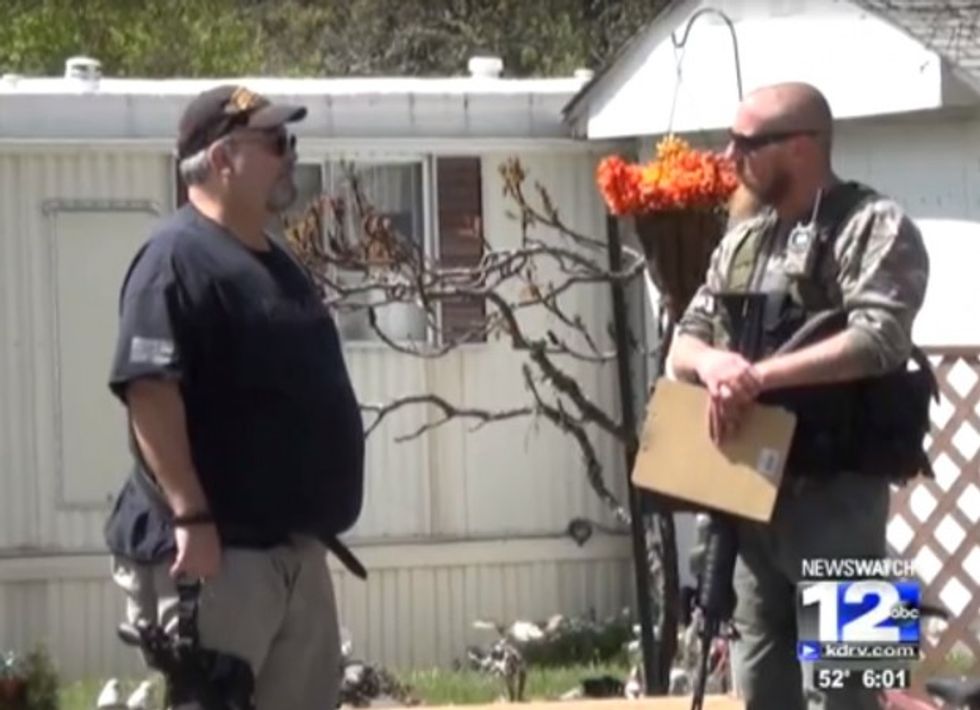 Oath Keepers gather to defend an Oregon mining claim against the Bureau of Land Management. (Image via KDRV-TV)
It's a gathering reminiscent of the showdown last year between the BLM and Nevada rancher Cliven Bundy — though with plenty of differences.
The developing standoff is centered around the Sugar Pine Mining Claim in the Galice Mining District in southwestern Oregon, where KDRV-TV reported Oath Keepers are gathering to defend mining claims from the BLM.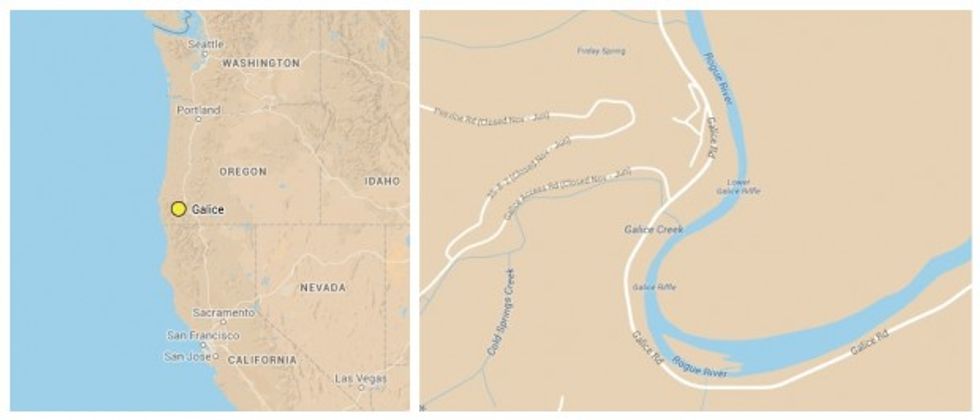 Image via Google Maps
The Raw Story reported that the government had given the miners a deadline of April 25 to get their equipment off the land — and the miners don't intend to comply.
According to the miners, fighting back against the BLM is expensive but the miners believe the law is firmly on their side, writing in a statement:
This case is headed in a direction that presents what is probably a once-in-a-generation prime opportunity to strike at the heart of the very surface management authority of the [Department of the Interior] and USDA and to restore the "as patent" rights of every mining claim owner in the United States by striking down the actual source of that intrusive authority.
The Sugar Pine claim was established in 1876, the Shasta Lantern noted, making it one of America's oldest claims.
The miners contend the BLM lacks authority there since Congress set aside the Galice Mining District as a "local governing body for and by miners," granting them "the right to create and enforce local rules and regulations" provided they did not conflict with U.S. law.
The miners also say the BLM hasn't produced evidence that the Interior Department had severed its rights under the 1955 Surface Resources Act, the only way the miners could lose their exclusive rights to the well-established claim, the Raw Story noted.
The mining district has produced more than 10 million ounces of gold, the Lantern reported, and geologists estimate there could be 90 million more ounces waiting to be extracted.
Oath Keepers are coming from far and wide to defend the miners, saying their move is quintessentially American.
"That's what being an American's all about," said Blaine Cooper, an Arizona State Militia member driving to Oregon, in a video posted to YouTube. "We don't allow our neighbor to be enslaved or beaten or tortured by government jackboots because they want to steal our land and our resources to keep us under their thumb."
The BLM is contending that the miners' documents are outdated and that since the mine's ownership has changed hands since the 1870s, the miners' claim has not been grandfathered-in as the miners maintain.
"We've sent them those letters," the BLM's Jim Whittington told KDRV. "They also have the right to appeal our notice, that it requires either a plan of operation or notice, and some informal contacts with their lawyer…it sounds like they may appeal. So if they appeal, that starts another administrative appeal process."
Watch KDRV's report below:
—
Follow Zach Noble (@thezachnoble) on Twitter