On April 27, 2011, Afghan Air Force Col. Ahmed Gul opened fire inside air force headquarters at Kabul's international airport, killing nine Americans in the deadliest insider attack on coalition forces of the Afghanistan War.
It was the fourth such "green on blue" attack on NATO coalition members by a member of the Afghan security forces in one month.
Now, TheBlaze has learned that new evidence suggests Gul received more than $250,000 to carry out the attack.
Family members of the victims who spoke to TheBlaze TV's For the Record believe senior U.S. military officials lied to them about Gul's true motive, which would have revealed ongoing corruption and criminal connections within Afghanistan's military and government.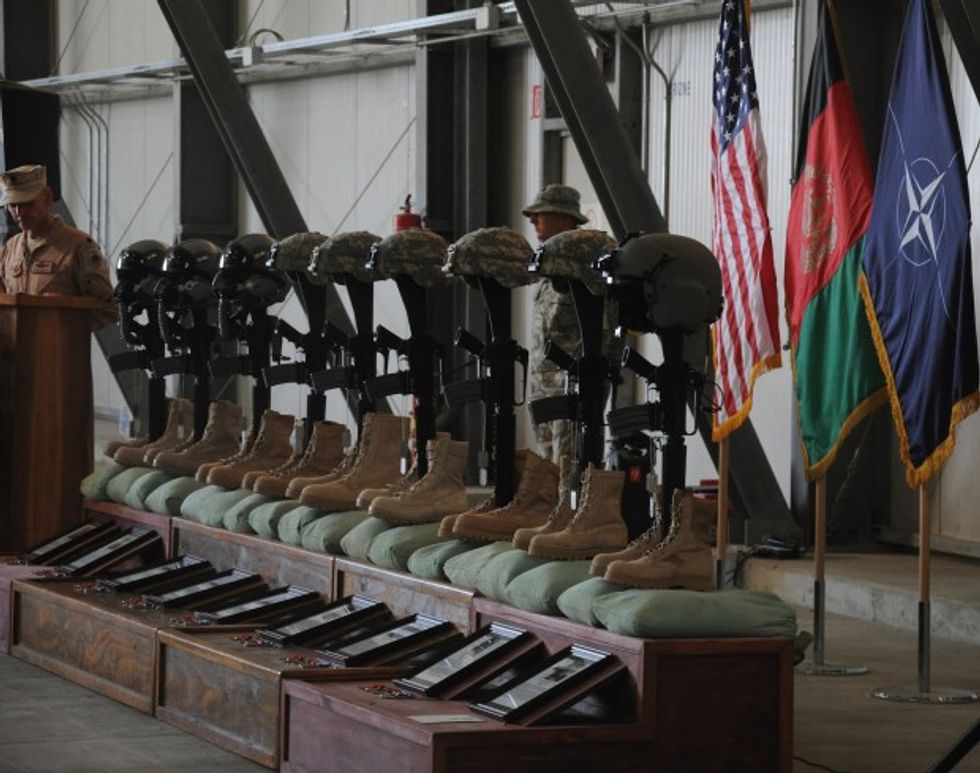 A ceremony in Kabul, Afghanistan, honoring the eight airmen and a civilian contractor killed April, 27, 2011 by an Afghan air force officer. It is considered the most deadly insider killing of the war. (U.S. Air Force photo)
Three separate investigations came up with various scenarios as to how Gul, who was out of shape and not considered an expert marksman, took the lives of eight U.S. airmen and a U.S. contractor. Two of the investigations were headed by U.S. Central Command and contradicted each other on how Gul died and the length of time it took for him to kill the Americans.
The victims were Maj. Jeff Ausborn with the 438th Air Expeditionary Wing; Lt. Col. Frank Bryant; Maj. David Brodeur; Maj. Philip Ambard; Maj. Raymond Estelle II; Maj. Charles Ransom; Master Sgt. Tara Brown; Capt. Nathan Nylander; and James McLaughlin. Ransom and Brown were each posthumously promoted after they were killed. Nylander, who was in an adjacent room when the attack began, was posthumously awarded the Silver Star for going back to help evacuate personnel. He was killed during a shootout with Gul after his gun jammed.
Seven of the victims were shot in the back of the head. McLaughlin, a contractor working in the region at the time, was the only person in the air command and control center conference room to be shot from the front.
Lt. Col. Frank Bryant's wife, Janice, whose son Sean was a newborn when her husband was killed, said she has felt military leadership abandoned the victims' families and the soldiers still serving.
"My sense from military leadership is that they would very much like this just to kind of be swept under the carpet and gone," Bryant said. "You know, they don't want to focus on it. They're not interested in really what happened, which is upsetting because how can they learn from it and protect our men and women in uniform who are out there if they don't want to find answers and get to the truth of what happened?"
None of the investigations explained why Gul, who was well-known to his American counterparts and had spoken with them jovially several days earlier, decided to execute them at their regularly scheduled morning meeting.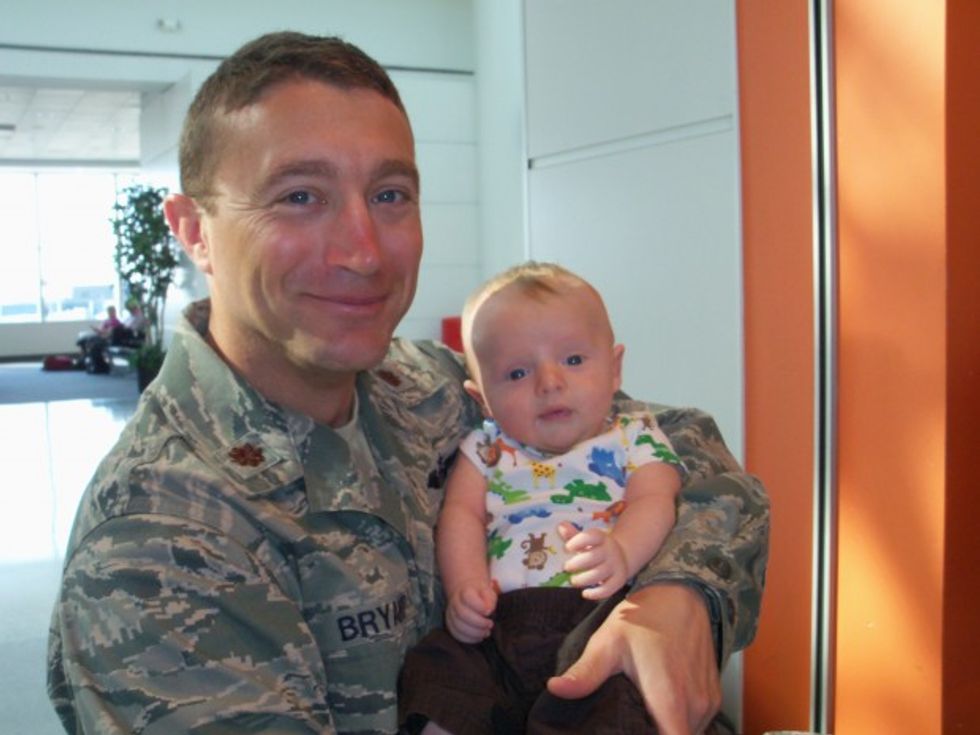 Lt. Col. Frank Bryant with his 8-week-old son Sean shortly before volunteering to train Afghan air force pilots in Kabul, Afghanistan. He was killed by Afghan Air Force Col. Ahmed Gul on April 27, 2011, along with seven other service members and an American contractor. (Photo courtesy Janice Bryant)
The investigations did agree on one thing: Gul was the only active shooter.
A final investigation by U.S. Central Command did find circumstantial evidence that Gul may have been involved in a criminal network, but that evidence was not pursued and a large portion of the investigation still remains classified, according to CENTCOM.
But a six-month investigation by For the Record suggests that Gul murdered the airmen at the behest of someone or a criminal network, according to numerous sources and military documents.
For the Record learned that a joint investigation conducted by then-U.S. Task Force 2010, charged at the time with tracing terror financing in Afghanistan and the United Nations Assistance Mission in Afghanistan, found that Gul had received a large deposit in a family bank account and that all of his debts were wiped clean just one week before the killings.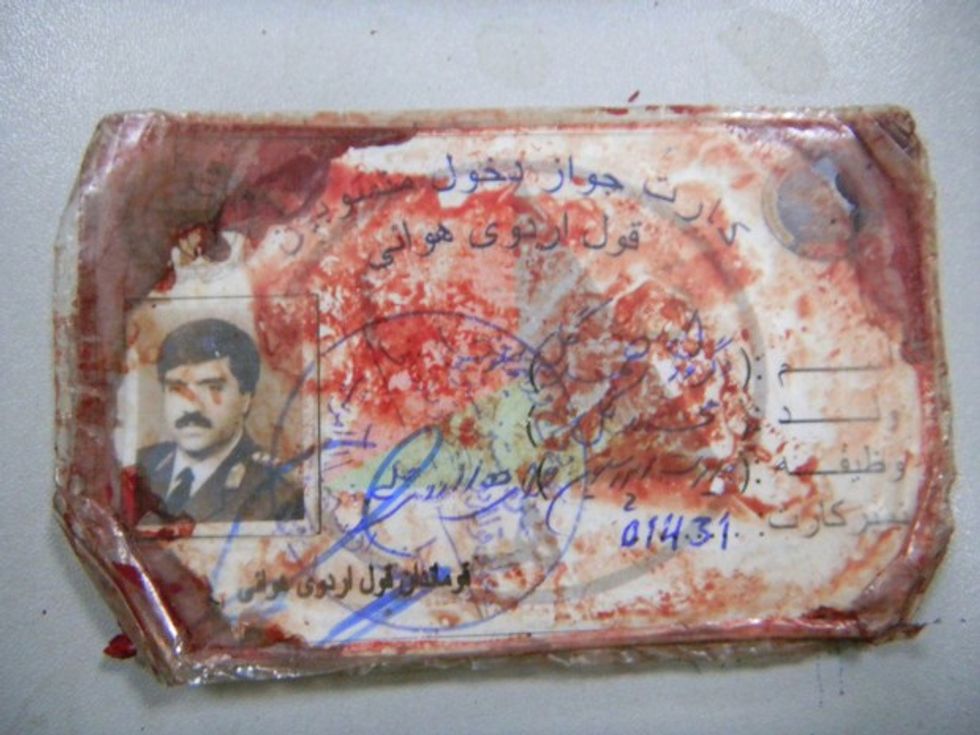 The military identification of Afghan air force Col. Ahmed Gul found after he killed eight U.S. airmen and an American contractor on April 27, 2011. (Photo via CENTCOM investigation report)
Thomas Creal, who served as the lead expert for Task Force 2010, investigated the killer's finances and found evidence he says overwhelmingly points to Gul's connection to criminal networks.
This report has never been made public.
"There was extensive corruption inside the Afghan military and investigations were cut short, hampered by ranking personnel at the State Department and military," Creal said. "The insider killings don't need to continue. We can take steps to mitigate these suicidal hits but we can't do it if evidence is ignored."
Thomas Creal, lead accountant for Task Force 2010, in Afghanistan from 2010 to 2012. Creal, in the blue shirt, was part of a team tracking what he calls "black money" used by terrorists to conduct operations against the West. (Photo courtesy Thomas Creal)
The motive for the gruesome shooting spree appears to stem from months earlier when American airmen discovered that members of the Afghan air force were running contraband and people in their cargo planes. The Wall Street Journal was the first to report on suspected corruption within the Afghan air force.
The air force subsequently began to implement strict controls on the facility that required transparency from all the Afghan officers, colleagues and U.S. military officials interviewed by TheBlaze said.
Creal, speaking exclusively to TheBlaze said, "it appeared from the evidence that [Gul] had more than likely planned the killings far in advance and at the direction of someone or some group, and any suggestion that he was a crazed gunman did not fit the evidence found."
In fact, "[Gul] had left everything on his dresser that morning, as if he knew he was never coming back."
U.S. Central Command spokesman Army Maj. Curtis Kellogg said CENTCOM's final investigation into the killings charged the investigating officer to "take a collective approach to understand the body of knowledge accumulated from the two previous investigations and examine the event again with special attention paid to particular areas of interest family members felt were unresolved."
"So, in addition to thoroughly reviewing previous reports, the team also conducted its own investigation, focusing on specific questions," said Kellogg in an email.
"The investigation was thorough and every effort was made to declassify as much information as possible before conducting the briefing to the primary next of kin," Kellogg said. "I have no further details to provide about the results, conclusions or evidence."
A large portion of the investigation into Gul remains classified.
Kellogg said that "at the time of the CENTCOM investigation, there were no known investigations into Afghan corruption and we are not aware of any such investigations since." He referred For the Record to the Afghan government for additional details.
But a former senior Afghan official said that "extensive corruption existed between the Taliban, criminal networks associated with the Taliban and the Afghan military" and that "everyone, including senior U.S. military and diplomatic officials were well aware of it, but diplomacy outweighed investigations."
Those connections were echoed by Creal, who said that a week before Gul went on his rampage it "was determined that Colonel Gul's gambling debts and mortgage was paid off prior to the killings and a large deposit of $50,000 United States dollars was made into his bank account for his family."
"What Gul did fits in with what was happening there. Mullah Omar would instruct his lieutenants to pay certain people. So, I pay you and I own you for a future attack. It was common practice," said Creal, referring to Mullah Mohammad Omar, the leader of the Taliban.
The $50,000 deposit is 10 times the average yearly salary of an Afghan colonel, according to several U.S. military officials who spoke with TheBlaze. In 2010, the average Afghan troop made far less than $300 a month, which was the price the Taliban was paying for loyalty, Gen. Stanley McChrystal, then the senior NATO and U.S. forces commander in Afghanistan, told the Senate Armed Services Committee that year.
[sharequote align="left"]Catch the season finale of For The Record TONIGHT at 8 p.m. ET on TheBlazeTV[/sharequote]
Creal said that shortly after the incident, his team, along with others working with him, immediately began looking into the possibility that Gul was paid to kill. Based on preliminary investigations, Creal said it was determined that $50,000 was transferred from a used car dealership in the western Afghan city of Herat into Gul's bank account.
"The use of used car dealerships throughout Afghanistan, Persian Gulf and their connections in Pakistan and Iran are widely known among Afghan and U.S. intelligence," said the former senior Afghan official, who spoke on condition of anonymity.
Gul's gambling debts were believed to be in the hundreds of thousands of dollars, Creal added.
"The source of the money was never determined, but it is still not too late and to help prevent more insider killings," Creal said. He said that senior U.S. military officials in Afghanistan at the time did not move forward with the investigation into Gul.
Lt. Col. Sally Stenton, who was serving with the 438th and was friends with many of the victims, said that CENTCOM and the U.S. Air Force had told "many different versions of the circumstances surrounding Gul" and failed to investigate the possible criminal links that may have exposed high level officials in the Afghan government.
"They specifically told the families, other people that were there that day, myself included, 'We did extensive monitoring of cellphones, of bank accounts. We'd been through it all. There was no money transaction.' Either they're completely inept or they're complete bald-faced liars," said Stenton, who served as legal adviser to the Afghan air force and staff judge advocate for the 438th.
But the insider killings continue.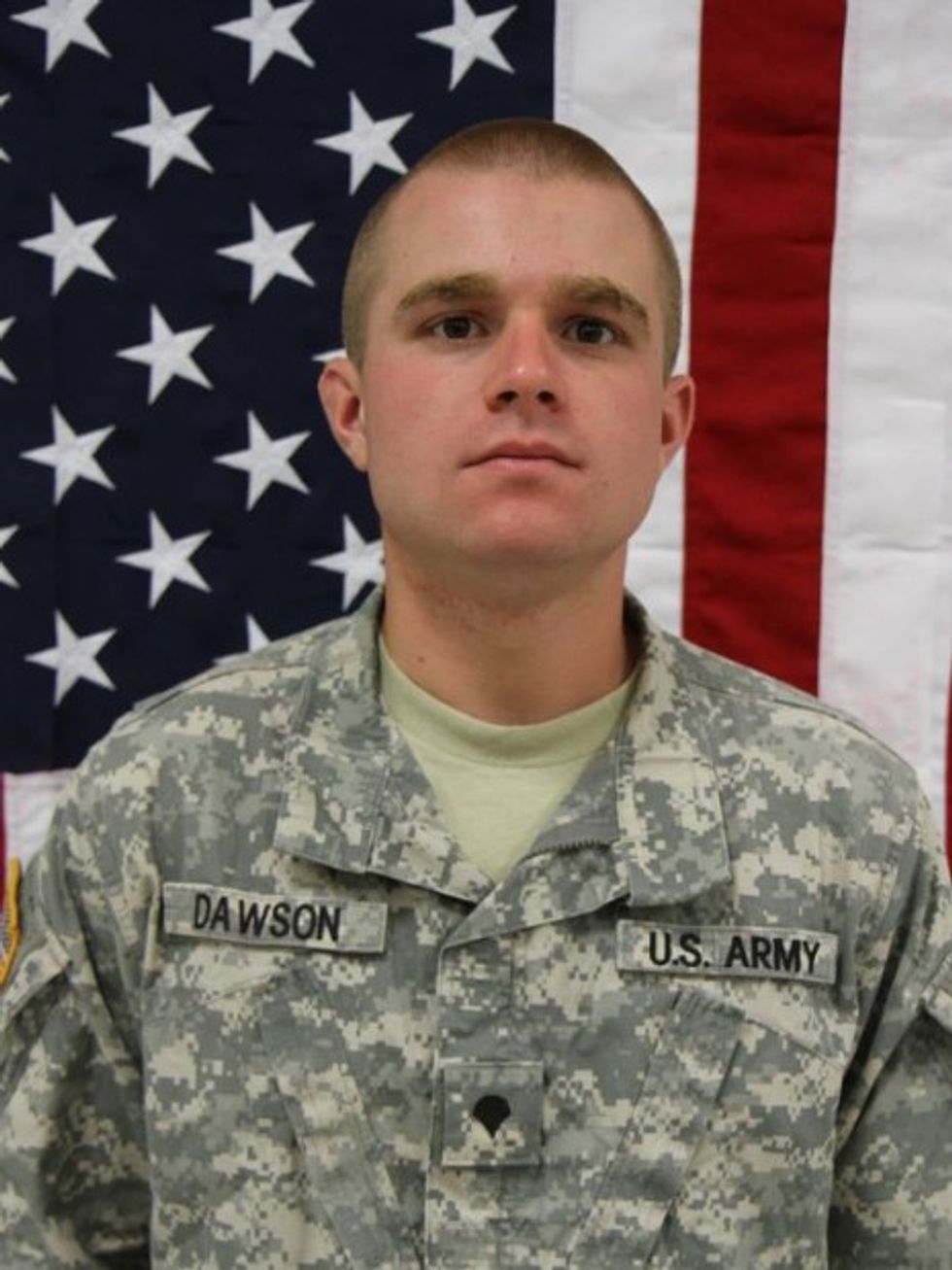 Spc. John Dawson, 22, from Whitinsville, Massachusetts. Dawson was killed April 8, 2015 in Jalalabad when an Afghan soldier attacked the escort mission he was on, according to the Defense Department. (Photo: U.S. Army)
Last week, 22-year-old Spc. John Dawson from Whitinsville, Massachusetts, was killed in an insider attack in Jalalabad when an Afghan soldier opened fire, the Pentagon said.
In January, three Americans and an Afghan military official were killed in another deadly shooting at the Kabul airport. Taliban spokesman Zabihullah Muhajid said on Twitter that the attacker was an "infiltrator ... from Laghman province working inside Kabul airport" and that "infiltrator was martyred by return fire."
And on August 5, 2014, Maj. Gen. Harold Greene, the deputy commanding general of Combined Security Transition Command-Afghanistan, became the highest-ranking U.S. military official killed in a green on blue incident.
But even as President Barack Obama agreed last month to slow the U.S. drawdown in Afghanistan, freezing U.S. troops at 9,800, the Taliban has warned that it plans to launch more insider attacks against Western forces.
"It's only a matter of time before it happens again," Creal said. "The tragedy is it doesn't have too, or at the very least we need to do our best to stop it."