Two Middle Eastern commentators have accused President Barack Obama of working to improve ties with Iran, because, they claim, "his father was a Shiite" Muslim.
The suggestion was made by two commentators – who made a point of using the president's middle name "Hussein" - in interviews with Middle Eastern television channels, according to the Middle East Media Research Institute which translated excerpts.
"Barack Hussein Obama is the son of a Shiite father," said Abu Muntasir Al-Baloushi, an Iranian opposition activist based in London, in an interview with the Saudi 4Shbab television. "There is no doubt that he is Iran's lifesaver. Some people call him the Iranian lobby in America. He suffers from a peculiar complex."
"I am not peddling some theory and I am not being a racist, but Barack Hussein Obama is the son of a Shiite Kenyan father," Syrian writer Muhydin Lazikani said in a March 25 interview with Hiwar TV echoing Al-Baloushi.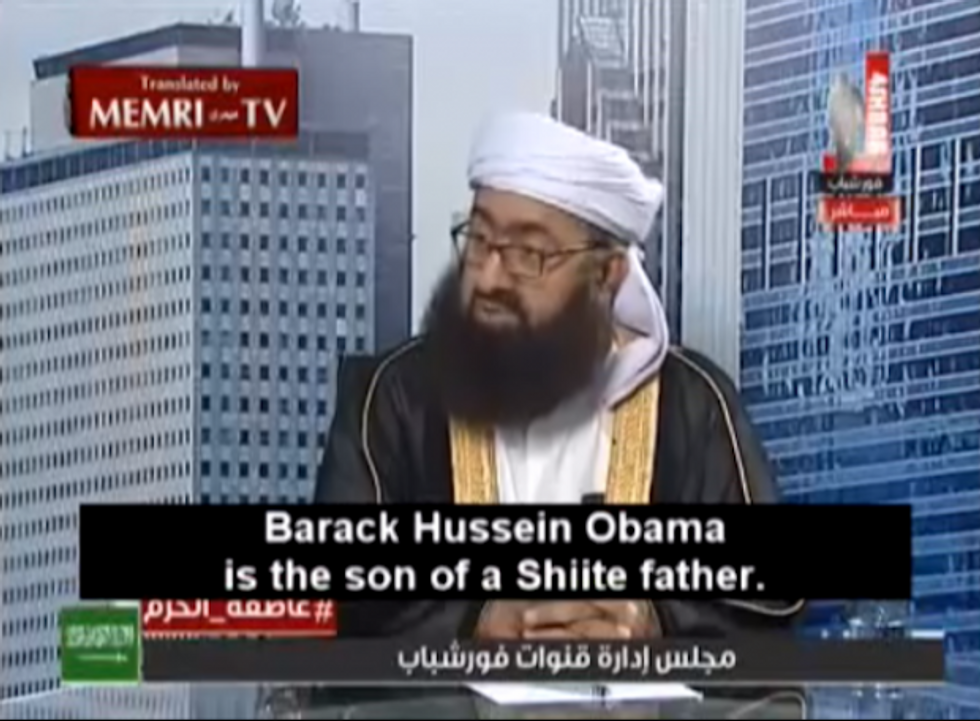 Some Middle Eastern commentators are sure Obama's father was a Shiite Muslim. (Screenshot: MEMRI)
Lazikani said – incorrectly - that the younger Obama spent much of his childhood in Mombasa, Kenya.
"I visited this very area and I can tell you that it is mostly Shiite," the writer said. "All the childhood memories of the man who rules the White House are Shiite memories. This is why the Iranian issue is so important to him and why he is so anxious for Iran to emerge victorious and for Syria and all the of the Arab Gulf to be shattered."
While he argued Obama is the son of a Shiite, at the same time, the Iranian opposition activist Al-Baloushi compared the president to an "enemy of Islam" who uses deceptive methods "to destroy Islam from within."
"He imposed this Shiite expansion on Iraq, Syria, Yemen, Iran and Afghanistan. Any wise enemy of Islam realizes that Shiite expansion is the best method to destroy Islam from within," Al-Baloushi said.
Time magazine in 2008 examined the rumor being spread then in the Middle East that Obama is a secret Shiite. It reported:
The notion that Obama is a Shi'ite may be traced to Iran. In the run-up to the U.S. presidential election, state-run papers published articles claiming that the Democratic nominee's paternal ancestors had hailed from southwestern Iran. In reality, of course, Obama's father and his ancestors came from Kenya, where Shi'a Islam is rare. Most Kenyan Muslims are Sunnis and leaven their faith with pre-Islamic African traditions and beliefs. Obama himself has said he has no idea if his paternal grandfather (who converted from Christianity) was Sunni or Shi'ite.

Undeterred, some Shi'ite scholars trawled through ancient texts to find proof and came up with increasingly far-fetched theories linking the rise of Obama to important Shi'ite figures like the Imam Ali. Some pointed to a prophecy sometimes attributed to Ali that the arrival of the Mahdi — a messiah-like figure who, Shi'ites believe, will ultimately defeat evil — will be presaged by the appearance of a messenger, a tall black man who will rule the West.
The current efforts to cast the president as a Shiite seem to reflect the continued dismay in the Arab world over the Obama administration's outreach to Iran. The warming to Iran is being viewed by some as a rejection of the U.S.'s traditional Sunni allies, a development Middle Eastern commentators have been challenged to explain.
Here are the excerpts from MEMRI: