The State Department confirmed on Friday that it has been working to convince major media and entertainment companies, including Sony Pictures, to help counter propaganda being issued by Russia, the Islamic State and possibly other organizations around the world.
Acting State Department spokeswoman Marie Harf admitted the outreach effort after Wikileaks published the entire collection of Sony emails hacked late last year. Among those emails is one from Undersecretary of State for Public Diplomacy Richard Stengel, who wrote to Sony last October to ask for help counter the "skewed version of reality" put out by Russia and the Islamic State.
The State Department admitted Friday that it's asked major media companies to help counter propaganda from Russia and the Islamic State. (Image source: Shutterstock)
"As you could see, we have plenty of challenges in countering ISIL narratives in the Middle East and Russian narratives in central and eastern Europe," Stengel wrote.
"And it's not something that the State Department can do on its own [by] any means," he added. "Following up on our conversation, I'd love to convene a group of media executives who can help us think about better ways to respond to both of these large challenges."
"This is a conversation about ideas, about content and production, about commercial possibilities," he concluded. "I promise you it will be interesting, fun, and rewarding."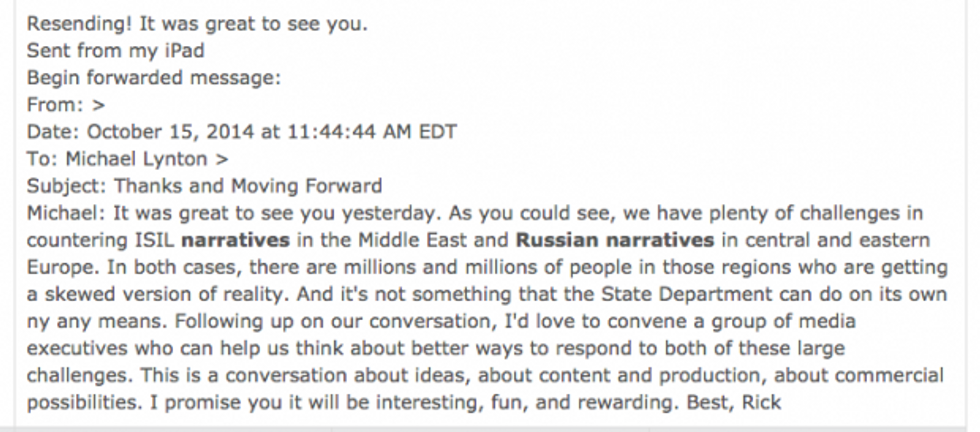 Image via Wikileaks
When asked about these emails Friday, Harf was defensive, but admitted the main thrust was true.
"We work with a variety of, or should say interact with or communicate with, a variety of outside people, in this country, to talk to them about what our priorities are," she said, adding that the State Department is not asking companies to put out any specific message or product.
"Sometimes they come to us, but certainly their decisions about what they produce, their content, their movies, their productions are all entirely up to them, in terms of the content they produce," she said.
But Harf was clearly not interested in answering many questions about the initiative. When a reporter read Stengel's email out loud, she snapped, "Is there a question, or did you just want to do a dramatic reading of his email?" She also said it was "a little ironic" that she was being asked these questions, without explaining what the irony was.
"I wouldn't draw any big analytical statements from this other than we're very clear that we believe people who have platforms, who can speak out against ISIL, should do so," she said. "But their content, what they choose to say, what they choose to print, what they choose to make in terms of movies is obviously entirely up to them."
She dodged several questions about the initiative, including what help Sony Pictures might be able to offer.
"I am happy for you to ask Sony their thoughts on that," she said.