Baby's first birthday is a momentous occasion. Finally, you can stop referring to him as being however many months old and transition to years. (Oh wait, some parents keep referring to their child in months old, making the poor person who asked figure out about how old 18 months is in years.)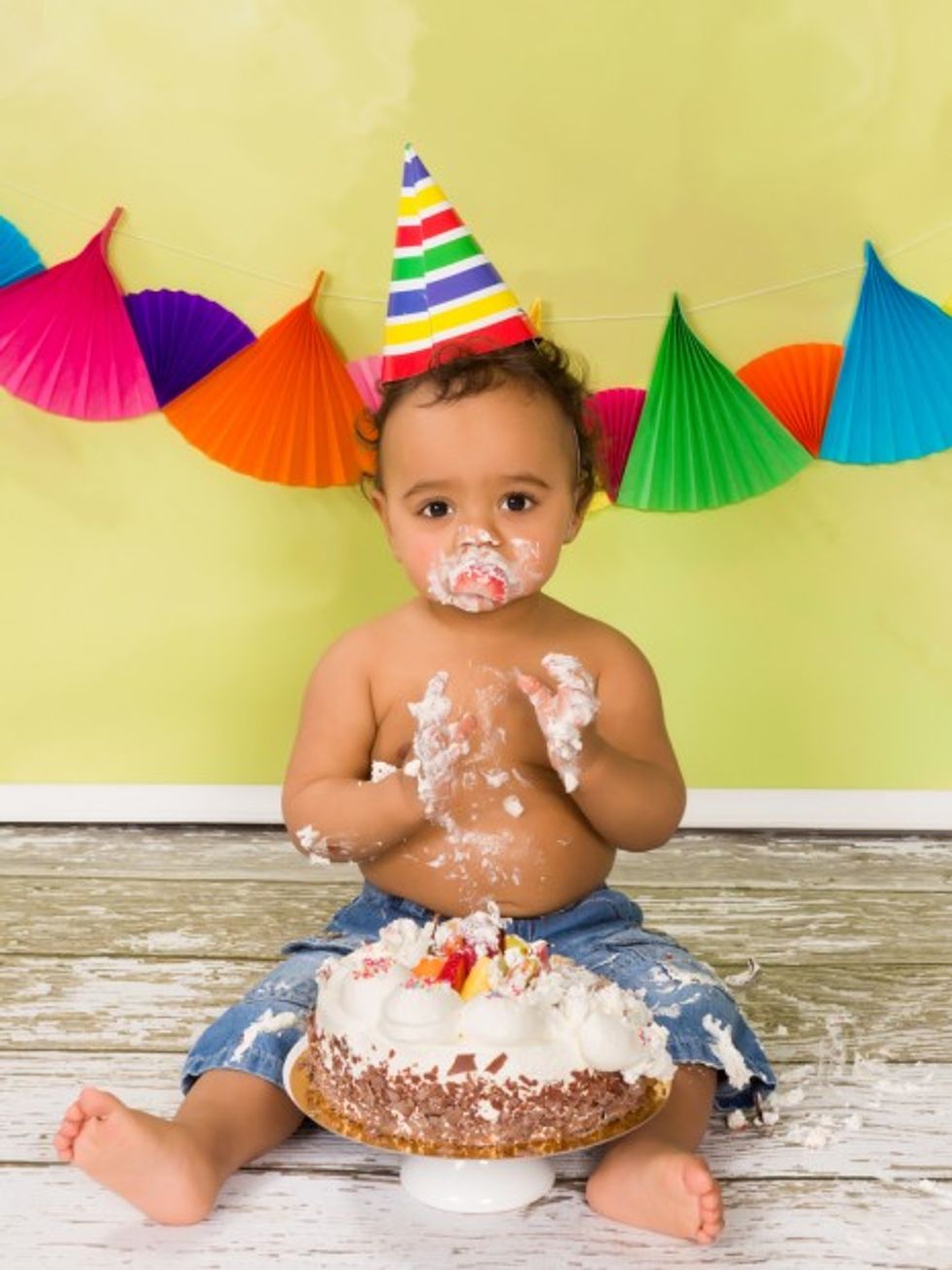 Photo credit: Shutterstock
Anywho, the first birthday is often accompanied by a massive party that will only be remembered by the adults. And everyone is required to bring the tot an obligatory gift. One family, however, has allegedly taken the whole first birthday thing to the next level in a controversial email with a tone and guidelines that are a little eye-popping.
"With [junior's] birthday coming up, we thought we'd ask for 4 items that he will really get a lot of use out of in the coming months," the reported email sent from an undisclosed person earlier this week stated.
The email goes on to specify that they're only asking for gifts from "grandparents and the direct aunt/uncle" and "similar to Christmas, would like to restrict it to 2 items per household."
Then comes a list of the preferred items, which include a water table (a toy that's sort of like a standing sandbox but with water instead), a crawl through tunnel and a tent. The family also suggests a "Fill in the Missing Cheerios book," but no other books because he already has 32 board books and 25 other reading items waiting on the bookshelf for when he gets older.
But the suggestions don't stop there. The boy's parents also ask that if attendees don't get the requested items, to please include a gift receipt with their presents, because "when we return items without receipts, we only get 50% of the value, so it's like throwing money away."
"With formula costing us $80 a week, it is always nice to be able to return items that he doesn't need to get formula instead," the parent wrote in the email that made it to the top of the social news site Reddit Friday.
Oh, and also, no "personalized gifts."
"Clothing with names is the #1 thing that leads to kidnapping, so we don't need to broadcast [junior's] name on clothing or toys," the parent wrote, noting that personalized items will only be allowed for use inside the house.
This email, the parent notes, is not the formal birthday invite. That people can expect in their mailboxes soon.
View post on imgur.com
As a rather new parent myself, I get the desire to want to control the influx of gifts to things your baby will actually use and that your household can reasonably accommodate. But crafting a page-long email ahead of the formal birthday party invitation to coach people on how to meet the gift giving that you're willing to accept crosses etiquette guidelines.
Judith Martin, who has been writing the Miss Manners column for decades and has countless times addressed various questions about gift giving and receiving etiquette, agrees.
In a related though slightly different situation (the gentle reader had written Miss Manners because her family was upset that she didn't provide them with a Christmas gift list for ideas), Miss Manners wrote that we have become "a nation of beggars and their shoppers."
"Far from spreading pleasure, this brings out the worst in most people — increasingly blatant greed and the resentment that you encountered," she said in the column.
On gift giving as a whole, Miss Manners wrote in a separate column that as a rule, "all present giving is voluntary, no matter what the occasion, and the donor supplies the thoughtfulness as well as the payment." What Miss Manners will allow as an "authorized variation" is for the recipient to drop "mild hints, and, if asked, [admit] modest preferences."
So even if your homestead is overrun with squawking toys or you already have three copies of "Goodnight Moon," it still seems in poor taste to dictate the hows and the whats and the whos of gift giving.
—
Front page image via Shutterstock.