When she saw protesters disrespecting the flag, she took matters into her own hands.
She didn't let up even when the cops got involved.
Air Force veteran Michelle Manhart was detained — but not charged — in Georgia after an altercation in which she took a flag from Valdosta State University protesters who were stepping on it, the Valdosta Daily Times reported.
Video from the scene shows Manhart debating with the protesters as she clutches the tattered flag in her hands.
"This flag actually belongs to the entire United States," Manhart asserts as the protesters argue that she stole their property.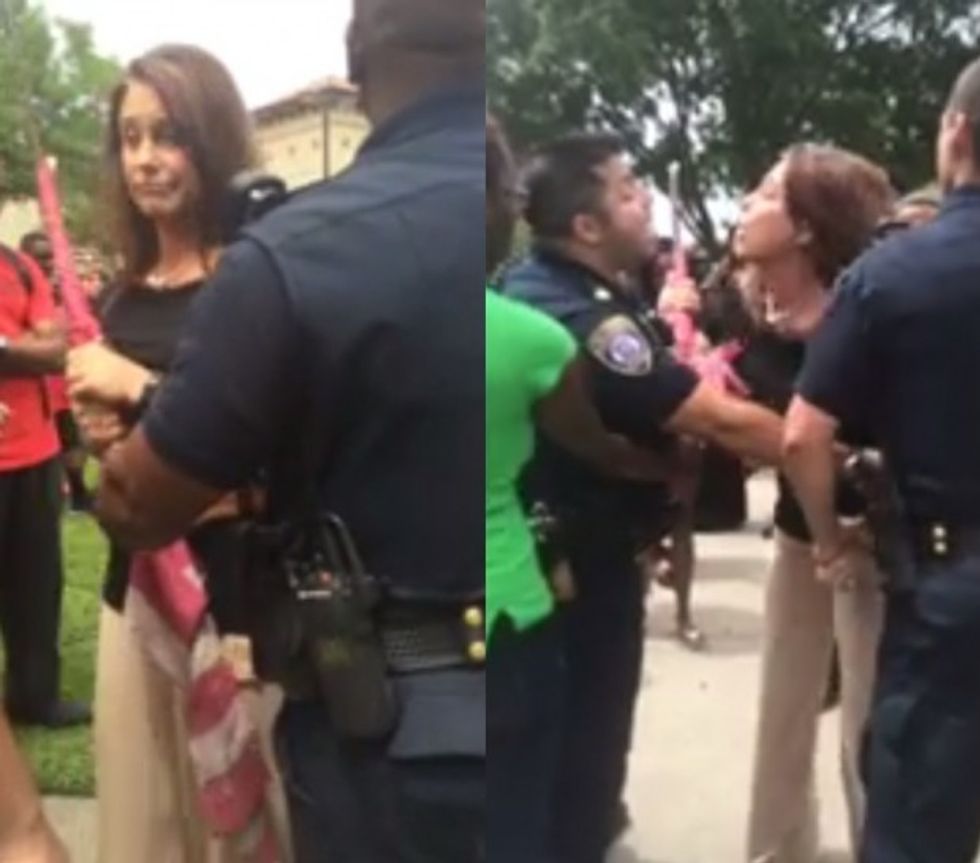 Images via Facebook
Protesters seize on the way the cops are treating Manhart as evidence of racism.
"Is that not theft?" a voice off-camera asks police. "If this had been in the hood you would've had a n***a in some handcuffs right now. Look at that white privilege."
Police demand that both Manhart and one of the protesters let go of the flag, but a standoff develops — until the cops start tackling Manhart.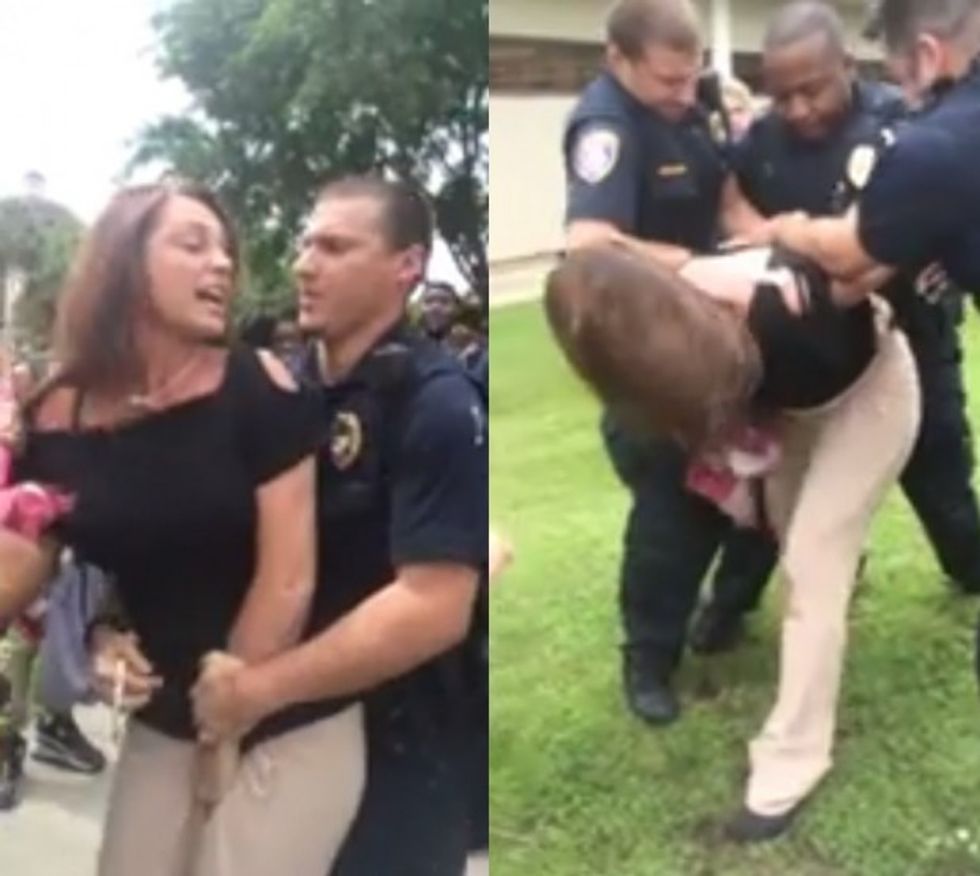 Images via Facebook
It takes four officers several minutes to handcuff Manhart and pry the flag from her fingers.
When asked why they don't stand up for the flag, the cops don't offer a response.
Watch the video, which Manhart posted to Facebook, below (content warning: strong language):
This first picture is what was going on at Valdosta "State" University for 3 days...The campus refused to do anything about it ... So we decided to get the flag and give it the respect it deserved...We just wanted to remove it and dispose of it properly...The American flag represents our Freedom why would you want to walk on that??? Please repost as much as possible make this go viral people need to see the truth...I wonder if "Donors" of VSU are ok with this blatant disrespect of the flag.

Posted by Michelle Manhart on Friday, 17 April 2015
The university protesters had been decrying racism, and Manhart had a response for them.
"If your cause is racism then find some white people and walk on them," said Manhart. "But to walk on the flag is walking on our symbol of freedom. You have the freedom to do what you are doing because of it. I'm not fighting against them. I'm fighting against the way they are going about it."
The woman is no stranger to controversy: She appears to be the same Michelle Manhart who was demoted after appearing nude in Playboy in 2007.
The Daily Times reported that after Manhart was cuffed and taken away, police asked to see IDs of the assembled protesters, and when the protesters refused they were asked to disperse.
The university's statement on the incident did not directly address issues surrounding respect for the flag, the Daily Times reported.
"We respect the rights of people to peacefully assemble and voice their opinions," the university statement read. "Our primary concern is the safety of our students, faculty and staff and our ability to carry out our responsibilities to all our students on campus. We are monitoring the situation."
—
Follow Zach Noble (@thezachnoble) on Twitter