Wisconsin Gov. Scot Walker said he would "absolutely" sign a bill repealing Common Core in his state.
Glenn Beck, interviewing Walker on the radio Monday morning, told the governor he is "seemingly a little noncommittal on Common Core. Will you sign, if it comes to your desk, a full repeal of Common Core in Wisconsin?"
"Absolutely. I proposed it in my budget," Walker responded. "Years ago, before I was governor, the previous legislature, previous governor and the superintendent of public instruction, which is an independently elected commissioner, enacted this. It wasn't something on our radar screen when we first ran in 2010. A few years ago when we heard from parents, we heard from conservative educators, many others like that, raised concerns, we drafted the education to repeal it in the state. Fortunately, at that time the state legislator did bring that up."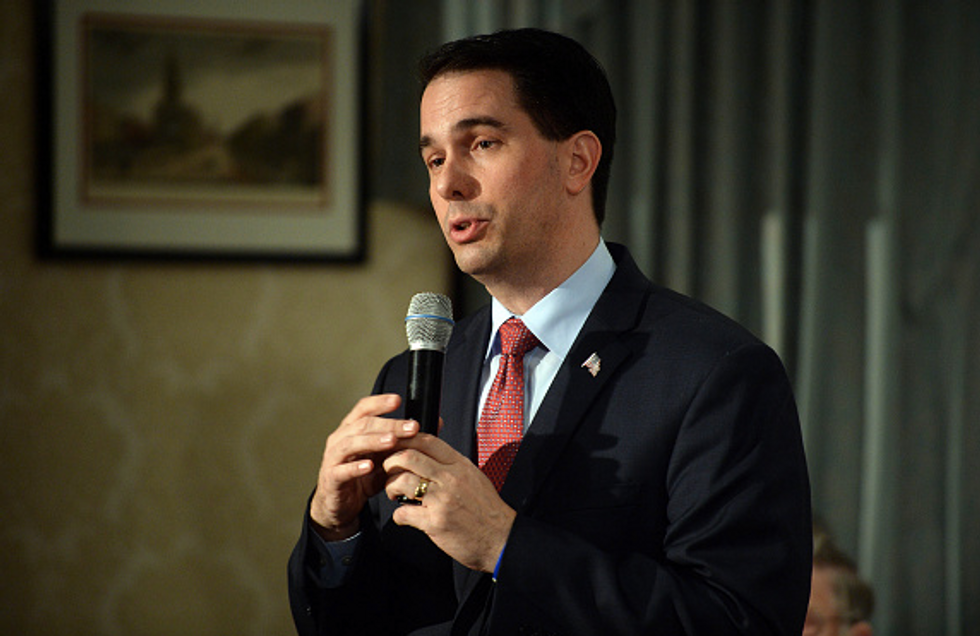 Wisconsin Gov. Scott Walker speaks at the First in the Nation Republican Leadership Summit April 18, 2015 in Nashua, New Hampshire. The summit brought together local and national Republicans and was attended by all the Republicans candidates as well as those eyeing a run for the nomination. (Darren McCollester/Getty Images)
Walker is expected to announce his candidacy for the Republican presidential nomination soon, and after a strong showing in early state polls, seems poised to be a top-tier GOP contender.
In December, Walker told the Associated Press that his goal is to remove "any mandate that requires a school district to abide by Common Core standards" — a slightly softer approach to his demand in July 2014 that the state legislature repeal the Common Core K-12 math and English standards.
Current Wisconsin law allows school districts to adopt their own standards, and most have maintained Common Core since the statewide tests are based on those standards.
Thus far, former Florida Gov. Jeb Bush and Ohio Gov. John Kasich are the only potential Republican 2016 contenders to voice support for Common Core.