White House press secretary Josh Earnest did not categorically deny that Clinton Foundation donors received special treatment while Hillary Clinton was secretary of state during President Barack Obama's first term.
The new book, "Clinton Cash: The Untold Story of How and Why Foreign Governments and Businesses Helped Make Bill and Hillary Rich" by Peter Schweizer, lays out the case that contributions to the foundation influenced State Department policy from 2009 to 2013, during Clinton's tenure.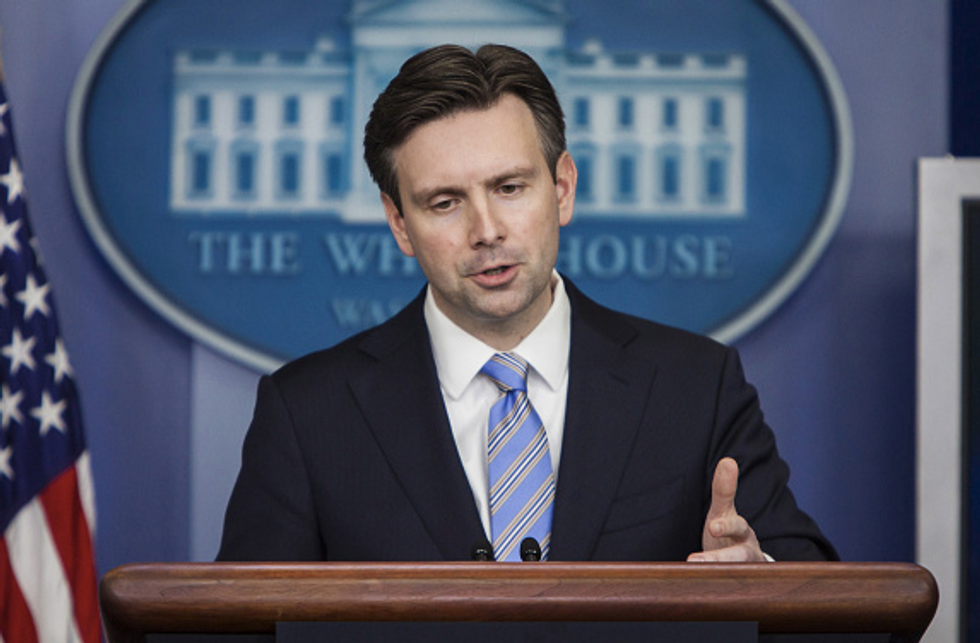 Samuel Corum/Anadolu Agency/Getty Images
ABC News reporter Jonathan Karl asked Earnest Monday, "Can you say categorically that no donors to the Clinton Foundation – nobody paying any honoraria to former President Clinton – received any favorable treatment from this administration or from the State Department?"
Earnest talked at length about the memorandum of understanding Clinton signed when she joined the Obama administration, saying that it went above and beyond ethical guidelines, given her unique circumstances.
"I know there have been a lot of accusations made about this but not a lot of evidence," Earnest said. "So, the president continues to be extraordinarily proud of the work Secretary Clinton did as secretary of state. For the details of some of those accusations, I'd refer you to Secretary Clinton's campaign."
Karl pressed, "Can you assure us absolutely no favorable treatment given to donors of the Clinton Foundation?"
Earnest repeated, "There are lots of accusations. There is no one who is marshaling the evidence for this. I don't want to be in a position."
Karl responded, "You're not saying it didn't happen."
Earnest made a vague reference to spurious claims, but didn't specifically say that was the case with the book.
"I don't think anyone has any tangible evidence that it did," Earnest replied. "I'm not going to be in a position here where every spurious claim, I'm not going to be the one to sits down here and say that it's not true."