Republicans and Democrats in the Senate announced an agreement Tuesday morning that will allow a vote on a long-stalled bill to help victims of human trafficking, and should allow a vote on Attorney General nominee Loretta Lynch later this week.
The legislation has been held up for weeks, as Democrats have opposed language in the bill that would ensure a new fund to help victims of trafficking could not be used to provide abortion services. Republicans responded by saying they wouldn't allow a vote on Lynch until the trafficking bill moves.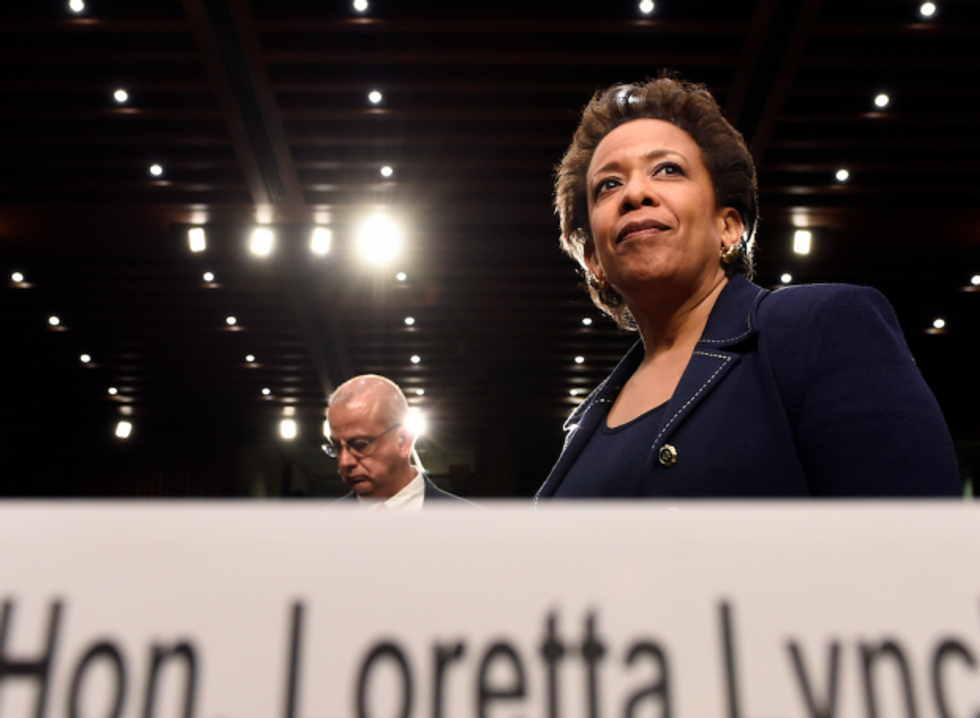 Attorney General nominee Loretta Lynch is expected to get a vote in the Senate this week, after Republicans and Democrats reached a deal on abortion language in a separate bill. Image: AP
In his opening remarks on the Senate floor, Majority Leader Mitch McConnell (R-Ky.) that will allow both votes to take place.
"I'm glad we can now say there is a bipartisan proposal that will allow us to complete action on this important legislation, so we can provide help to the victims who desperately need it," he said. "As soon as we finish the trafficking bill, as I've indicated for some time now, we'll move to the president's nominee for Attorney General, hopefully in the next day or so."
Many Republicans were just fine with the delayed vote on Lynch, since they see her as someone who has the potential to be worse than the current occupant of that job, Eric Holder. Lynch's support for President Barack Obama's executive action on immigration is a major sore point for these Republicans.
Still, Lynch is expected to sneak through the Senate just barely, as five Republicans have said they would vote for her. Those five, added to the 46 Democrats, would get her a narrow majority in the Senate.
The fight over abortion in the trafficking bill involved GOP efforts to prevent a new program to help victims from being used to fund abortion. For decades, the so-called Hyde Amendment has prevented appropriated funds from being used for abortion, and Republicans sought to put the same limitation on the new trafficking victims fund.
But because that fund was made up of fines and fees collected by the government, and not money appropriated by the government, Democrats opposed it. They said applying the abortion restriction on money gathered from fees and fines went further than the Hyde Amendment, and said they opposed this expansion.
The final deal satisfies both sides by ensuring that none of the fines and fees collected would be used for any health-related purposes. Instead, money funding health programs for victims of human trafficking would only come from appropriated funds, and that money could not be used to fund abortions.
Sen. John Cornyn (R-Texas), the lead sponsor of the trafficking bill, had offered this kind of solution last week, and he said Tuesday he was glad to see a final deal that will allow Senate passage.
"I'm thrilled we were finally able to come together to break the impasse over this vital legislation, and I look forward to swift passage in the Senate so we can ensure victims of human trafficking receive the resources they need to restore their lives," Cornyn said.