Egypt's ousted Islamist President Mohammed Morsi was sentenced to 20 years in prison over the killing of protesters in 2012, news agencies and Egyptian state television reported.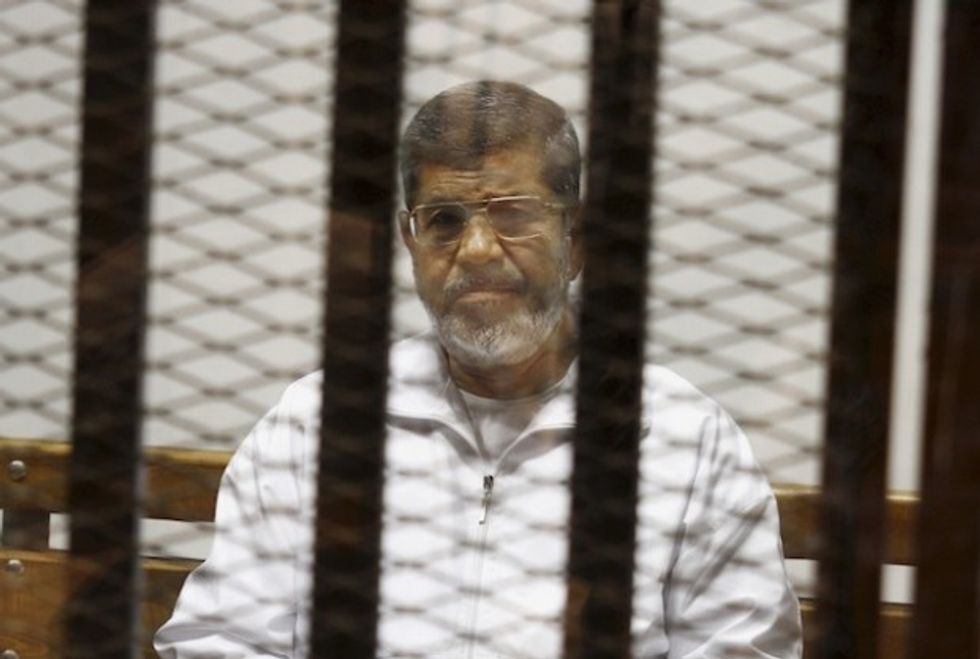 In this May 8, 2014 file photo, Egypt's ousted Islamist President Mohammed Morsi sits in a defendant cage in the Police Academy courthouse in Cairo, Egypt. On Tuesday April 21, 2015, an Egyptian criminal court sentenced Morsi to 20 years in prison over the killing of protesters in 2012, the first verdict to be issued against the leader. The case stems from violence outside the presidential palace in December 2012. (AP Photo/Tarek el-Gabbas, File)
The Associated Press described the scene at the courthouse:
The Cairo Criminal Court issued the verdict Tuesday as Morsi and other defendants in the case stood in a soundproof glass cage inside a makeshift courtroom at Egypt's national police academy. [...]

Morsi and the rest of the defendants raised the four-finger sign symbolizing the sit-in at the Rabaah al-Adawiya mosque, where hundreds were killed when security forces violently dispersed the sprawling sit-in by Morsi's supporters on Aug. 14, 2013.
Morsi and other Muslim Brotherhood leaders were blamed for inciting their supporters to attack opposition protesters outside the presidential palace in December 2012. At least 10 were killed in the protests.
Morsi and the Brotherhood rose to power during the 2011 Arab Spring wave, then were ousted in July 2013 by Morsi's then-Defense Minister Abdel Fattah el-Sisi following widespread protests against his rule.
The Muslim Brotherhood has since been declared a terrorist group in Egypt and thousands of its activists have been put on trial and imprisoned, with hundreds sentenced to death.
The AP reported that 12 Muslim Brotherhood leaders and Islamist supporters were also sentenced Tuesday to 20 years in prison. They included Mohammed el-Beltagy and Essam el-Erian.
Tuesday's verdict was the first court ruling against the former president. He still faces upcoming trials on other charges.
The BBC detailed the subjects of the trials that await Morsi:
•    Colluding with foreign militants in a plot to free Islamists in mass prison breaks during the 2011 uprising against Hosni Mubarak

•    Espionage and conspiring to commit terrorist acts in Egypt with the Palestinian movement Hamas, Lebanon's Hezbollah and Iran's Revolutionary Guards

•    Endangering national security by leaking state secrets and sensitive documents to Qatar via the Doha-based Al Jazeera network
The head of the Muslim Brotherhood, Mohammed Badie, was sentenced to death by an Egyptian court earlier this month.