Pastor Andy Stanley, founder and senior pastor of North Point Community Church in Alpharetta, Georgia, and author of the book, "The New Rules For Love, Sex and Dating," presides over one of the largest houses of worship in America — but his ministry stretches far beyond that, as he's an accomplished author and speaker who's using an intriguing and uncommon channel to reach the unchurched.
Stanley, whose 2014 congregation size was pegged at 31,288, has been intentionally purchasing airtime over the past few years for his weekly sermon series titled, "Your Move," that appears in 12 markets across America after "Saturday Night Live" each week.
"I was never interested in being in TV," Stanley told TheBlaze. "I just said, 'No' every time, even before I heard the ask, and then the president of the NBC affiliate here in Atlanta said, 'What about the 20 minutes after 'SNL?'"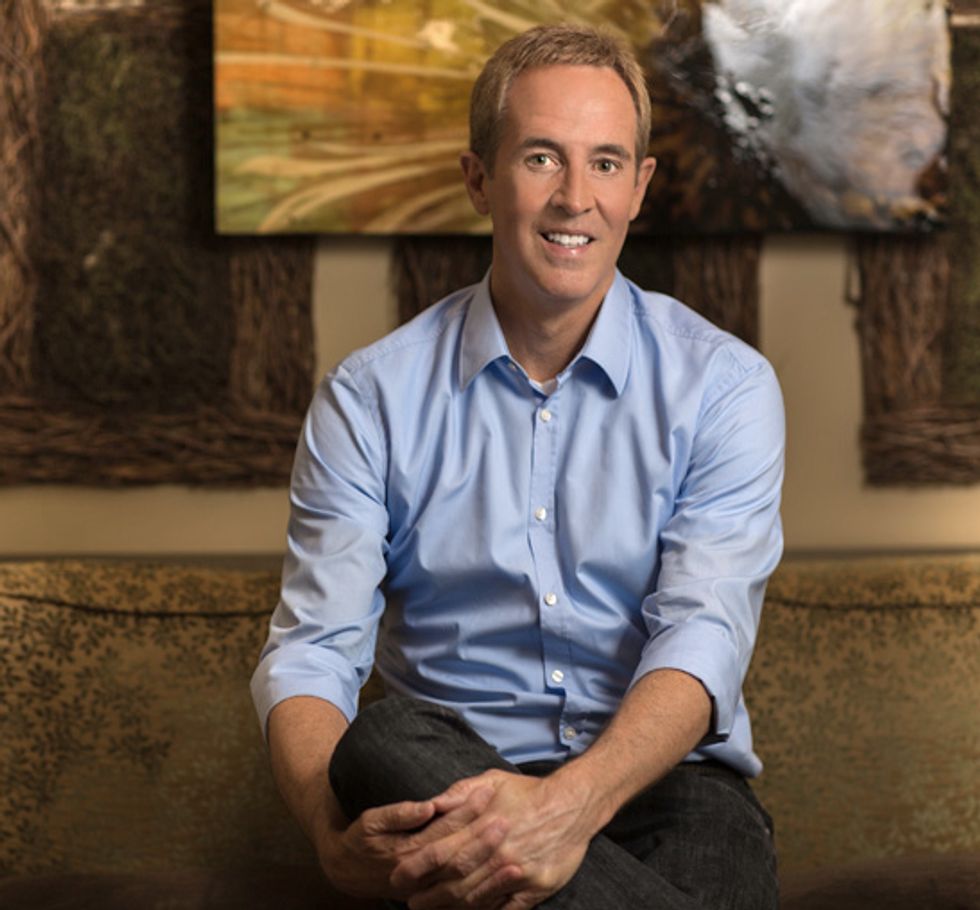 Pastor Andy Stanley (AndyStanley.com)
The time-slot led to intrigue and a decision to take the affiliate up on the offer, which, in turn, has provided Stanley and North Point Community Church with a robust channel through which they can spread a biblical message, reaching out to an entirely new audience.
"That's a group of people who generally aren't going to get up and make service," he said. "We got really excited about that, and we had been extremely successful."
In fact, Stanley, whose father is famed preacher Charles Stanley, said that "Your Move" generally retains between 65 and 75 percent of viewers after "Saturday Night Live" airs each week, which is impressive considering the vast differences in content between the popular comedy show and Stanley's uplifting sermons.
The experiment has brought with it entirely new audiences and venues for the pastor's message.
"NBC affiliates have been very happy with us. It's been a lot of fun. We get the most interesting email and mail," Stanley said. "There are a lot of bars and clubs that put 'SNL' on and have subtitle and captioning on, and I get pictures of people in bars and clubs."
The popular preacher welcomes all of this uncommon ministry space, as he loves "taking to unchurched people."
And "Saturday Night Live" might not be the end of Stanley's game plan, either, as he said that he's currently looking at other late-night opportunities to potentially expand his unique outreach to the masses.
In the meantime, Stanley's latest book project, "The New Rules For Love, Sex and Dating," is also tackling some intriguing territory, promising to address the "challenges, assumptions, and land mines associated with dating in the twenty-first century."
He told TheBlaze that he's hoping that the book inspires readers with some practical and useful relationship advice.
"Every time I speak on this publicly the response is overwhelming — not because I'm qualified, but these are common sense things that, when it comes to relationships, common sense isn't all that common," Stanley said. "Primarily, for anything to be successful, we have to prepare for it … in every arena of life."
The preacher said that some people improperly assume that commitment by itself is enough, but he said that there's much more to the equation.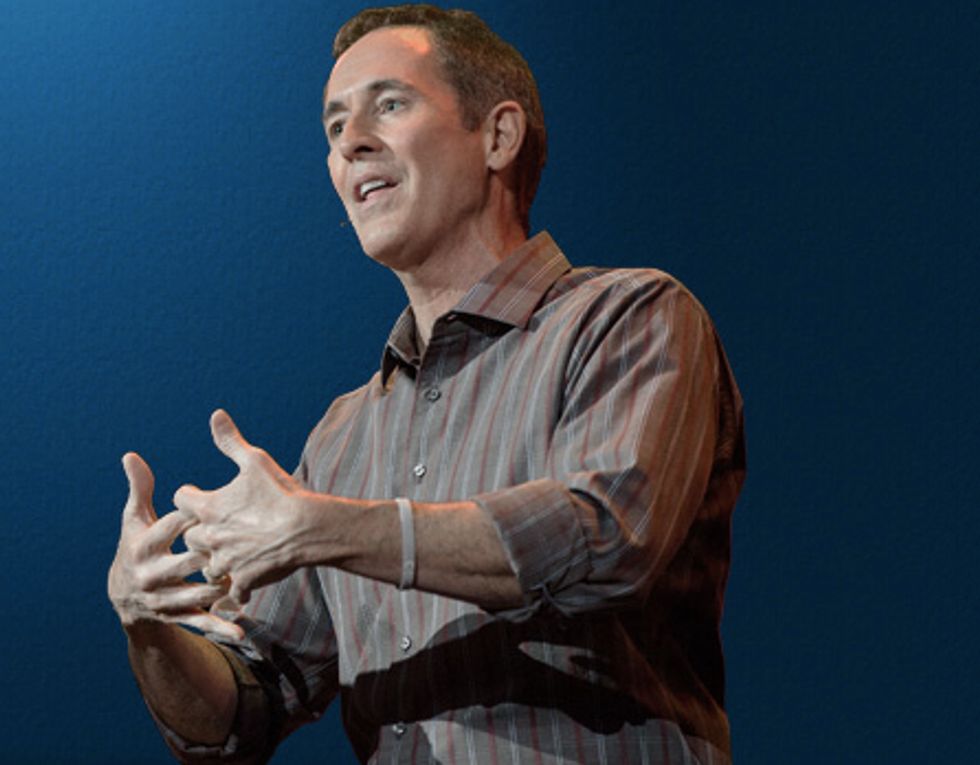 Pastor Andy Stanley (North Point Ministries)
"One of the reasons I wrote this book was to challenge singles to at least consider, 'Maybe I need to prepare,'" Stanley said. "My purpose in writing this book was not to push a religious or even my Christian agenda on people. Obviously, I'm a Christian I take the New Testament so seriously, but I think there are some broad principles that increase everyone's relational [experience]."
He said he's hoping to bring broad principles to readers that will assist them in dealing with their romantic relationships.
The preacher acknowledged that, in the modern era, "sex sells," noting that the marketplace is touting a form of sex in which the act is treated as if there is no emotion or consequences. In the end, though, he said the human heart desires something more profound.
"I don't think even in the end that men only want sex. What we really want is romance and romance is fueled by exclusivity not experience, but how do you sell that?" he said. "I don't think there's someone out there with a plot to destroy moral America. Sex is leveraged to sell things and that's never going to go away."
Stanley continued, "What breaks my heart or grieves me is especially when young men and woman buy into marketplace lies that fuels marketplace leveraging of sex."
During his conversation with TheBlaze, the preacher also discussed the differences he sees when comparing modern-day evangelicalism with evangelicalism of the 1970s and 1980s.
"The posture of evangelical churches then was more of a fortress … it was a bit more about building walls [than] building bridges," he said. "I'm very reticent to criticize anyone from a previous generation. Hopefully the next generation … we're all products of the moments we're born."
Watch an episode of Stanley's "Your Move" below:
As for his own view on progressing the faith, Stanley said that discovering Christ is a process, and that he believes that any person can pick up a New Testament without believing it's inspired, learn and eventually become a follower of Jesus.
"And hopefully they arrive at him being savior," he said, noting that he is comfortable with critics who are skeptical and who say that Jesus isn't who Stanley says he is.
It is this tone that he takes to his ministry, as he puts a great deal of time and effort into his sermons, carving out a day and a half each week to study. He subsequently spends about four hours on Sunday pouring over the material so that he can "get up and not use any notes."
And his messages are paying off, as Northpoint Community Church has continued to grow into one of the nation's most attended multicampus churches. Stanley said the secret to the church's growth is rooted in its culture.
"It is the culture of the church. It really is the culture, the way it looks, feels, sounds [and]  communicates," he said. "We are constantly trying to look for formulas, because to create [community] requires engaging communication, appealing setting and helpful content. It can't just be true, has to be helpful."
Stanley continued, "It has to be age specific, comfortable, safe, and communication has to be engaging. People lean in when communication is engaging. When people aren't engaged, they don't listen and don't learn."