Remember the Michigan town that couldn't decide whether to construct a veteran's memorial in a park because the statue depicted a gun?
You could say it took a village, but council members now appear ready to pull the trigger on the once-controversial proposal.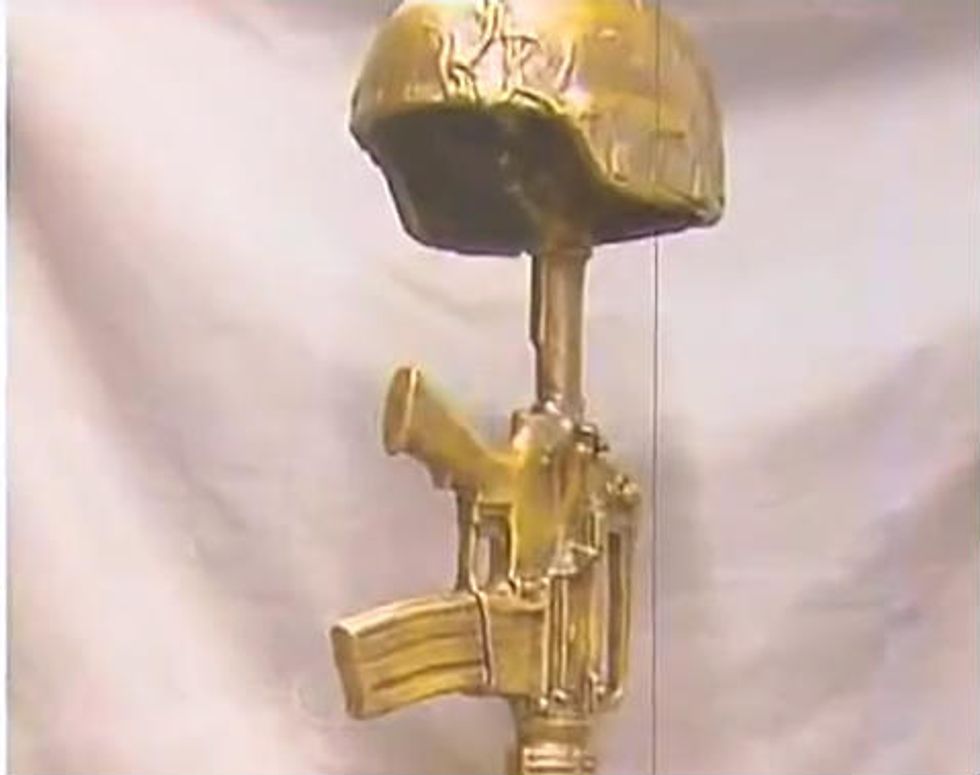 Image source: WXYZ-TV
The village council in Milford, Michigan, has approved plans by a local veterans group to put up a fallen soldier memorial consisting of an M16 rifle, boots, military dog tags and a helmet. The decision came as dozens of veterans, their families and others who supported the project showed up to deliver a strong but clear message to the council, WXYZ reported.
"They used a gun, a pair of boots and a helmet just like the memorial that we are trying to set up," Frank Kidd, who lost his son in Iraq eight years ago, said.
Some of the members of Milford's village council had been opposed to placing a monument that depicts a gun in the middle of the town's Central Park. But after hearing from the veterans group that raised all the money to pay for the statute along with others who have served or whose family members have served, the council members did an about face and decided to go ahead with the memorial.
"We need, as residents, and parents of the next generation an opportunity to show our children and discuss with them the importance of the sacrifice that was made," one woman told WXYZ.
Bear Hall, who leads the group Friends of American Veterans and who voiced strong opposition to the once-hesitant council members, echoed the woman's comments.
"To deny the statue is to deny the truth about war, to deny our history and to deny our children the opportunity to ask meaningful questions as it relates to both," Hall said.
Friends of American Veterans raised about $12,000 for the memorial over just three months. He said many of the donations came from members of Milford's business community where the statue is now set to be built.
The current design features an 8-foot-tall statue comprised of depictions of combat boots, an M16 rifle, military dog tags and a helmet. It is a larger replica of memorials that troops often assemble on the battlefield to honor their fellow soldiers who have died. The Milford monument will serve to honor all fallen troops.
Christian Wuerth, the Milford village manager who was previously opposed to the statue, will begin meeting with Hall going forward to discuss the next steps.
(H/T: WXYZ-TV)