Michael Hanline spent 36 years in California State Prison. On Nov. 24, 2014, he was released after his conviction was reversed, making him the longest wrongful incarceration in the state's history, according to a group that seeks to overturn wrongful convictions.
This week, the California Innocence Project, which worked to help free Hanline for 15 years, released a video showing his first moments as a free man again.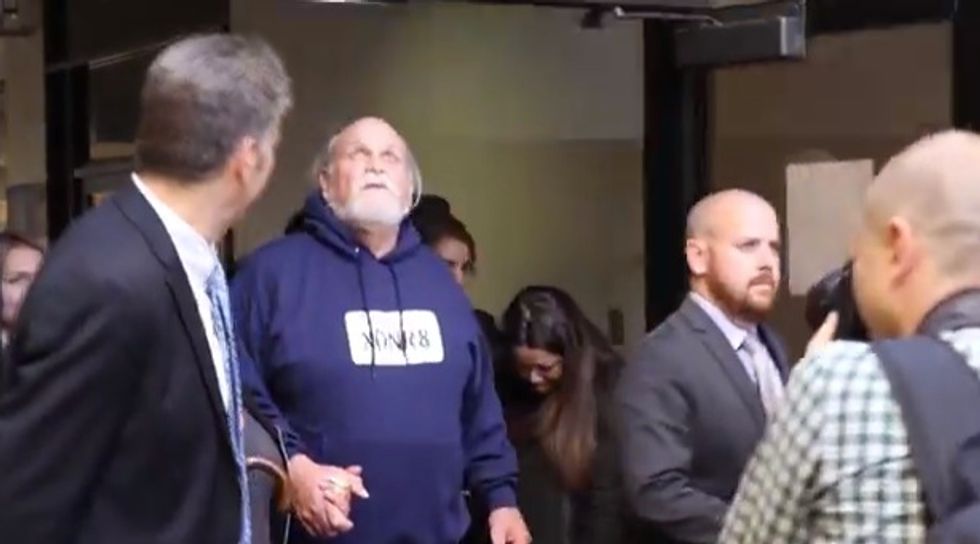 Hanline looked up at the sky as a free man. (Image source: YouTube)
The project run by California Western School of Law had its cameras rolling as Hanline took his first steps out of the prison as a small crowd clapped.
Walking outside, Hanline looked up at the sky.
"This feels like I'm on the front of a rocket ship going through," he said, pausing for a moment as a woman in a car filled in the rest of his sentence with "through space" and "uncharted territory." "Yeah."
"It's just an incredible rush. It doesn't seem actually real yet," he added.
Then Hanline made a request. He wanted a hamburger like that which he had seen in commercials, specifically the one that "had the bacon on it."
When asked if he wanted to make his "mile-high" burger a combo, Hanline looked at his friends confused. They assured him that today was definitely a day for making it a combo, a large combo for a half-pound burger at that.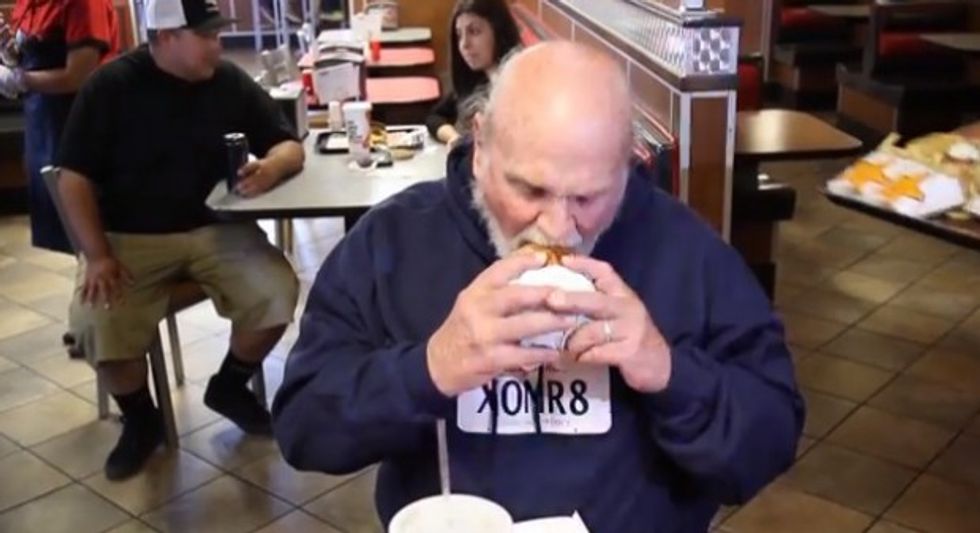 Hanline took his first bite of a hamburger after being freed from prison after serving 36 years for a crime he didn't commit. (Image source: YouTube)
"My oh my. That's what meat tastes like, huh?" Hanline said after his first bite. "The commercial does it justice."
Watch the video:
Hanline was originally convicted in 1980 of shooting and killing J.T. McGarry in 1978. According to the California Innocence Project, prosecutors argued the crime was a revenge fight over the same woman. Hanline maintained he was wrongfully accused of the murder.
Nineteen years later, the California Innocence Project began working to obtain evidence that could clear Hanline. The conviction was overturned in 2008 only to be reversed back by another federal judge, the project said on its website. Hanline's case was brought before California Gov. Jerry Brown as one of 12 clemency petitions the innocence project calls the California 12.
The Ventura County District Attorney's Office reexamined the case and then joined the California Innocence Project in its petition to the governor. Hanline appeared before a judge on Nov. 24, 2014, where his conviction was officially overturned.
"DNA testing recently conducted shows that another individual committed this crime and proves Mike's innocence," Justin Brooks, director of the California Innocence Project at California Western School of Law, said in a statement. "It's amazing that Mike will finally be released after 36 years of wrongful incarceration. It's time for him to get back to his family and his life."
When he was released in November, Hanline still had to wear a GPS tracker. On Wednesday this week, the district attorney is asking a judge to dismiss the charges against Hanline.
"It is the position of the district attorney's office that the case against the defendant is still supported by probably cause, but cannot be proven beyond a reasonable doubt," the news release from the office stated.
(H/T: Reddit)