Awaiting a court hearing, Boston Marathon bomber Dzhokhar Tsarnaev had a message.
"F*** you."
A photo made public for the first time Wednesday shows Tsarnaev in an orange jumpsuit, flipping his middle finger at a surveillance camera inside a holding cell as he awaited an arraignment hearing in July 2013. Previously, only courtroom sketches depicting the images had been released.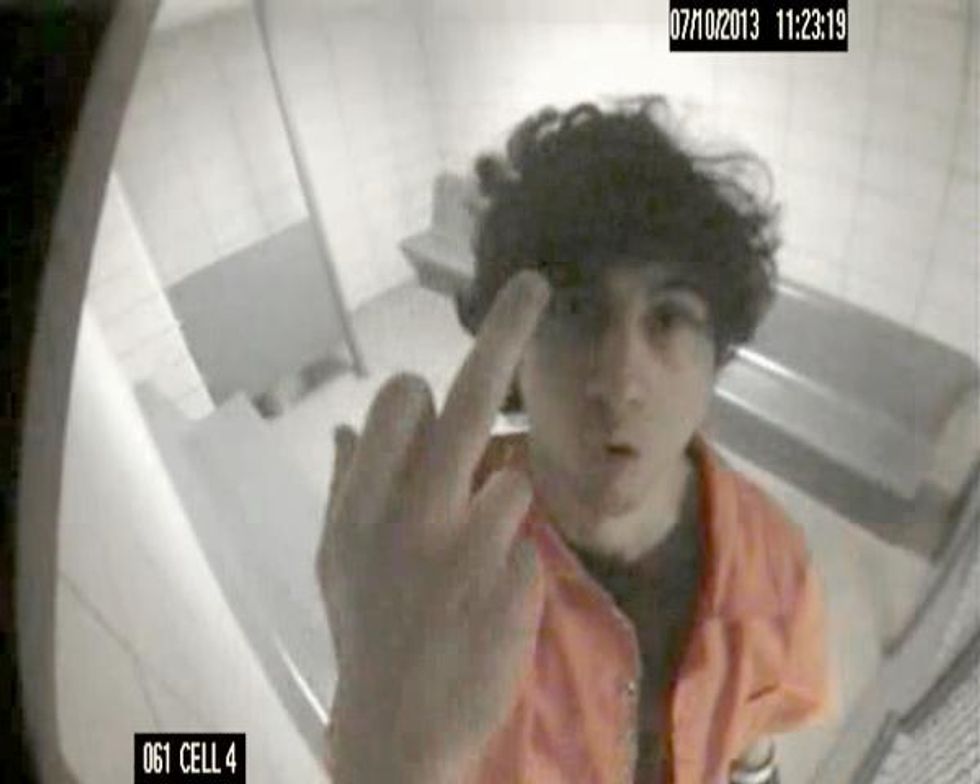 Image source: U.S. District Attorney via WCVB-TV
"This is Dzhokhar Tsarnaev," prosecutor Nadine Pellegrini told the Boston jury Tuesday, during proceedings to determine whether the convicted bomber will be sentenced to death for his crimes. "Unconcerned, unrepentant and unchanged."
Tsarnaev's defense team sought to paint the gesture in a broader context on Wednesday, with surveillance footage that also showed him fixing his hair and making a peace "V" sign while in holding.
In full video, #Tsarnaev gets on bench, fixes his hair, throws a peace sign and then throws a finger, all in a matter of seconds, gets down.

— Milton Valencia (@MiltonValencia) April 22, 2015
Tsarnaev was convicted earlier this month of all charges related to the 2013 marathon bombing, 17 of which are punishable by death.
– 
Follow Jon Street (@JonStreet) on Twitter