The Senate voted Thursday to end debate on the nomination of Attorney General nominee Loretta Lynch, which will allow the Senate to hold a final confirmation vote on the long-delayed nominee later this afternoon.
The Senate needed 60 votes to advance Lynch's nomination, and got there easily — the vote to end debate was 66-34. Twenty Republicans voted with Democrats in the procedural vote to end debate.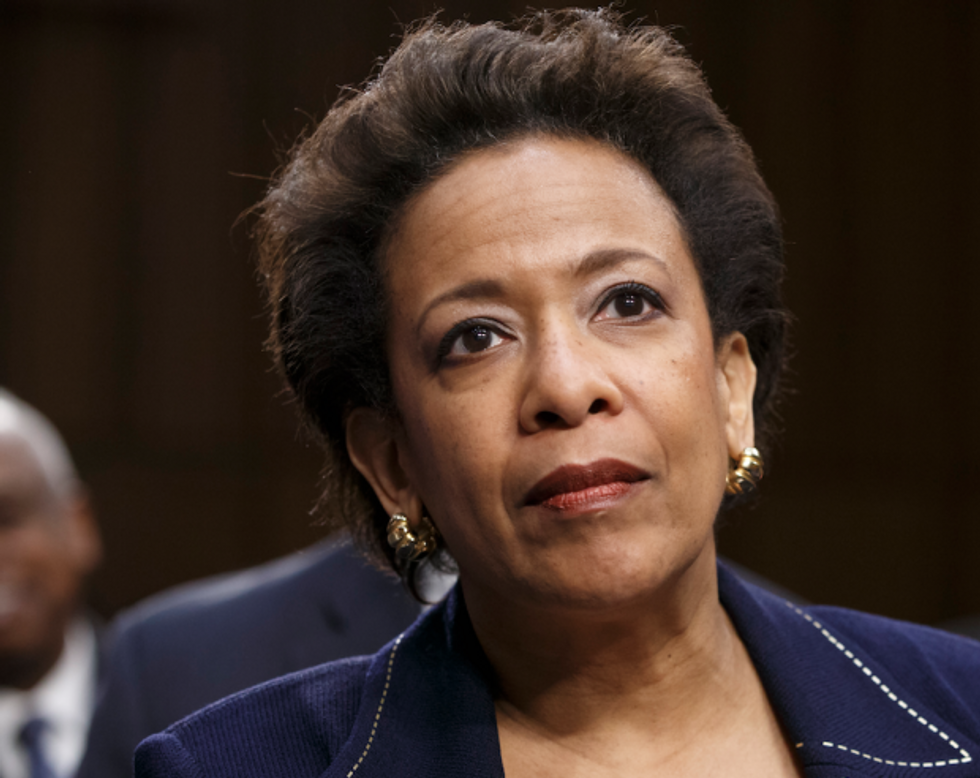 Attorney General nominee Loretta Lynch got one step closer to being confirmed by the Senate on Thursday. A final vote was expected Thursday afternoon. Image: AP
Republicans voting to end debate were Sens. Lamar Alexander (R-Tenn.), Kelly Ayotte (N.H.), Richard Burr (N.C.), Shelley Moore Capito (W.Va.), Thad Cochran (Miss.), Susan Collins (Maine), Bob Corker (Tenn.), John Cornyn (Texas), Jeff Flake (Ariz.), Cory Gardner (Colo.), Lindsey Graham (S.C.), Orrin Hatch (Utah), Ron Johnson (Wis.), Mark Kirk (Ill.), Mitch McConnell (Ky.), Rob Portman (Ohio), Pat Roberts (Kan.), Mike Rounds (S.D.), Jon Thune (S.D.), and Thom Tillis (N.C.).
The final vote, however, is expected to be much closer, as only six Republicans have indicated they would support her in the final vote. Sens. Kelly Ayotte (N.H.), Susan Collins (Maine), Jeff Flake (Ariz.), Lindsey Graham (S.C.), Orrin Hatch (Utah) and Mark Kirk (R-Ill.) have said they would support her.
If only those six Republicans vote for Lynch, along with every Democrat, she would be confirmed in a 52-48 vote.
Before the procedural vote, Republicans again argued that the Senate should reject Lynch, as she told the Senate earlier this year that she supports President Barack Obama's executive action on immigration.
"Ms. Lynch has said flat out that she supports those policies, and is committed to defending them in court," Sen. Jeff Sessions (R-Ala.) said. "We do not have to confirm someone to the highest law enforcement position in America if that someone is publicly committed to derogating Congress, violating law of Congress, violating even wishes of Congress and the American people."
Sen. Ted Cruz (R-Texas), who has been absent from the Senate as he campaigns for president, said he wanted to support Lynch as a replacement for Attorney General Eric Holder, who has clashed repeatedly with Republicans and was held in contempt of the House. But Cruz said her stance on immigration makes that impossible.
"Unfortunately, the answers that Ms. Lynch gave at the confirmation hearing, in my opinion, render her unsuitable for confirmation as attorney general of the United States," he said.
Both Cruz and Sen. Rand Paul (R-Ky.), who is also running for president, voted against the motion to end debate and move to a final vote.
Still, many Republicans are of the view that Lynch is well-qualified, and has been approved unanimously by the Senate in the past for her position as U.S. Attorney.