The White House press corps isn't happy with the relationship President Barack Obama has with reporters, a survey conducted by Politico Magazine seemingly revealed.
The survey, which gathered the thoughts of 69 journalists who cover the White House, asked reporters a wide range of questions about their beat.
51 said they felt Obama dislikes the press. Only 14 said that statement was false. 50 said they felt Michelle Obama dislikes the press, versus 13 who disagreed.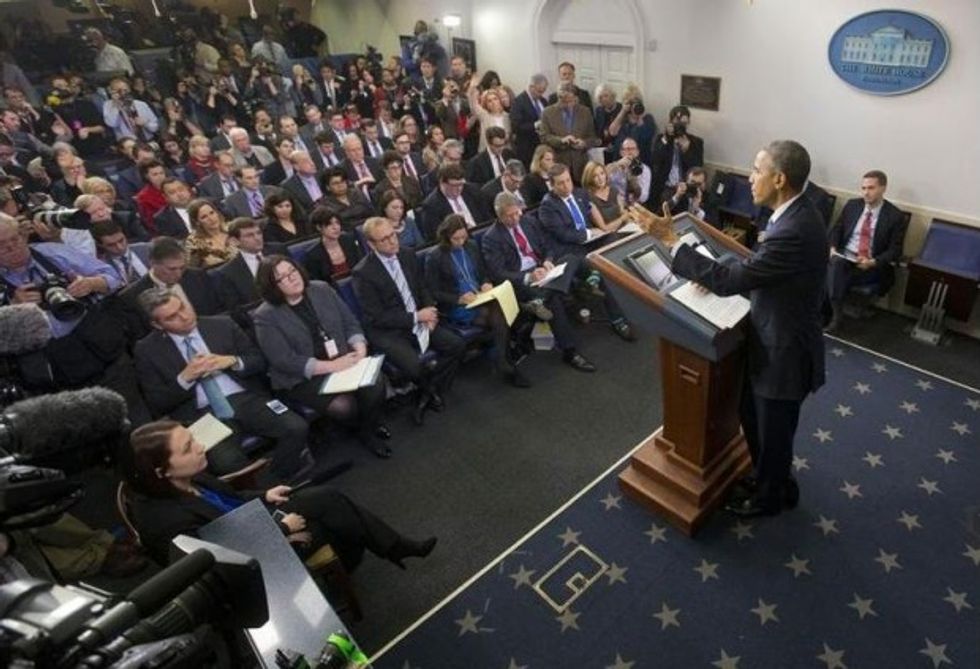 President Barack Obama speaks during a news conference in the Brady Press Briefing Room of the White House in Washington, Dec. 19, 2014. (AP Photo/Pablo Martinez Monsivais )
25 reporters said Obama and become less open in his second term. 34 said things remained about the same and 8 said the president had become more open.
65-percent of correspondents who have covered multiple presidential administrations rated Obama's as the "least-press friendly." Only 3-percent rated his administration as the "most-press friendly."
31-percent of the surveyed correspondents said the news coverage of Obama has been more lenient compared to past presidents. 58-percent said it was the same and 11-percent thought it was more harsh.
The survey also appeared to indicate the press had little access to Obama himself.
63-percent of White House correspondents surveyed said they had never had the opportunity to ask Obama a question at a news conference. 80% said they have never interviewed the president one-on-one or in a small group from only their news organization.
—
Follow Oliver Darcy (@oliverdarcy) on Twitter