While a volcano in Chile that was dormant for 42 years sent about 4,000 people in nearby communities running when it exploded this week, did something else go the opposite direction and close in on the spewing mass?
Someone apparently captured video of a strange light flying near the plume of smoke and ash from the Calbuco volcano, leading to speculation that it could be a UFO.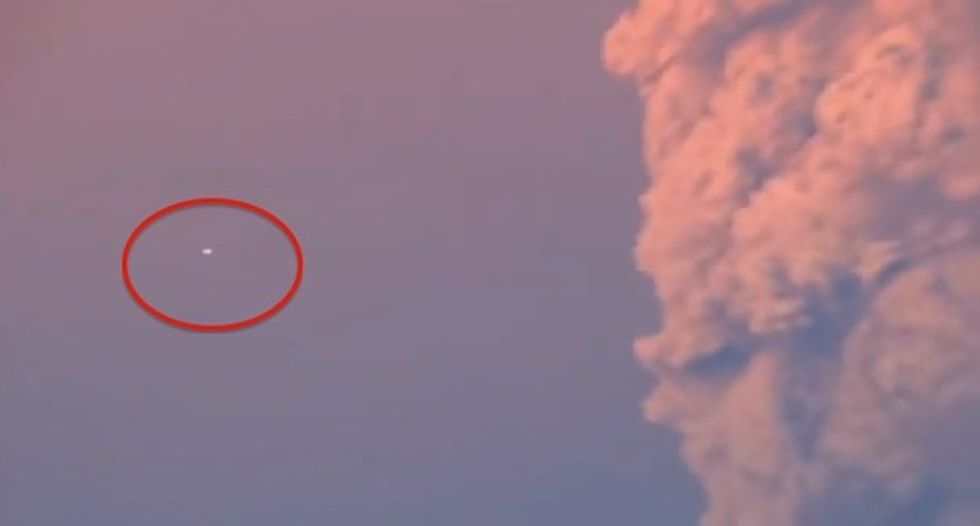 Image source: YouTube
In the description of the video posted to YouTube (via an unofficial translation), the user also wonders if the "luminous object" is a "a drone or a helicopter of the police" or an "optical illusion."
"What is striking, in my opinion, is that the object remained static, then vanished," Ana Luisa Cid wrote.
Watch the footage for yourself:
We make no speculation as to what the object could be, but, we will point out that this is not the first time a "UFO" has visited an erupting volcano before. Earlier this year, there were reports of a UFO shaped like a "horse" near the Colima volcano in Mexico. And Mexico's Popocatepetl volcano has been prone to UFO sightings over the years as well.
Calbuco in Chile erupted Wednesday with a second outburst early Thursday.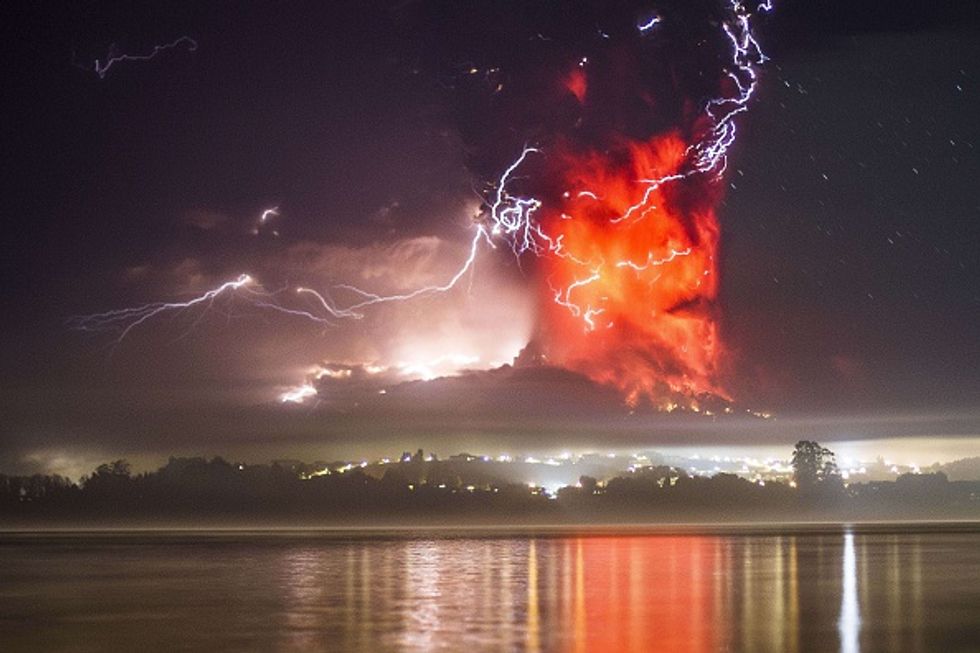 This view from Puerto Varas, southern Chile, shows a high column of ash and lava spewing from the Calbuco volcano, on April 23, 2015. Chile's Calbuco volcano erupted on Wednesday, spewing a giant funnel of ash high into the sky near the southern port city of Puerto Montt and triggering a red alert. (DAVID CORTES SEREY/AFP/Getty Images)
At the foot of the volcano, the town of Ensenada was covered in thick soot, raising concerns that the ash could contaminate water, cause respiratory illnesses and ground more flights. Some roofs had collapsed under the weight of the ash.
Only 30 residents of the town's 1,500 or so residents refused to evacuate because of worries about their homes and animals.
(H/T: Sputnik News)
—
The Associated Press contributed to this report.