The U.S. Army is testing a "ray gun" that wouldn't take down human enemies but threatening electronics instead.
The electronic gun James Burke, an engineer at the Army's Armament Research, Development and Engineering Center, described to Defense One would go onto the rifles soldiers already carry.
It would look "rather like regular standard-issue M4 rifles with a pair of antennas that shoot out from the barrel and then spread, giving the front end of the gun a musket-like shape," Design One explained.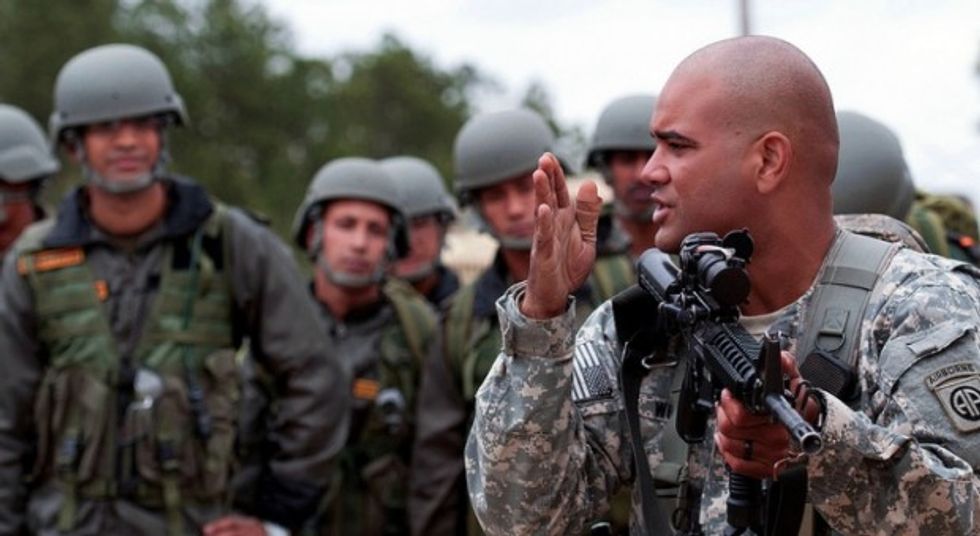 Sgt. 1st Class Garrett Williams demonstrates how to use an M4 carbine. The U.S. Army is working on an attachment that would act like a ray gun that could disable things like nearby IEDs. (U.S. Army/Sgt. Michael J. MacLeod)
The "Burke Pulser," the defense news website continued, sends out pluses of energy that can disable bluetooth-enabled IEDs and weaponized consumer-grade drones, Defense One reported. Here's how it works:
The Pulser takes the explosive energy released when the gun fires and converts it into pulses of electrical energy. This is done via the piezoelectric effect, which derives an electric charge when pressure is exerted on crystalline materials such as quartz, changing the balance of positive and negative ions.
It noted that there is a shield to protect the soldier firing the weapon.
"What we're going to do is fire at it. If the LED light stops blinking, it was defeated and if smoke comes up, it was destroyed," Burke said of a test at a National Defense Industry Association event, Defense One reported.
Due to some information being classified, Defense One reported that Burke could only describe the results of testing and the product's development as "very promising."
(H/T: SlashGear)