Scientists recently discovered a large reservoir deep underneath Yellowstone's supervolcano that contains so much magma that it could fill the Grand Canyon 11.2 times.
Contrary to what you might be picturing, seismologists say the reservoir, which is 12 to 28 miles underneath the volcano, isn't filled with moving liquid. The scientists described it as being mostly hot, spongelike rock with pockets of molten rock.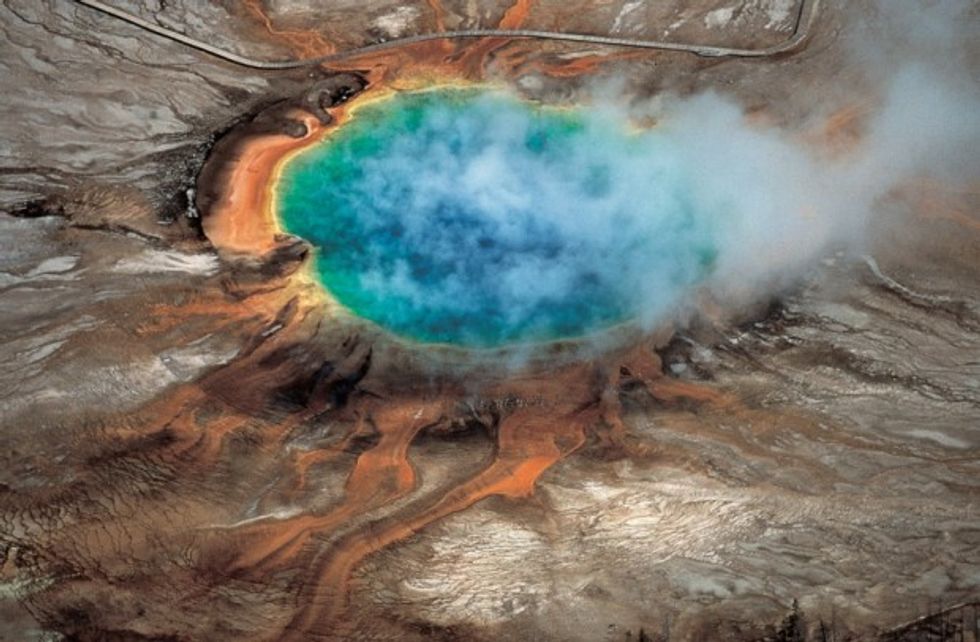 The Grand Prismatic hot spring was created by created the Yellowstone supervolcano. (Image source: "Windows into the Earth," Robert B. Smith and Lee J. Siegel, via University of Utah)
The reservoir was found by University of Utah seismologists who completed what's considered the first, most detailed picture of the "continuous volcanic plumbing system under Yellowstone," postdoctoral researcher Hsin-Hua Huang said in a statement.
"That includes the upper crustal magma chamber we have seen previously plus a lower crustal magma reservoir that has never been imaged before and that connects the upper chamber to the Yellowstone hotspot plume below," he said.
This upper crust chamber, which was previously known, could fill the Grand Canyon 2.5 times.
The scientists emphasized that their research doesn't mean the volcano carries an increased danger nor is it closer to erupting. They simply used more advanced techniques to get a better picture of the system as a whole.
"The magma chamber and reservoir are not getting any bigger than they have been, it's just that we can see them better now using new techniques," study co-author Jamie Farrell said.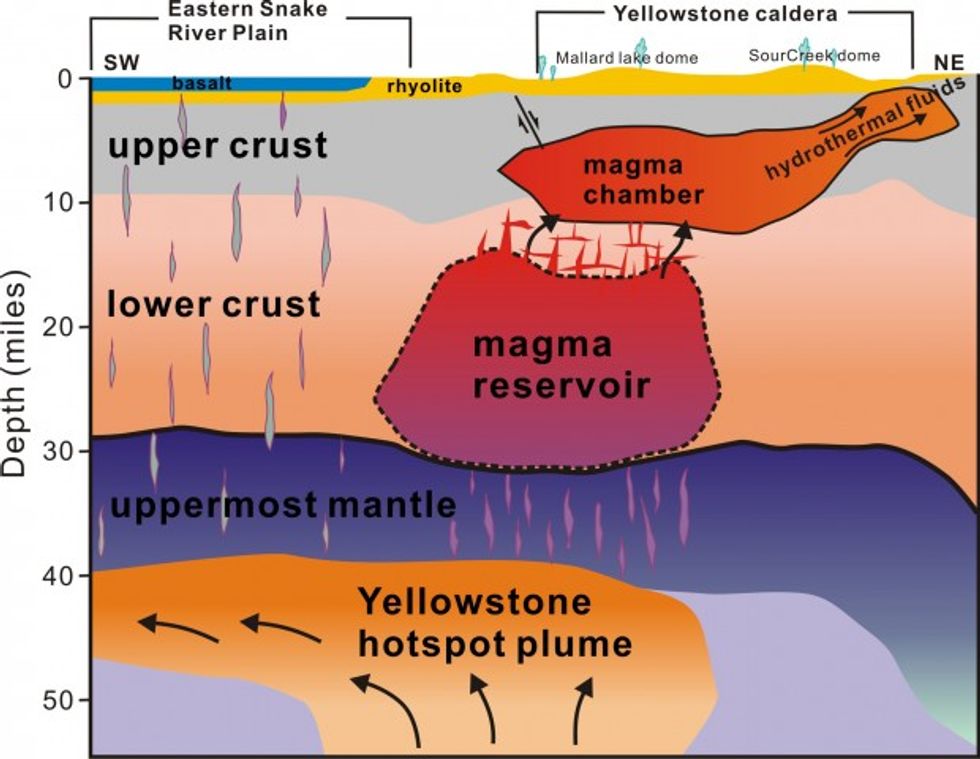 The more complete image of Yellowstone's plumbing system. (Hsin-Hua Huang, University of Utah)
"It gives us a better understanding the Yellowstone magmatic system," fellow author Fan-Chi Lin said of the research. "We can now use these new models to better estimate the potential seismic and volcanic hazards."
Here's how scientists arrived at a more detailed image that lead to the discovery of the magma reservoir:
Huang developed a technique to combine two kinds of seismic information: Data from local quakes detected in Utah, Idaho, the Teton Range and Yellowstone by the University of Utah Seismograph Stations and data from more distant quakes detected by the National Science Foundation-funded EarthScope array of seismometers, which was used to map the underground structure of the lower 48 states.

The Utah seismic network has closely spaced seismometers that are better at making images of the shallower crust beneath Yellowstone, while EarthScope's seismometers are better at making images of deeper structures.

"It's a technique combining local and distant earthquake data better to look at this lower crustal magma reservoir," Huang says.
Three of the last supervolcano eruptions at Yellowstone took place 2 million, 1.2 million and 640,000 years ago. Researcher and emeritus professor Robert Smith said the annual risk for a catastrophic eruption today is about 1 in 700,000.
The research was published in the journal Science.
(H/T: Science Daily)