A video has surfaced purportedly of a veteran getting in the face of an American flag protester on the campus of Valdosta State University in Georgia.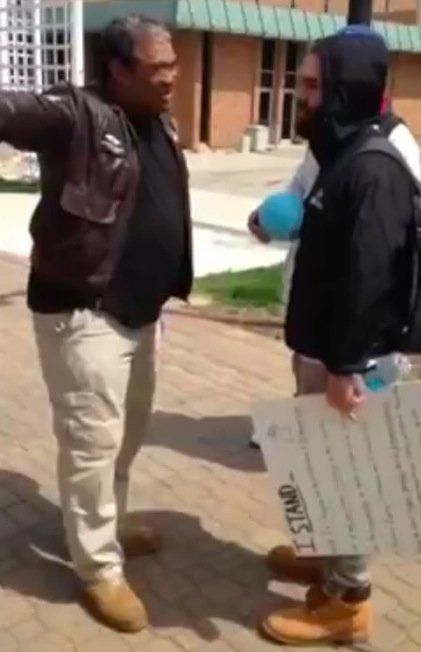 Image source: Live Leak
The video was posted to Facebook on Friday; it isn't clear when the incident occurred.
The veteran on the left confronted the flag protester on the right on a college campus sidewalk.
"Dude, if you know my heritage," the veteran told the protester, "I guara-damn-tee you, we'll set you straight."
"I'm right here," the protester responded. "If you're mad about it, do something."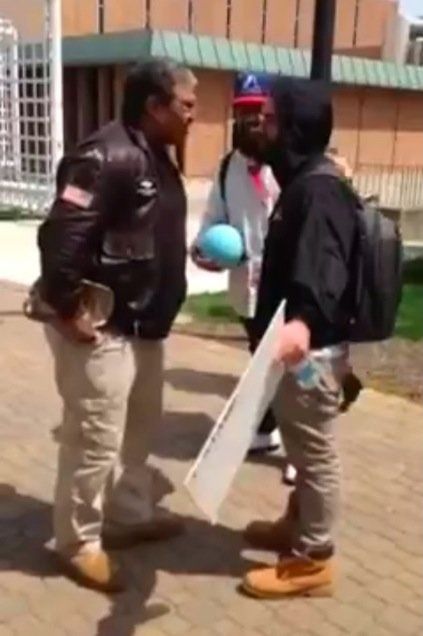 Image source: Live Leak
As the veteran raised his voice and told the protester he wouldn't waste his time or energy hitting him — but added that he'd better never disrespect the flag again — the protester answered that he would "burn one tomorrow."
"You just try it, over my dead body!" the vet retorted, calling the protester a "maggot."
Through it all, the flag protester barely made eye contact with the veteran.
Here's the clip. (Content warning: Multiple profanities ahead ...):
UPDATE 2:49 p.m. EST Monday: It appears the flag protest and confrontation with the veteran took place on the campus of Wright State University in Dayton, Ohio.
A demonstration organized by students — in solidarity with the much-publicized flag protest at Valdosta State University — took place Friday, WHIO-TV reported.
"I thought it would ruffle some feathers, but I did not anticipate how tense the backlash would become," junior Tommy DiMassio told the station.
"If anything, all that has shown is that people in this area and people on the Internet care more about a symbolic piece of cloth than they do a black person's life … or, even beyond that, our Constitutional rights," DiMassio added to WHIO.
Others disagreed.
"When you do something like that … when you stand on a flag, you lose your purpose," Erin Jenkins, a Wright State grad, told the station. "Anything he was trying to get across, he lost."
"If that's the way he wants to demonstrate his rights, then that's what this country's all about," Jenkins' husband Aaron, a veteran, added. "It hurts, but it is what it is, I guess."
This story has been updated.
—
Follow Dave Urbanski (@DaveVUrbanski) on Twitter