Comedian Tamale Rocks was performing in an Illinois bar over the weekend, but what she found in the ladies' restroom is no potty joke.
Taking a selfie video in the bathroom of Cigars and Stripes, located in a suburb near Chicago, the comic admitted her paranoia over a full-length mirror right in front of the toilet.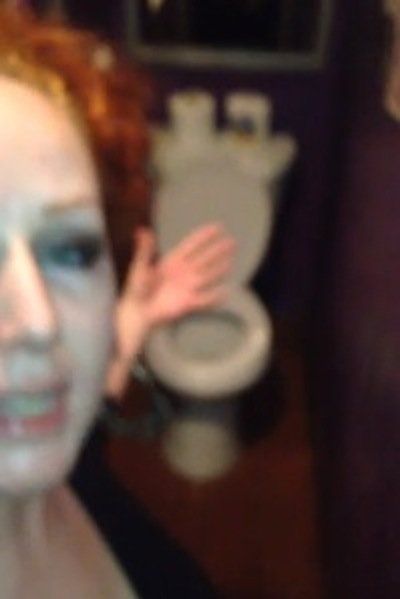 Tamale Rocks points out how the toilet seems to be strategically located in front of what she revealed is a two-way mirror. (Image source: YouTube)
"Now, the ladies' toilet opposite of the full-length mirror may not appear weird to some people, but to paranoid jerks like myself, I get a little confused about why that might be there," she said. "To check a dress? Hmm, perhaps. To watch a panty line? Maybe.
"Let's take a peek at what really lies behind it," she continued.
Behind the mirror is a door that leads to a cleaning closet. Turning around and facing back out toward the bathroom though, Tamale revealed that the cleaning closet door has been cut out and covered with the mirror, which is, as you've probably guessed at this point, a two-way mirror.
"Here you will see the back of the door cut out and a clear view of the toilet that ladies relieve themselves in at this establishment," she said. "Here's to being a lady in comedy, am I right?"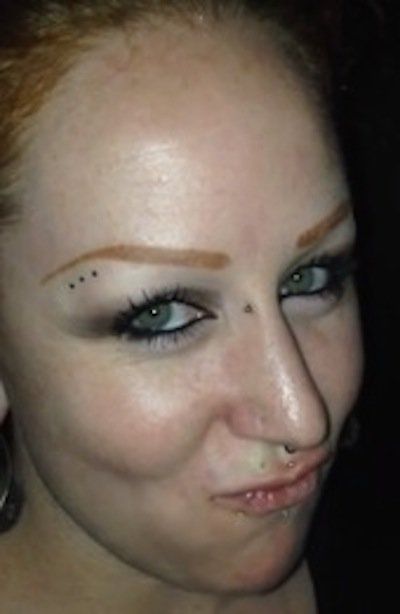 The comedian gives a disapproving look. (Image source: YouTube)
Watch Tamale Rock's revealing video:
Jezebel reached out to Cigars and Stripes owner Ronnie Lotz and had an interesting exchange.
Lotz apparently came right out and admitted the two-way mirror.
"And yes, absolutely: we have a two-way mirror in there, yes, yes; we've had it since 2001," he told Jezebel.
Here's what Lotz said when pressed further by Jezebel about why the mirror is there:
Young lady, I have in my beer garden—I have a 10 and a half-foot hole. Did you know that it's haunted. Did you know that a man fell dead. Do you know that we do seven days of Halloween. Do you know that mirror's been there for the longest time. That woman opened the door. I mean she opened the door, there's nothing in there. Open the door and pee and do what you want. Quite frankly I'm enjoying people calling, because I'm selling chicken wings.

Look, this woman is looking for a viral video. There's a big movement in reality TV to be outraged about feminism. I've been in professional wrestling. So yes: come see my mirror; eat my wings—I don't know what to tell you, honey.
The diatribe goes on and on and Lotz at one point says the mirror is "old news" and that the door is always open and it's "for Halloween."
"We used to hang a witch's head in there so that the girls would pee, and they'd look into a dingy closet and be all weirded out," he said. "We specialize in making people feel very uncomfortable. It's why we're successful today. If you get it, you get it. If you don't, stay home."
The Cigars and Stripes Facebook page has shared Jezebel's article detailing the truth behind the mirror. Many of the commenters on this post have defended the mirror's presence in the bathroom and the owner's response in the article.
"Ronnie that is hilarious," Chris Frcek wrote.
"The mirror thing it's so noticeable when you go to the bathroom that was no secret," Brenda KraYola De Leon wrote. "I think this girl just wanted a viral video like Ronni said if he was doing something bad and didn't wanted to get caught he would of locked it why because women are always curious and every time they see a door in a bathroom they open it regardless if it's a public bathroom."
Still, others have commented that it needs to be fixed.
"It doesn't matter if you're a regular. You don't have two-way mirrors in bathrooms," Abby Stassen, who said she performed at the bar in the past, wrote in a comment.
"This video proves that someone can watch women in the bathroom while they are unaware. That is unacceptable," she added.