A Vietnam veteran took to the streets of Baltimore amid utter chaos on Monday night and urged rioters to go home. He also delivered an amazing, impromptu message on live TV after a CNN reporter approached him.
The man, who identified himself as Robert Valentine, said the violent rioters do not "respect" the death of Freddie Gray or the family's feelings. Gray died of a serious spine injury while in police custody, sparking unrest in Baltimore.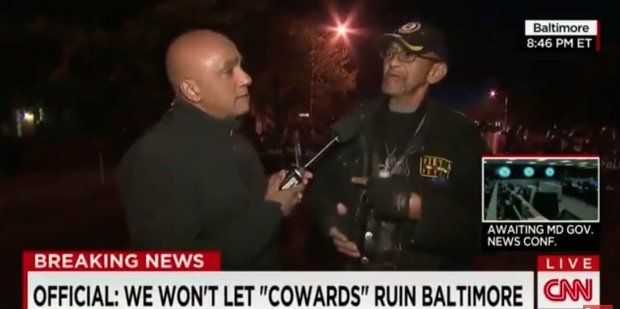 (Screengrab via CNN)
"Here's number one: I did 30 years, OK? I came out a master sergeant. I've seen more than all of this. I've been through the riots already," Valentine told CNN. "This right here is not relevant. They need to have their butts at home. They need to be in their home units with their families studying and doing something with their life — not out here protesting about something that's not really about nothing."
He continued: "They do not respect this young man's death, you know? Now, momma and daddy done lost a child — that could be them. So, I'm very pissed."
When asked if he was concerned about his own safety, Valentine replied, "I love my country, I love my charmed city."
"And I'm an American," he added. "I'm not black, white, red or yellow -- nothing. I am an American."
CNN host Anderson Cooper dubbed the man a "hero" for his bravery in Baltimore.
---