"Clinton Cash" author Peter Schweizer faced a determined Mika Brzezinski during a contentious 12-minute segment on MSNBC's "Morning Joe" Tuesday.
Brzezinski first read off some of the questions Schweizer poses in his book, including whether the massive donations made to the Clinton Foundation and huge speaking fees paid to Bill Clinton were tied to key decisions made by U.S. government officials and "obtaining favorable outcomes."
"What did you find? Did you find any proof that the answers to these questions are 'yes?'" she asked.
Schweizer responded, "I think the answers are 'yes' in a pattern of behavior."
Brzezinski cut him off, asking, "What's the proof?"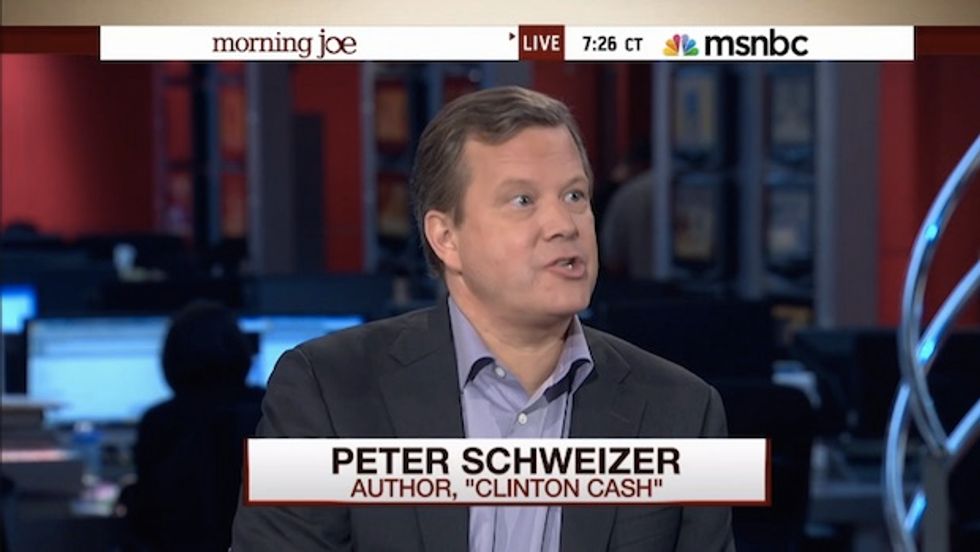 Image source: MSNBC
"I think the proof is, you look at a series of actions in which money flows to the Clintons through speaking fees or Clinton Foundation donors," Schweitzer said. "Hillary Clinton takes a course of action that benefits those donors. In many cases in the book, she is reversing course on policy prescriptions as it relates to India."
When Brzezinski asked for a "chronological breakdown" of the incidents, Schweizer offered a short list starting with the then-secretary of state changing her opinion on nuclear restrictions on India -- restrictions imposed by then-President Bill Clinton. He also mentioned the timing of the State Department's support for the Keystone pipeline deal just four months after Bill Clinton was paid $2 million for speeches made to TD Bank groups, one of the largest stakeholders in the Keystone deal.
Schweizer also pointed out the sudden rise in Bill Clinton's speaking fees -- from an average of $190,000 before Hillary was secretary of state — to an average of $750,000 after her appointment.
Asked by panelist Mike Barnacle if there's "anything indictable here?" Schweizer acknowledged there is no "smoking gun." However, the author did point out there is a "pattern of behavior" like those often seen in insider trading cases.
"It should be troubling for us, that the day of January 2009, Bill Clinton's speaking fees from foreign overseas interests, governments and corporations, triples — triples! Did he become more eloquent all of a sudden? I doubt it. He's a very eloquent speaker. I think it's because his wife became secretary of state, and they were glad to take the money," Schweizer said.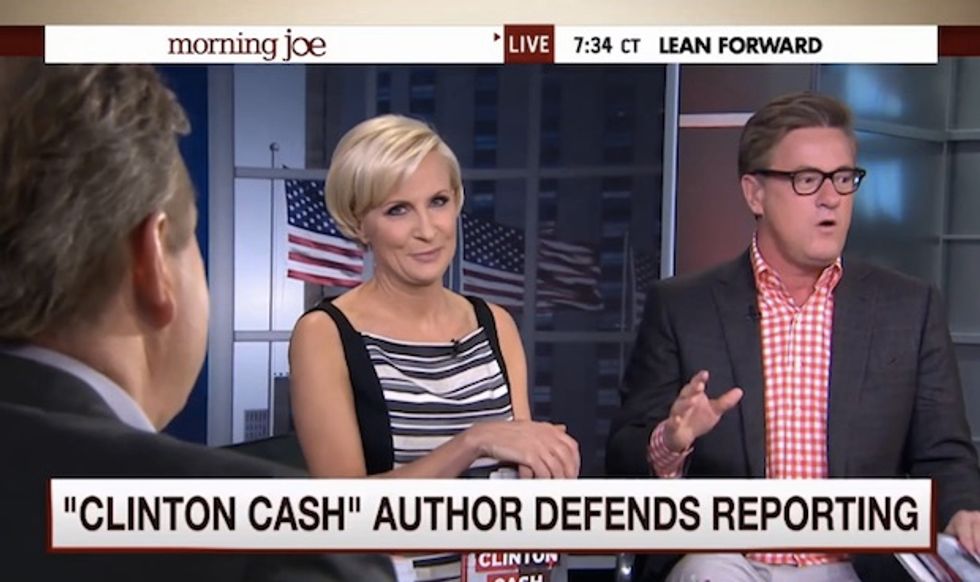 Image source: MSNBC
About halfway through the interview, Brzezinski attempted to paint Schweizer into a corner, quoting his book again, "There is nothing clearly illegal about these payments, but their source, size and timing raise serious questions."
She asked: "I just wonder how does that not be interpreted as clearly political? There's nothing here that's evidence of illegality."
Schweizer fired back, "I don't think the standard at NBC News or any news organization would be that we only report things when we have evidence of illegality. I think if we see a pattern --" Brzezinski cut him off again, wondering how the book's release so close to Hillary Clinton's campaign announcement could be anything but politically motivated.
Schweizer stressed that he has been working on the book for over a year and had no connection to the launch of Clinton's campaign.
After a few more moments, Scarborough apparently decided he'd had enough. "I don't get this," he said, addressing the entire panel that had been pressing Schweizer for the past seven minutes. "If Peter's been reckless, then say he's been reckless."
Scarborough pointed his frustration directly at his eye-rolling co-host, saying, "I know you're playing this game, 'I'm going to be a tough, professional journalist.'
Contrasting the treatment given to former Virginia Gov. Bob McDonald and Sen. Bob Melendez (D-N.J.) with the way the speculation about the Clintons and their foundation is being handled, Scarborough asked, "Are you saying newspapers and reporters shouldn't, shouldn't go out and report on this? 'Cause I'll tell ya, when Peter Schweizer was talking about Congress insider trading we had him on the show, 'Great job, way to go!'"
His animated rant ended with, "But, it's the Clintons and suddenly, 'Oh my God, let's bow down before Bill and Hillary because if we ask the same questions of them that we ask of every other politician, then, oh my God, we have crossed a line!' It's like that, that, that, that part in Indiana Jones where you cross the line and and the rock comes after you and you've gotta run fast 'cause you dares to cross the Clintons line -- who I might add, made $150 million while dudes get thrown in jail for going on a golf trip in Ireland."   
Watch the entire segment.