How strong was the storm that rolled through Louisiana Monday?
Well, just watch what high winds in Jefferson Parish did to a cargo train on an elevated track and keep in mind that this footage was taken at 10:30 a.m. — that's in the morning, not at night:
The footage was shot by WGNO-TV reporter Jabari Thomas near the Huey P. Long Bridge. No injuries were reported in the incident.
"The rain actually felt like needles. It was so strong," Thomas told WGNO. "Before I even got there, the sky was already black and green."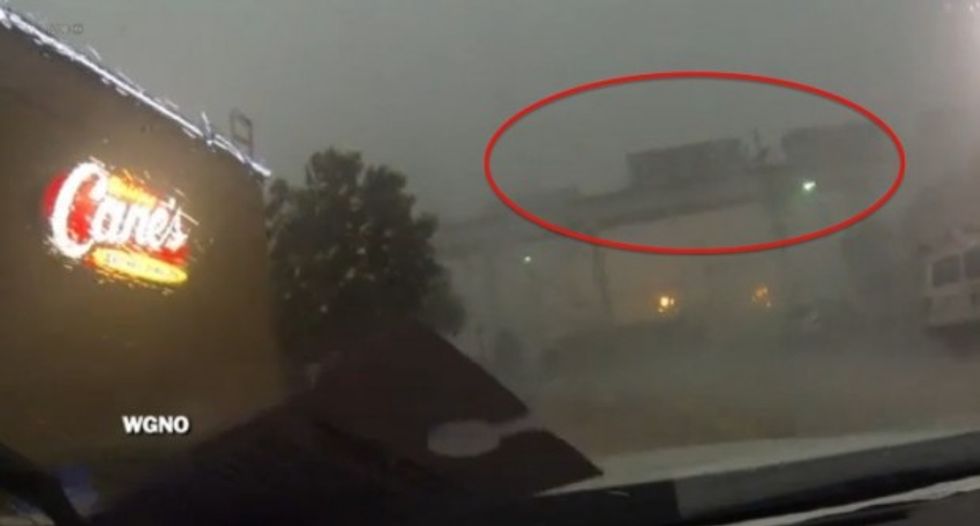 The WGNO-TV reporter who recorded the tracks on his GoPro said he couldn't believe the train fell from the tracks in the storm. (Image source: WGNO-TV)
Thomas parked his car at a fast-food restaurant and went inside to take cover, but his GoPro camera in his car was still rolling to capture what happened to the train.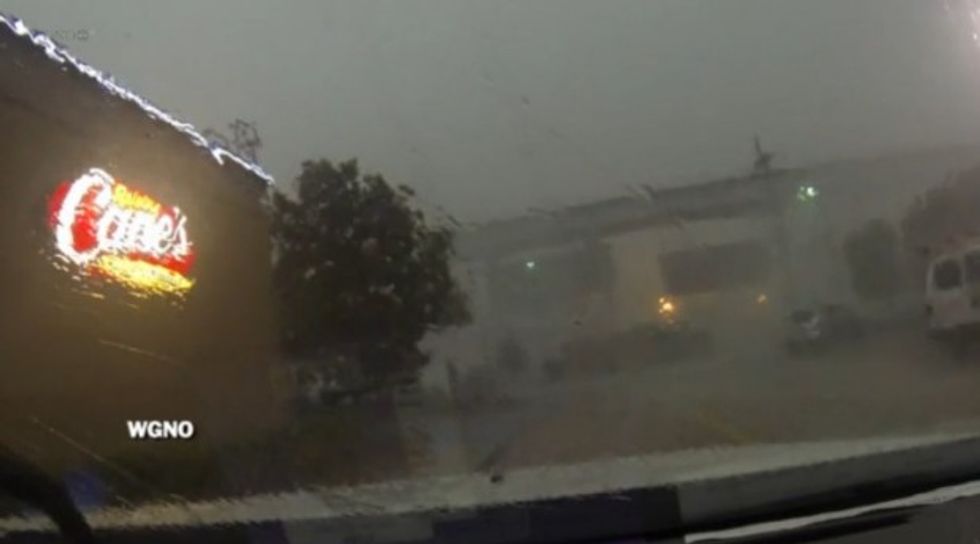 Here you can see the train cars falling from the elevated track. (Image source: WGNO-TV)
"By the time I got inside, moments later, we heard this boom and then there was a flash," Thomas said. "I, in the back in my mind, had an idea of what it was and I thought to myself, 'There's no way that train had fallen off the track.'"
After the storm calmed down though, Thomas went outside and found his initial hunch was correct. He noted that from inside the restaurant they saw the flash from the transformer that blew.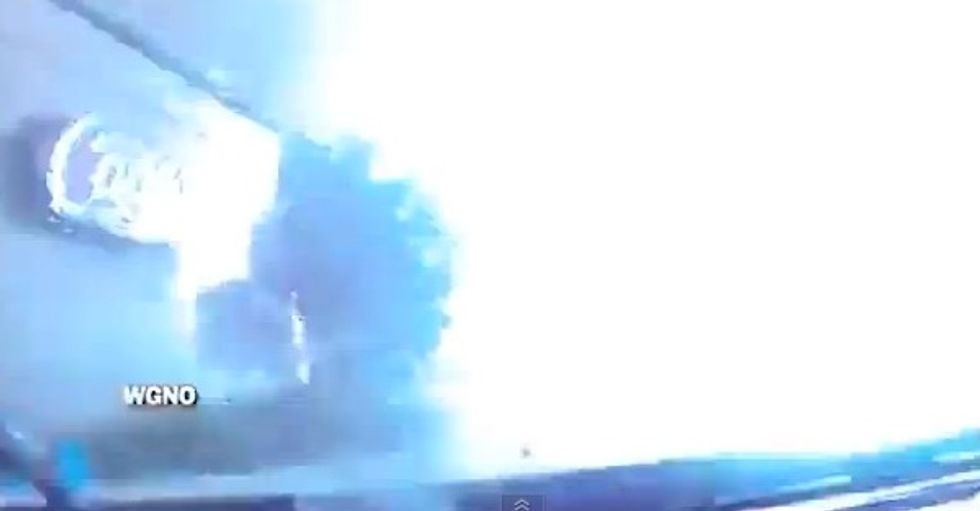 The moment a transformer blew when the cars hit the ground. (Image source: WGNO-TV)
The same storm system in Louisiana Monday also halted the U.S. Coast Guard's search for four missing boaters on Alabama's Mobile Bay.
Coast Guard had searched more than 3,000 square miles of water looking for the missing sailors after the  57th annual Dauphin Island Regatta race went awry Saturday afternoon when a powerful storm moved through, killing two people. Officials said it's unclear how long the missing could survive in the Gulf.
Capt. Duke Walker, commander of the Coast Guard in Mobile, said survival depends mainly on the individual who is missing and the environment.
"The water temperature, the air temperature, the conditions on the water and then a person's physical makeup," he said Monday. "So we have a lot of different people involved, a range of ages from a young man to an older gentleman."
Authorities haven't identified any of the victims.
—
The Associated Press contributed to this report.