President Barack Obama said there is "no excuse" for Monday night's "senseless violence" in Baltimore, but said the country also needs to seriously examine the issues behind it.
"There's no excuse for the kind of violence that we saw yesterday. It is counterproductive. When individuals get crowbars and start prying open doors to loot, they're not protesting, they're not making a statement — they're stealing," Obama said in his first public comments about the rioting and looting that swept the city. "When they burn down a building, they're committing arson and they're destroying and undermining businesses and opportunities in their own communities that rob jobs and opportunity from people in that area."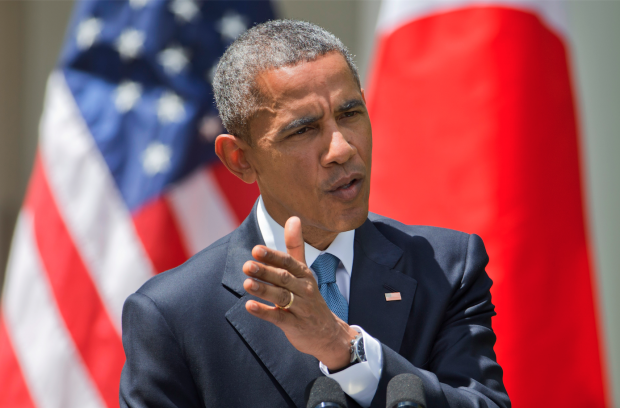 President Barack Obama speaks about recent unrest in Baltimore during a joint news conference with Japanese Prime Minister Shinzo Abe, Tuesday, April 28, 2015, in the Rose Garden of the White House. (AP Photo/Jacquelyn Martin)
Obama called the actions of the mayor of Baltimore and governor of Maryland, including calling up the National Guard to patrol the city streets, "entirely appropriate" to "stop that kind of senseless violence and destruction."
"That is not a protest, that is not a statement, it's people, a handful of people, taking advantage of a situation for their own advantage, and they need to be taken as criminals," Obama said.
But he said that since the events of Ferguson, Missouri, last summer, "We have seen too many instances of what appears to be police officers interacting with individuals, primarily African-American, often poor, in ways that raise troubling questions.
"It comes up, it seems like, once a week, or once every couple of weeks. So I think it's pretty understandable why the leaders of civil rights organizations, but more importantly, moms and dads across the country would start saying this is a crisis," Obama said.
"What I would says is, this has been a slow-rolling crisis that has been going on a long time," Obama said. "This is not new. We shouldn't pretend that it's new. The good news is that perhaps there is some newfound awareness, because of social media and video cameras and so forth, that there are problems and challenges in terms of how our policing and laws are applied in certain communities. And we have to pay attention to it and respond."
Obama said there are police departments and communities around the country that have some soul-searching to do.
"I think we as a country have to do some soul-searching. This is not new," he repeated. "It's been going on for decades and without making any excuses for criminal activities that take place in the communities, what we also know is that if you have impoverished communities, that have been stripped away of opportunity where children are born into abject poverty, they've got parents often because of substance abuse problems or incarceration or lack of education themselves can't do right by their kids. If it's more likely that those kids end up in jail or dead than they go to college, communities where there are no fathers who can provide guidance to young men, communities that where there's no investment and manufacturing has been stripped away, and drugs have flooded the community and the drug industry ends up being the primary employer for a lot of folks
"If we are serious about solving this problem, then we're going to not only have to help the police, we're going to have to think about what can we do, the rest of us to make sure that we're providing early education to the kids, to make sure that we're reforming our criminal justice system so it's not just a pipeline from schools to prisons, so that we're not rendering men in these communities unemployable because of a felony record for a nonviolent drug offense, that we're making investments so they can get the training they need to find jobs. That's hard. That requires more than just the occasional news report or task force," Obama said.
Nearly 200 people were arrested and more than 100 fires set, including to police cars and to buildings. Fifteen police officers were injured.
The unrest started hours after the funeral of Freddie Gray, a black man who died of a spinal cord injury sustained while in police custody earlier this month.
"If our society really wanted to solve the problem, it would require everybody saying this is important. That we don't only pay attention when a CVS burns, or a kid gets shot or gets his spine snapped," Obama said.
Fred Lucas contributed to this report.