Though physical violence that erupted Monday in Baltimore seemed pervasive among protesters, at least one man was captured being a voice of reason in the crowd.
"Don't! Don't!" a man wearing a "Punisher" T-shirt said, holding his arms out to block the crowd from giving a line of helmeted police officers a reason to use force. "Do not give them a reason!"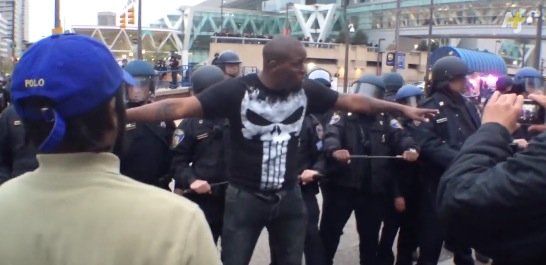 Image source: Twitter
Watch the video posted on Twitter:
They not showing this on the news #BaltimoreRiots https://t.co/ZRS1Vvvco2

— AC (@ACFromDaBranch) April 27, 2015
The city mayor's office said Tuesday morning that there were 144 vehicle fires, 15 structures fires and nearly 200 arrests made as a result of the unrest that broke out Monday, hours after the funeral for Freddie Gray. The 25-year-old died of a spinal injury days after being taken into police custody.
Early Tuesday morning, aerial footage on local station WJZ-TV showed a firefighter spraying the burnt out shell of a large building as an American flag fluttered nearby on an untouched building.
The Maryland Transit Administration said several subway stations will be bypassed Tuesday and at least one bus station is closed because of police activity in areas of Baltimore. In addition to police, the U.S. National Guard took up positions in the city, and cleanup began early Tuesday morning.
Public schools in the city closed for the day, and several neighboring districts said they would cancel any scheduled field trips to Baltimore.
A citywide curfew is in effect from 10 p.m. to 5 a.m.
(H/T: Reddit)
—
The Associated Press contributed to this report.