Munir Bahar, founder of the 300 Men March movement that aims to act as a "neutral force" between police and the rioters amid the protests in Baltimore, slammed the "professional agitators and protesters" from out of town who he said are wreaking havoc on his city.
"Because they have certain political aims or what have you, they are hijacking the emotions of the mass majority of young folks in Baltimore that are involved, and sending them on to a negative path," Bahar said on The Glenn Beck Program Wednesday. "We can just call them agitators. ... We have professional protesters, and they're not guiding these people in a positive direction."
Bahar said the agitators are "just arousing people's anger" and are "using the deaths of these individuals" to further their own goals.
"When this happened to Freddie Gray, this was sort of an invite for people to come into this community [and say], 'Let's set up shop, and now this is going to be the new national post where we're going to air all of our frustrations for everything wrong with our country and the government,'" Bahar remarked. "And that's the sad part. This is about justice for Freddie Gray. This isn't about what's going on in the White House."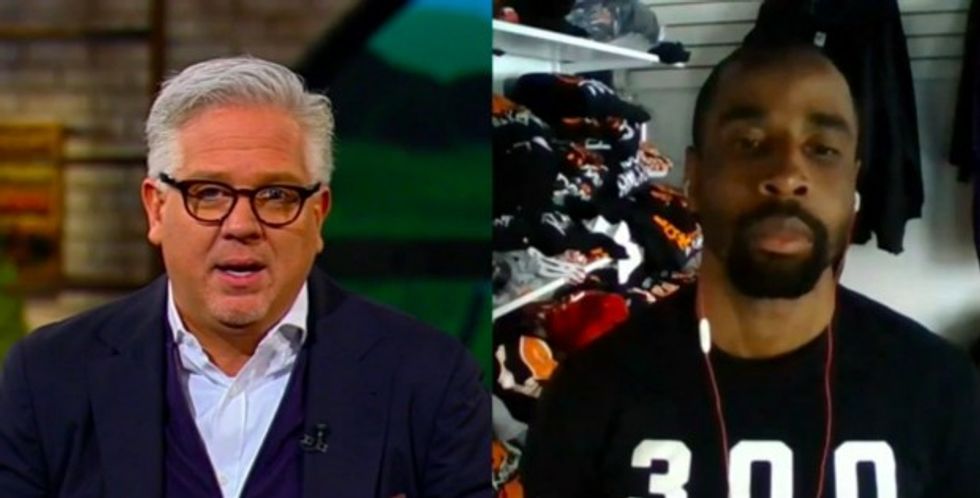 Munir Bahar, founder of the 300 Men March movement, appears on The Glenn Beck Program April 29, 2015. (Photo: TheBlaze TV)
Bahar said he doesn't know exactly what happened to Freddie Gray, who died while in police custody, but he does know that "standing in front of officers yelling, provoking them, busting into stores" is not the way to solve the issue.
Bahar, who founded the 300 Men March Movement two years ago to reduce violence in the city, said his team is just trying to "calm the emotions down of a lot of folks" who are rioting.
"A lot of times in those situations, clear and coherent thoughts aren't produced," he said. "A lot of folks that are out there in the city that are protesting have valid concerns. But they're just misguided and misdirected in how to express those concerns."
Beck agreed, saying: "I don't know what happened with the cops. We're waiting for the results, and if this is a bad cop, we need to take care of that. Justice has to be served. But that's not even the discussion now. The discussion is just how the community is setting itself on fire."
Bahar said those who are professional agitators are trying to guide the population into thinking of "destruction and chaos as a victory."
"Yes, we need justice for Freddie Gray. That is a fact," Bahar said. "But also, there are people who are responsible for inciting these riots. ... I've been urging the mayor, the police chief and other elected officials to look at and focus on these folks that are continuously arousing the crowd."
"This one guy, Malik Zulu Shabazz, he's not from Baltimore," Bahar added. "Why is he at the forefront of these protests? Who is this guy to come into our town, talking about, 'We're going to shut this city down.' Who gives you that authority?"
[mlbvideo content_id=94516983]
The full episode of The Glenn Beck Program, along with many other live-streaming shows and thousands of hours of on-demand content, is available on just about any digital device. Click here to watch every Glenn Beck episode from the past 30 days for just $1!