Karisa Lambert thought her dog, Sam, was gone forever after he disappeared from her backyard in Bridge City, Louisiana. But today, Lambert and her dog were reunited after an 1,800-mile round-trip journey that lasted three years.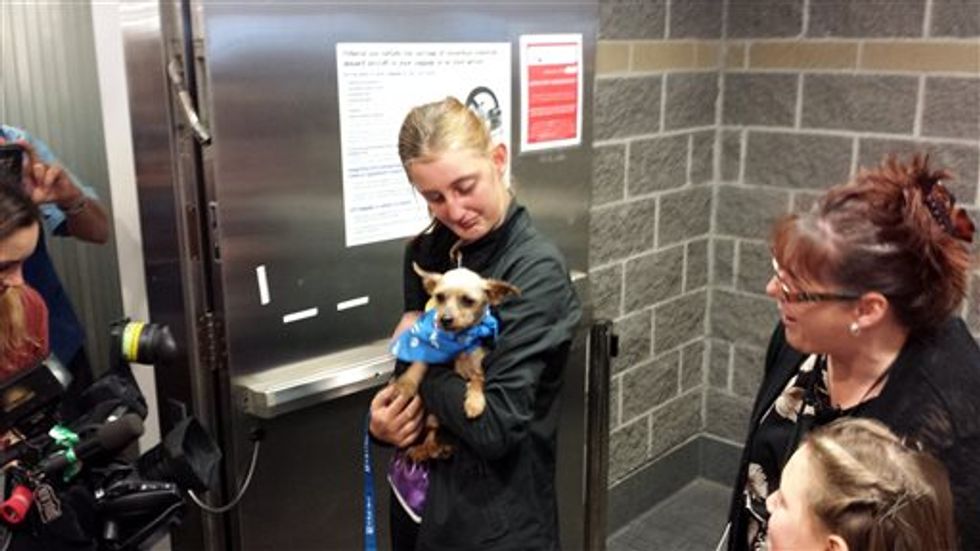 Karisa Lambert, 14, reacts as she is reunited with her Yorkshire terrier 'Sam,' picked up as a stray in Iowa, whom was stolen in 2012, at New Orleans' international airport Kenner, La., Wednesday, April 29, 2015. (AP Photo/Bill Fuller)
Sam, a Yorkshire terrier, was a birthday present to Lambert from her uncle when she was only 4-years-old. But Sam went missing a year later and the family hasn't seen him since. Karissa's dad, Thomas Lambert, said they assumed he was dead, KCCI reported.
But it turns out the dog has been very much alive the entire time, albeit in a different state.
Some Cedar Rapids, Iowa, residents first noticed a lost dog in their neighborhood about two weeks ago. They later discovered a microchip on the dog, which they then used to trace him back to the Lambert's home 900 miles away.
The Yorkie was later taken to an animal shelter by an animal control officer. A representative for the city of Cedar Rapids said the Yorkie was in fair condition.
Lambert, who is now 14, welcomed Sam back home Wednesday as he arrived at the Louis Armstrong New Orleans International Airport. Lambert, a disabled fireman who is currently out of work, couldn't afford to bring the dog home on his own so he created an online crowdsourcing campaign help raise money.
When United Airlines heard the story, it decided to chip and pay for an animal worker to fly with Sam from Des Moines to New Orleans.
See the emotional reunion three years and 1,800 miles later:
(H/T: KCCI-TV)
–
Follow Jon Street (@JonStreet) on Twitter