A local TV news reporter stumbled upon a touching and hopeful scene in the midst of ongoing chaos and violence in Baltimore: an impromptu prayer circle that she called "raw, and real and powerful."
Deborah Weiner of WBAL-TV said that she noticed a group of individuals standing in a circle near the ashes of a community center that burned down earlier this week. The group sang and prayed to God, calling for peace, thanking God for protection and pleading for guidance.
"Please reach out and touch these young people. Give them courage and strength and wisdom to do and make the right decisions and right choices, father God," one woman passionately prayed, as the group joined hands. "We will rebuild."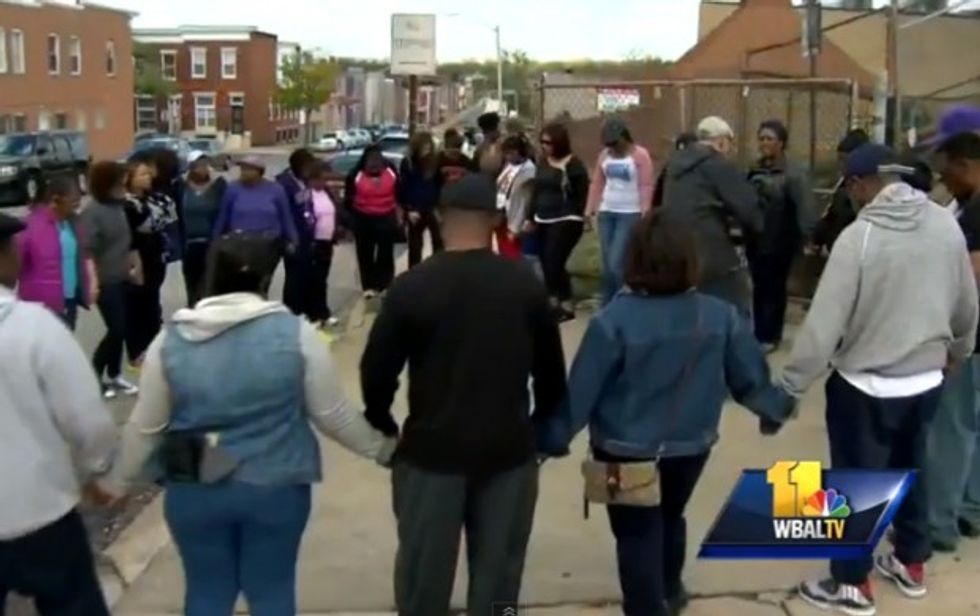 Residents gather in Baltimore for a prayer circle. (WBAL-TV)
Another woman proclaimed that, despite the chaos, she knows that God is "going to build something bigger and greater" for the community.
At one point the Rev. Donte Hickman of Southern Baptist Church in Baltimore stood in the center of the group and said that he was heartened to see the faithful coming together to pray and move the community forward.
"We allow the negative to make us be positive," he said. "We know that the devil — whatever he meant for evil — God is going to turn it around and work it out for our good."
He continued, "God is going to have the last word."
Watch the footage below:
The prayer circle appeared to take place near the Mary Harvin Transformation Center, a not-yet-completed building that burned down earlier this week. The $16 million project was slated to include senior living apartments, counseling, health programs and other educational programs that are much-needed in the community.
Hickman and his church have been heavily involved in the revitalization project, with the mysterious fire leaving him "disheartened and bewildered," according to CNN.
The blaze is currently under investigation.