Police in Houston, Texas, said a 23-year-old man entered a Walmart store on Tuesday, tackled a female officer and then stabbed her 14 times because he believes "cops are oppressive."
The suspect, identified as Jeremiah M. Matthews, reportedly offered a statement to police officers admitting he "had the intent to attack a police officer and his desire to kill a police officer."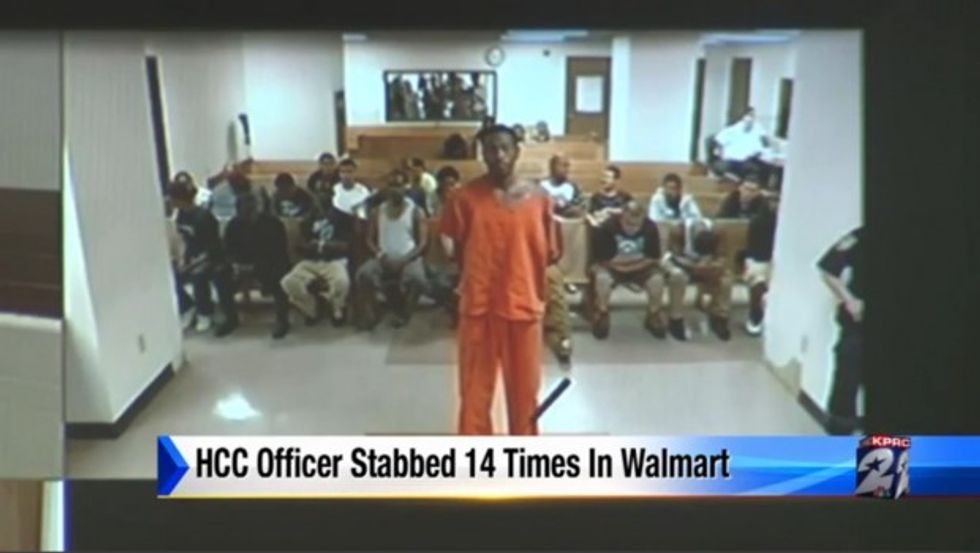 KPRC-TV
Houston Community College Officer Aprils Pikes was off-duty and working as a security guard at the Walmart when she was ambushed. Fortunately, bystanders stopped the savage attack and took down the suspect.
"I wasn't really thinking," Abe Baker, one of the good Samaritans, said. "His arm was just up getting ready to stab her and I just grabbed his arm and took him down, and that's when everybody else came over and we all just took him down."
Pikes underwent six hours of surgery at Ben Taub Hospital and is expected to survive, though she may lose her right arm, KPRC-TV reported.
Following his arrest, police said Matthews told them he attacked the female officer "for the sole purpose of killing a cop because cops are oppressive."
video platformvideo managementvideo solutionsvideo player
Speaking for the Matthews family on Tuesday, activist Deric Muhammad claimed Matthews has a history of mental illness and may have been influenced by the violent riots in Baltimore.
Matthews faces 99 years in prison on charges of attempted capital murder of a police officer and aggravated assault with a deadly weapon.
---