ESPN commentator Stephen A. Smith proclaimed on Wednesday that black America's ancestors "would be ashamed of how we're conducting ourselves" in light of the riots in Baltimore this week. The city was plunged into chaos on Monday as rioters took to the streets on the same day as the funeral of Freddie Gray, who died of a serious spine injury while in police custody.
"Something needs to be said," Smith said. "We talk about police brutality. We need to understand the difference between police brutality and a brutal act by a particular police officer. When you say 'police brutality,' what you're doing is inciting a nation of individuals out there to go and act in a very belligerent and, dare I say, criminal fashion against law enforcement officials. And where does that get them?"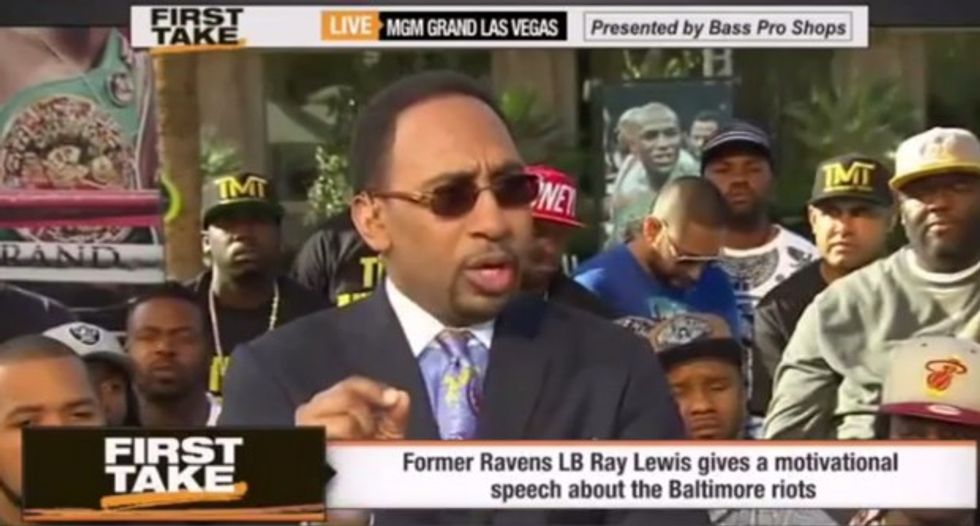 ESPN
Specifically addressing the rioting and looting in Baltimore, Smith said he found it "disgusting" to see people actually supporting "those kinds of actions."
Further, one of the biggest problems in the black community, he said, is "that we're not looking inward."
"We're busy looking outside at everybody else; what everyone else has done to us; what history has done to us; how it has affected us," he added. "I'm here to tell you something…our ancestors, considering our history and what they had to go through and the sacrifices that they had to make to get us to this point, our ancestors would be ashamed of how we're conducting ourselves."
He continued: "And it needs to be said, and it needs to be addressed and it needs to be stopped. Because I see a whole bunch of young brothers and sisters out here right now. They're here with us. They wouldn't act that way."
Smith also said the rioters in Baltimore need to be treated like "criminals" and handled accordingly because there are black people suffering because of their actions.
Watch the entire clip via ESPN below:
(H/T: Mediaite)
---