The man who rode in the same police van with Freddie Gray broke his silence Thursday, saying he feels that a leaked investigative memo published by The Washington Post distorted his words.
"I am Donta Allen. I am the one who was in the van with Freddie Gray," the man said, speaking to WJZ-TV Thursday.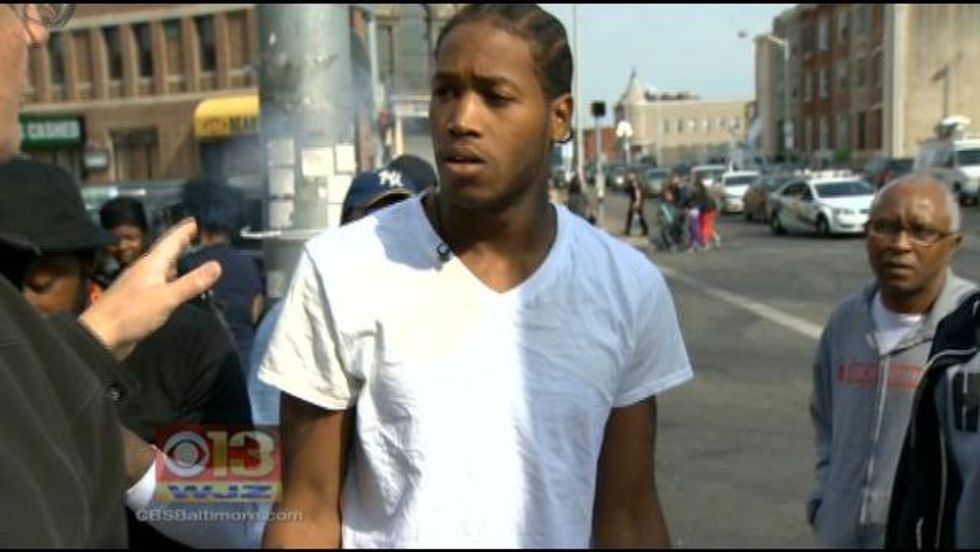 Image source: WJZ-TV
The Washington Post on Wednesday published a story quoting Allen saying he heard Gray "banging against the walls." According to the report, he told investigators he thought Gray was "intentionally trying to injure himself."
"I heard a little banging like he was banging his head," Allen told WJZ.
Multiple law enforcement sources told WJLA-TV that Gray suffered a "catastrophic injury" when he slammed his back into the van and broke his neck. A bolt in the van matched his head injury, the sources said.
However, Allen is upset over how an investigative memo that leaked Wednesday to The Washington Post is spinning his words.
"They trying to make it seem like I told them that, I made it like Freddie Gray did that to himself," Allen said. "Why the f*** would he do that to himself?"
Allen was transported in the van with Gray after allegedly stealing a cigarette from a store. He was never charged, but spoke to officers at the station.
"I talked to homicide. I told homicide the same story." Allen told WJZ.
He says that story is now being distorted by media outlets and that he fears he could be killed.
"I had two options today right, either come and talk to y'all and get my credibility straight with ya'll and not get killed by these f***ers or not tell a true story," Allen said. "The only reason I'm doing this is because they put my name in a bad state."
—
Follow Oliver Darcy (@oliverdarcy) on Twitter