A lot of things have been left in the donation basket at First United Methodist Church in Charlotte, North Carolina.
But nothing quite like this.
Following Sunday's service, pastor Patrick Hamrick found an envelope containing 18 cents.
"After the service we have a couple of people called counters who process the offerings and put them in our safe," he told ABC News. "The secretary called me over and in the envelope was a dime, a nickel, and three cents. That was the 18 cents. We flipped it over and the note was there."
Scrawled on the outside of the envelope was a note that said, "Please don't be mad. I don't have much. I'm homeless. God Bless."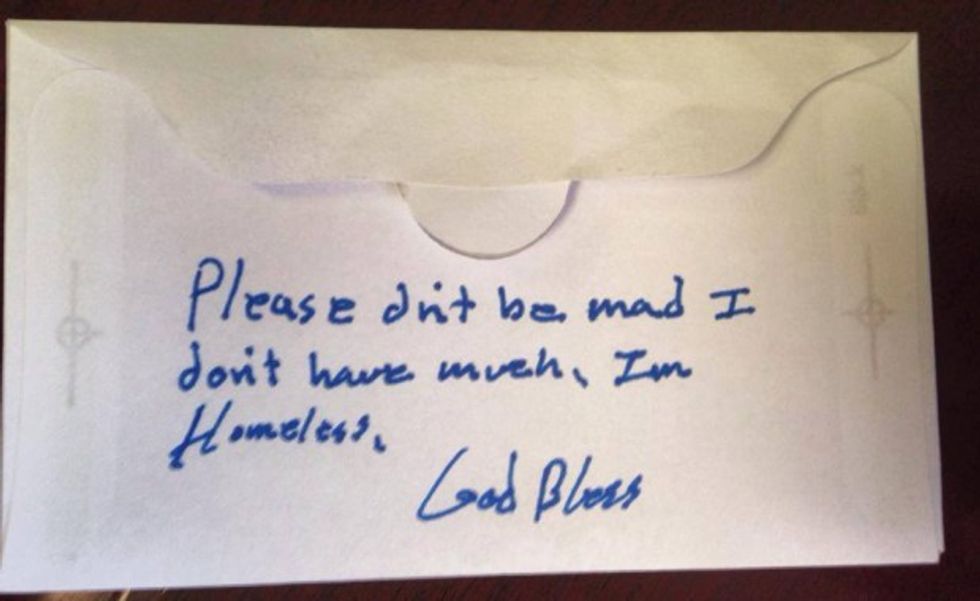 Image source: Facebook
Hammock said the church was "very touched by it" and had a phone call with a person claiming to be the anonymous donor earlier. The man told the pastor he didn't want to reveal himself to the public.
"He's asked me to keep it between me, God, and the church," Hamrick told ABC News. "He's not upset about it, he just feels that he wants to be private. I have to honor it professionally.
—
Follow Oliver Darcy (@oliverdarcy) on Twitter