A New York City man left a restaurant server a surprise she'll never forget and challenged her to do the same for someone else.
It all came about after the server told a familiar customer that she had just received an eviction notice from her apartment's landlord. That's when the customer decided to help her out, WPIX reported.
The diner's bill came to $43.50. He left a tip of $3,000 — and a note.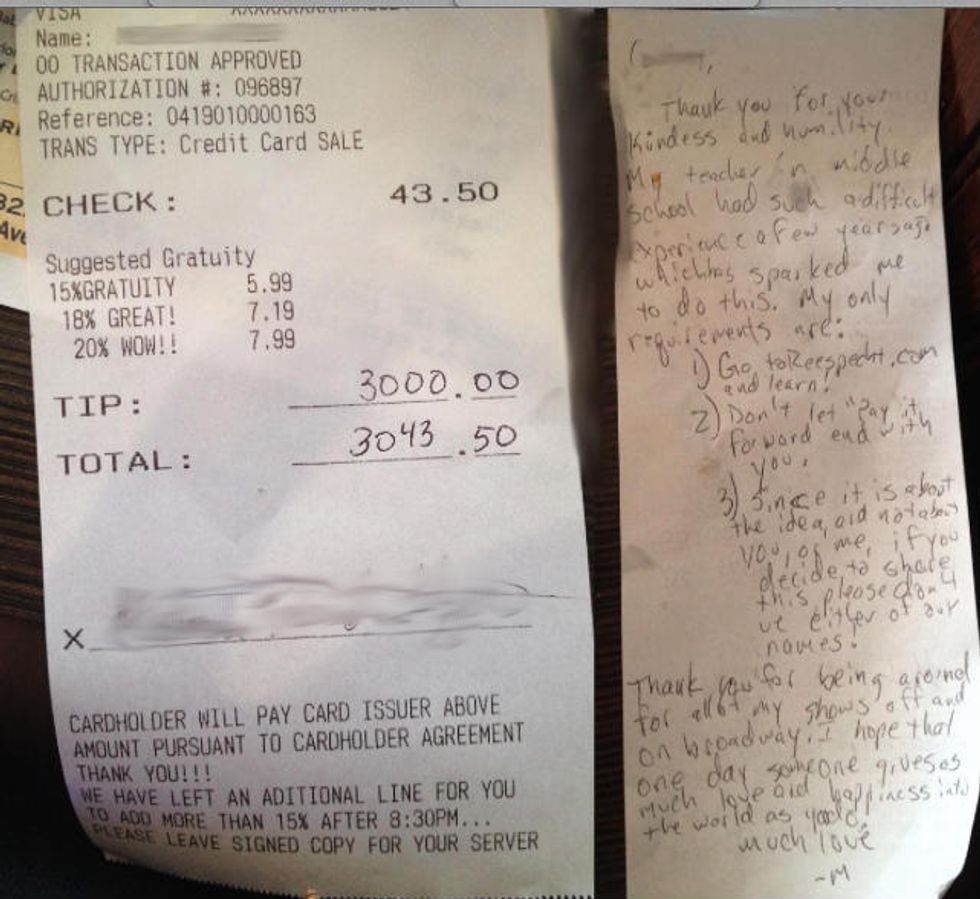 Image source: Reesspechtlife.com
In it, the customer said he was inspired by the foundation started by his former middle school science teacher, Rich Specht. In 2012, Specht's 22-month-old son drowned in a pond on his family's property as they were preparing for Superstorm Sandy.
Specht started a website, ReesSpechtLife.com, to encourage other people to "pay it forward." He has since sent out more than 100,000 cards all across the world asking people to do something nice for someone else.
And that's exactly what the customer, who was in Specht's class a decade ago, did last week when he helped a restaurant server keep a roof over her head. His note said:
"Thank you for your kindness and humility. My teacher in middle school had such a difficult experience a few years ago which has sparked me to do this. My only requirements are:

1) Go to ReesSpechtLife.com and learn!

2) Don't let 'Pay it forward' end with you.

3) Since it's about the idea and not about you, or me, if you decide to share this, don't use either of our names!

Thank you for being around for all of my shows on and off Broadway. I hope that someday someone gives as much love and happiness into the world as you do."
After receiving the tip, the server contacted Specht, who didn't reveal the name of the server or of his former student to WPIX, but said he feels honored that his initiative is being passed on.
"This young man used to come up to my room to talk with me and I remember many of our conversations that we had over the course of that year ... to think that someone I had a decade ago would honor my little boy or even remember his 8th grade science teacher in such a way blows me away," Specht said.
(H/T: Business Insider)
–
Follow Jon Street (@JonStreet) on Twitter