Sue Tomasik, executive director of the Crossing of Manitowoc County, a crisis pregnancy center in Manitowoc, Wisconsin, decided to take decisive action after noticing a troubling trend: Just weeks after prom each year, a slew of teenage girls would come in for pregnancy tests.
"They're nervous wrecks. They're scared to death," she said. "We [had] to help them to think beforehand."
Her preventative solution involved strategically placing uplifting and thought-provoking posters in local high schools to encourage young people to think twice before engaging in risky behavior on prom night.
"Prom: a night to remember, not a night to regret" was placed on some of the flyers, with similar messages encouraging young people to embrace strong moral values and convictions.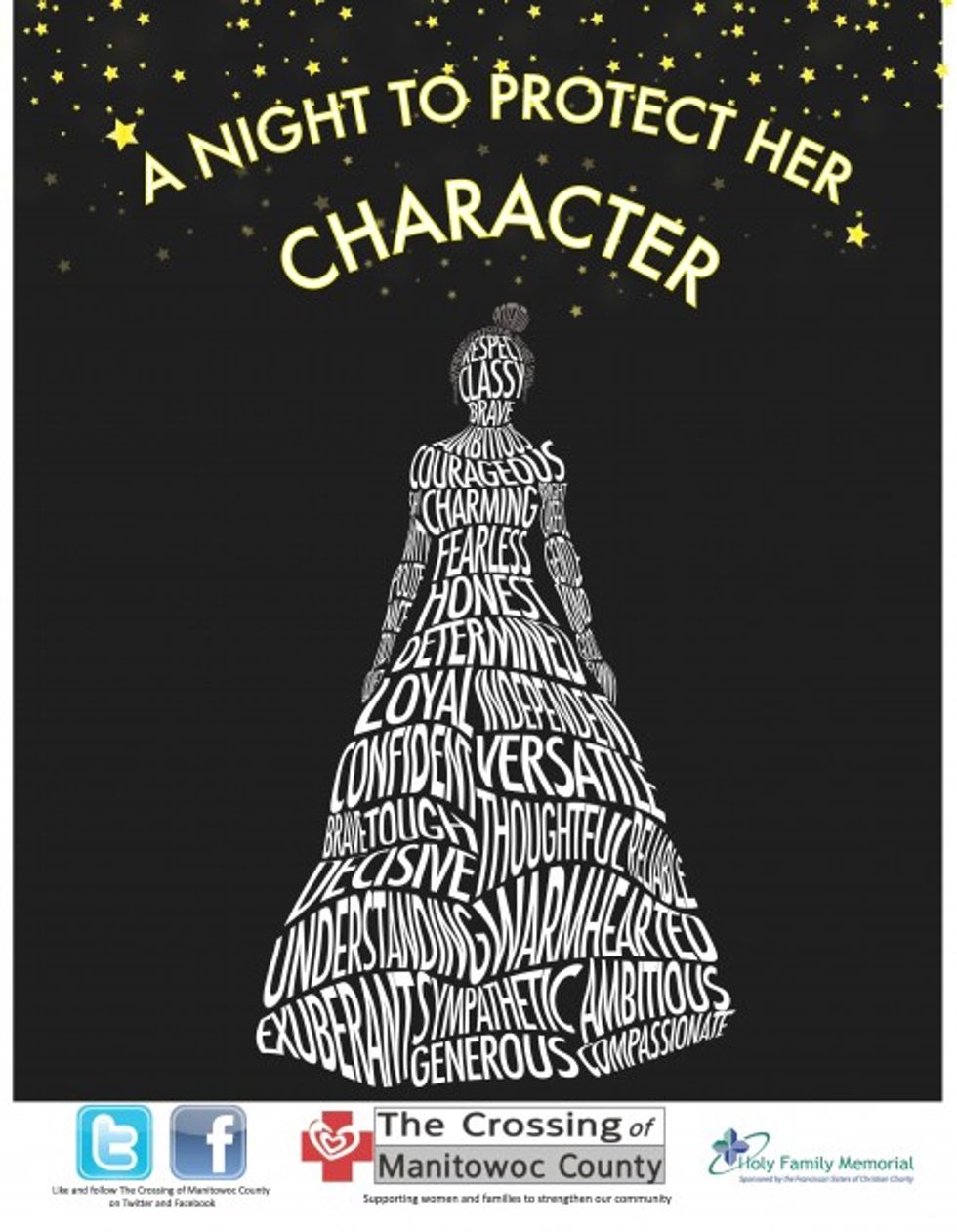 The poster that has sparked controversy (The Crossing of Manitowoc County)
But the effort, which has been under way for nine years without incident, recently came under fire when a high school student and an atheist group petitioned for the removal of the poster from the walls of Lincoln High School in Manitowoc.
Tomasik said that the flyers, which contained no religious themes but did have her faith-based organization's logo as well as the logo for Holy Family Memorial, a local Catholic hospital that helps print the posters, were simply meant to encourage and inspire young people.
"The prom promotion posters were meant to be a prevention piece to help kids ... think," she said.
The posters, which are handed out to other schools in Manitowoc County as well, were originally student-made, but after losing touch with a contact at the high school who helped organize the poster production, volunteers began designing them.
One of the designs provided to local schools for display this year was created by a graphic artist who recently interned for Tomasik at the Crossing of Manitowoc County. It featured the silhouette of a woman in a prom dress that was formed with the combination a number of words, including: "decisive," "charming," "warmhearted," "generous," "ambitious," "honest," and "fearless."
But that poster, titled, "A Night to Protect Her Character," was seen as offensive by Kelsey Schindl, a senior at Lincoln High School. She reportedly complained to the Freedom From Religion Foundation, an atheist activist group, that she was not allowed to display her own poster that opposed the Crossing of Manitowoc County's message, WBAY-TV reported.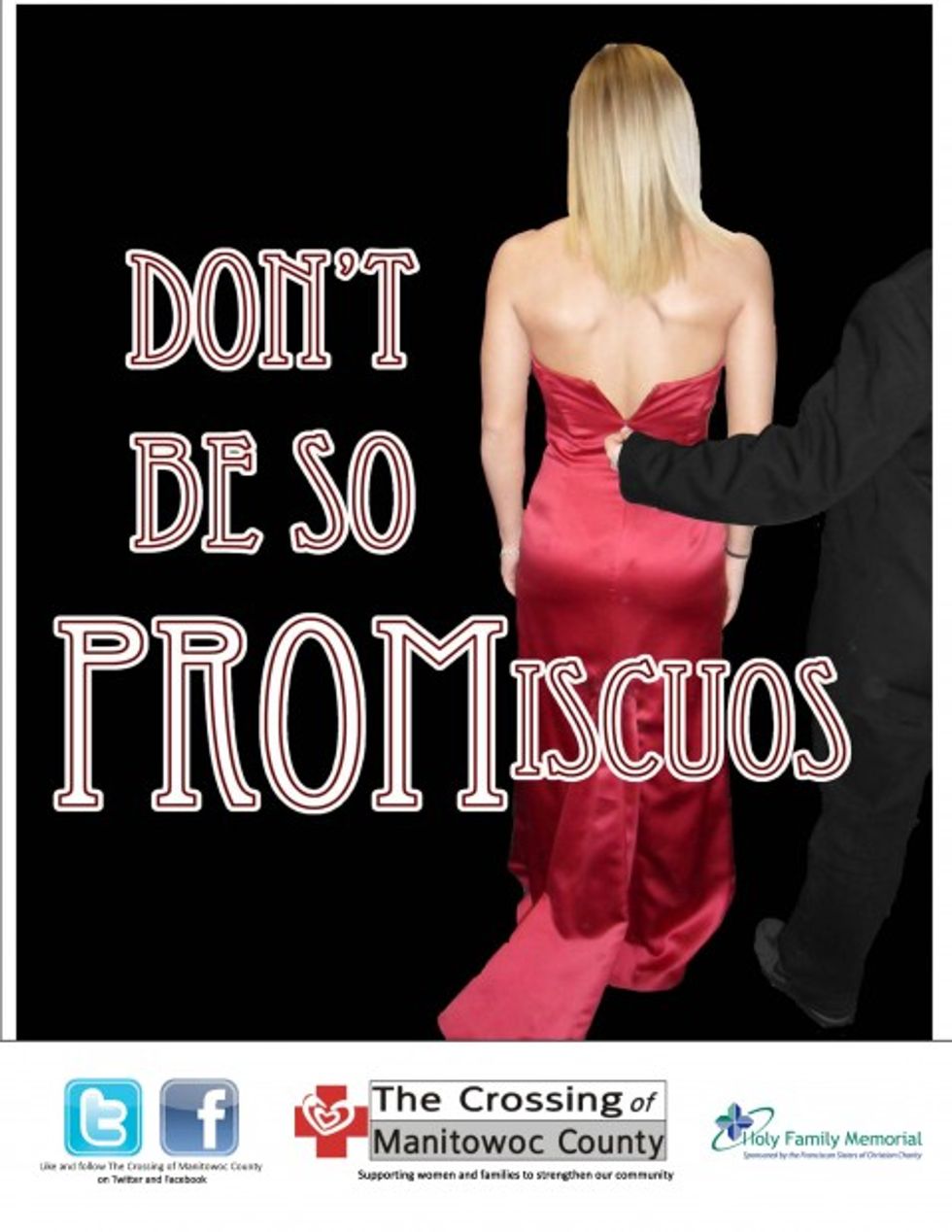 One of the other poster designs distributed to schools (The Crossing of Manitowoc County)
"The insinuation that if you do have sex then you don't have any character anymore is a horrible message to send," Schindl told the Associated Press. "I'm not endorsing teens to have sex, but you're not a bad person if you do and you're not a bad person if you don't."
Tomasik said that she has tried to look outside her own lens to understand where Schindl is coming from, though she shares a very different viewpoint on the matter.
"She was offended that we believed that she needed somebody to protect her character," she said of Schindl's opposition. "So she's kind of coming at it from an independent look at who she is as a woman."
But Tomasik said her goal has been to inspire men and women, alike, to think through their choices — and rather than send a message that women must have protection, she said that men were simply being encouraged to treat women with respect.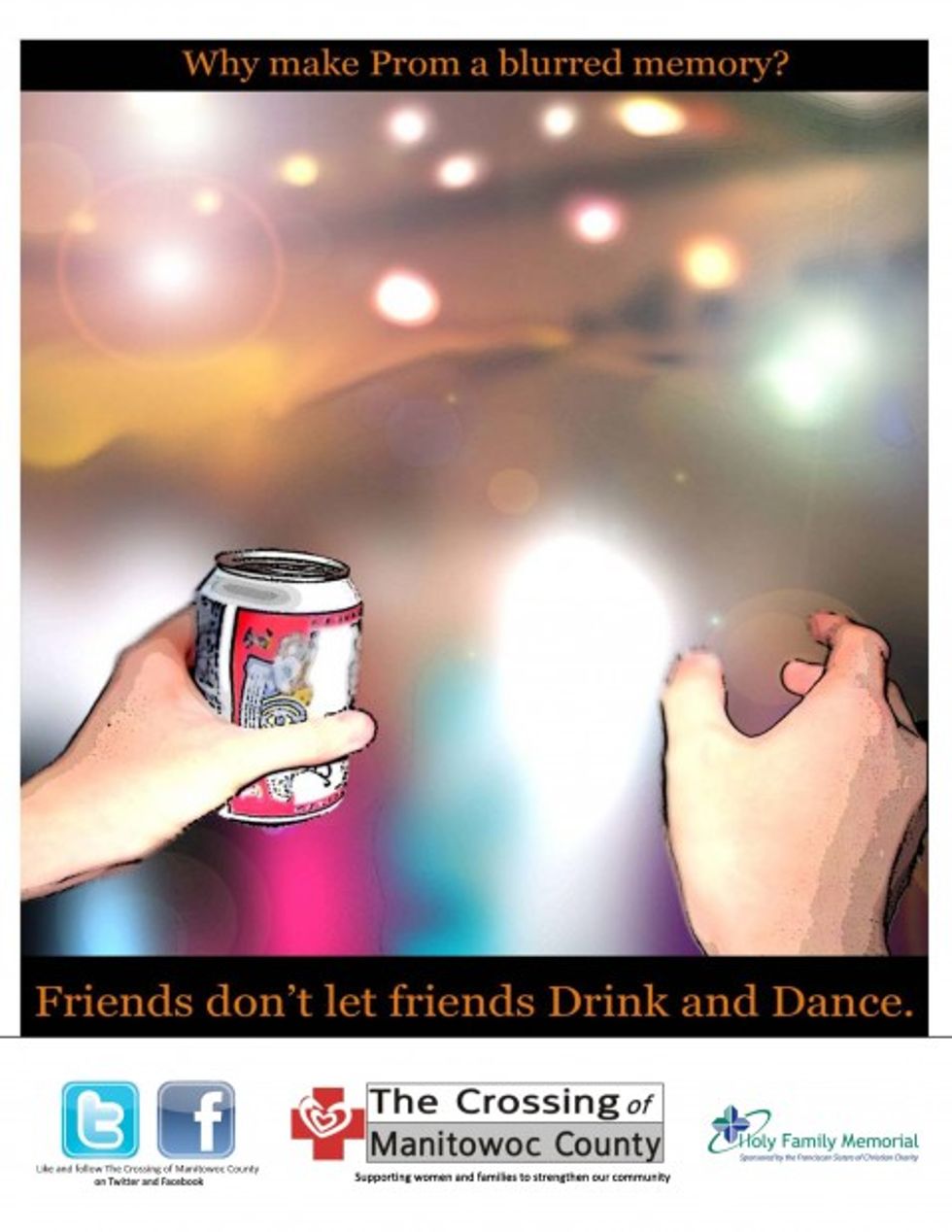 A poster encouraging good behavior among teens (The Crossing of Manitowoc County)
Tomasik told TheBlaze that the Freedom From Religion Foundation, which reportedly fired off a letter to the school district about the posters, also took issue with the fact that her Christian organization's logo was on display under the controversial silhouette.
The atheist organization argued that religious groups shouldn't be permitted to post messages in public schools.
"There is nowhere in any of the posters that we refer to God in any way," Tomasik said, going on to express concerns about how this situation will impact Crossing of Manitowoc County, as she fears that the relationship that she has built with the public schools could be in jeopardy.
Manitowoc Public School District Superintendent Marcia C. Flaherty admitted in a statement this week that the flyers "did not promote any religious theme or institution" and that they "are not involution of school district policy," thought she said that they had been taken down.
"Posters have been utilized for a number of years and, like past years' messages, this poster was one of several merely intending to promote a positive prom experience," she said in a statement to WBAY-TV. "No particular religious standard or expectation was being promoted."
That said, Flaherty said that reaction to the posters showed officials that the posters could be interpreted in ways outside of the intended meaning and that the school has removed them in hopes that the "focus of prom can return to what should be a positive social experience."
Tomasik has not heard from other schools where the posters are displayed about any other related issues.