© 2023 Blaze Media LLC. All rights reserved.
Alan Dershowitz: Charges Against Baltimore Police Officers Are About 'Crowd Control,' Not Justice
He called the charges "outrageous and irresponsible."
BALTIMORE (TheBlaze/AP) — Baltimore's top prosecutor acted swiftly in charging six officers in the death of Freddie Gray, who suffered a grave spinal injury as he was arrested and put into a police transport van, handcuffed and without a seat belt.
But legal experts say getting a jury to convict police officers of murder and manslaughter will be far harder than obtaining arrest warrants.
Alan Dershowitz (Image source: Dimitrios Kambouris/WireImage)
Alan Dershowitz, a well-known criminal lawyer from New York and professor emeritus at Harvard Law School, suggested that State's Attorney Marilyn J. Mosby's actions against the officers were motivated more by political expediency and short-term public safety than strong evidence.
He called the charges "outrageous and irresponsible," especially the second degree murder count filed against the van's driver under a legal principle known as "depraved heart."
"The decision to file charges was made not based on considerations of justice, but on considerations of crowd control," Dershowitz said Saturday.
Mosby announced the charges Friday amid the backdrop of a city in turmoil — four days after public anger over Gray's death triggered riots, with heavily armed troops enforcing a nightly curfew, and the day before scheduled protest marches expected to draw thousands.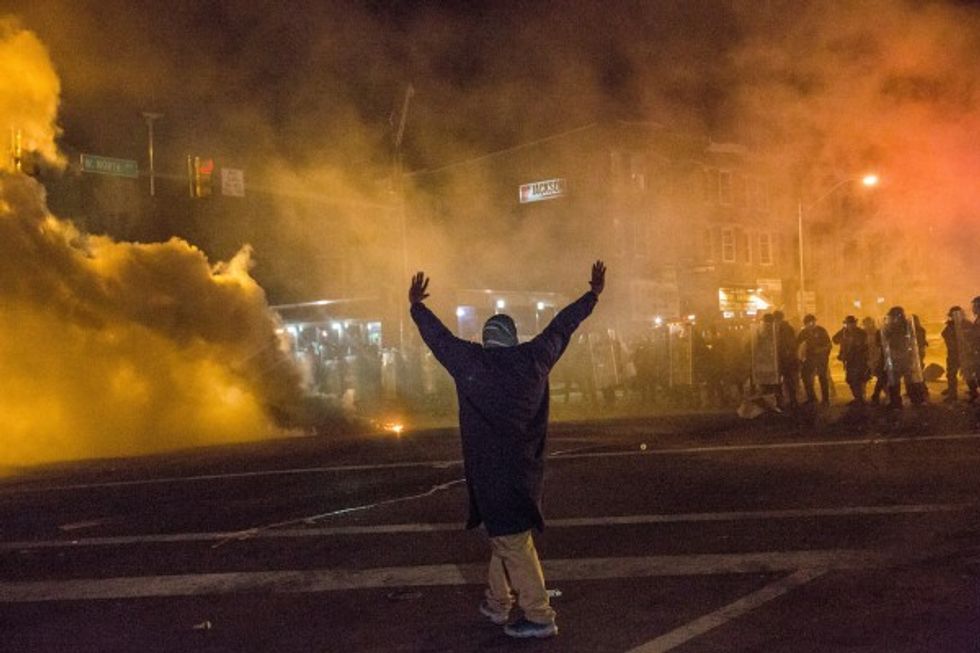 A protester walks through tear gas as police enforce a mandatory, city-wide curfew of 10 p.m. near the CVS pharmacy that was set on fire yesterday during rioting after the funeral of Freddie Gray, on April 28, 2015 in Baltimore, Maryland. (Image source: Andrew Burton/Getty Images)
By bringing charges less than two weeks after Gray's death, Mosby said her decision showed "no one is above the law."
Marilyn Mosby, Baltimore state's attorney, speaking Friday, May 1, 2015, in Baltimore. (Image source: AP/Alex Brandon)
"To the people of Baltimore and the demonstrators across America: I heard your call for 'No justice, no peace,'" the prosecutor said. "Your peace is sincerely needed as I work to deliver justice on behalf of this young man."
Within hours, the city's police union questioned the prosecutor's impartiality, accusing her of a rush to judgment and demanding she recuse herself from the case. Even some of those who support Mosby's stand worry further violence might erupt if she fails to win convictions.
To win a conviction, city prosecutors will have to convince a jury that transport van driver Caesar Goodson acted so recklessly that he knew his actions could take Gray's life.
The classic examples often taught in law schools include when a person drops a flower pot off the balcony of a skyscraper onto a busy sidewalk or when someone fires a gun into a crowded bus.
"That's really the sort of shocking charge," said Andrew Alperstein, a Baltimore defense attorney and former prosecutor.
Across the nation, it is very rare for law enforcement officers to be charged following fatal encounters with suspects, much less convicted by jurors often predisposed to give extra weight and credibility to the accounts provided by police.
Mosby's speediness in ordering the officers' arrests stands in stark contrast to the slow pace of the investigations that resulted in no criminal charges against the officers involved in the deaths of Michael Brown in Ferguson, Missouri, or Eric Garner in New York City. Mosby also does not have the benefit of a video capturing a decisive moment where lethal force was used, such as the video showing a North Charleston, South Carolina, police officer shooting a fleeing Walter Scott multiple times in the back. Despite initial claims by authorities that the shooting was in self-defense, the officer was quickly charged with murder after the video was provided to the media.
In the Gray case, the video evidence is much murkier, with no visual evidence the officers purposely beat him. Expert witnesses are likely to disagree on whether Gray was seriously injured when the Baltimore officers pinned him to the sidewalk and cuffed his hands behind his back. Gray was recorded asking for medical assistance as he was hefted into the waiting van, his feet dragging along behind him.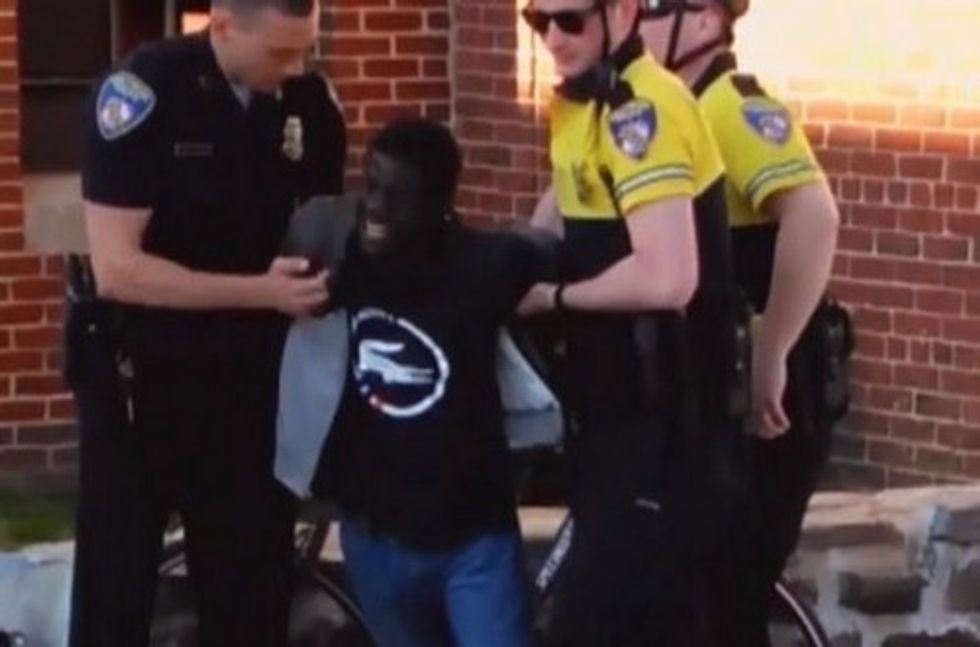 Freddie Gray under arrest. (Image source: WUSA-TV)
The widely shown video that captured the nation's attention shows Gray, 25, being loaded into a police transport van, but not what happened once he was inside. Other than the accused officers, the only known witness is a convicted criminal later placed in the van's other holding cell, unable to see what was happening with Gray.
In her statement of facts, Mosby alleged the officers later also bound Gray's feet together and placed him in the van face-down, rather than buckling him into a seat belt as required by departmental procedures. That would have left Gray unable to brace himself as he slide around on the floor as the van traveled through Baltimore. She also recounted the multiple stops made by the van, even after it likely became clear Gray was in distress. Nearly an hour passed before Gray received any medical attention.
However, the prosecutor steered clear of specifically alleging Goodson took Gray on a "rough ride," the term commonly applied in Baltimore to the practice of the driver making quick stops and sharp turns so as to slam the prisoner around in the back of the van.
Other legal experts say the case is fraught with challenges.
Andrew Levy, a longtime Baltimore defense attorney and adjunct professor at the University of Maryland School of Law, said lawyers could argue that their individual clients cannot be held responsible for Gray's death.
"If you dissect this from the initial pursuit to the initial detention to the arrest to the transfer to the vehicle, that's a pretty complicated timeline and I think we're going to hear lots of defense from individuals basically that will distill down to, 'It wasn't my job. I was just following orders,'" Levy said. "Those are not frivolous defenses in a context like this. Not everybody is necessarily responsible for everything."
Defense attorneys for the officers will likely use Mosby's own public statements about the case against her in requests that the venue for the trial be moved outside of Baltimore. Though such changes of venue are relatively rare, there have been several examples of such motions being granted in cases that have garnered intense media coverage or where local officials are deemed to have made public statements that could unfairly influence potential jurors.
An example where that happened was the prosecution of the police officers acquitted in the 1991 videotaped beating of Rodney King. The trial was moved from inter-city Los Angeles to a much-less racially diverse suburb, where a jury acquitted the lawmen — triggering violent riots that left wide swaths of the city smoldering.
—
Follow Dave Urbanski (@DaveVUrbanski) on Twitter
Want to leave a tip?
We answer to you. Help keep our content free of advertisers and big tech censorship by leaving a tip today.
Sr. Editor, News
Dave Urbanski is a senior editor for Blaze News.
DaveVUrbanski
more stories
Sign up for the Blaze newsletter
By signing up, you agree to our
Privacy Policy
and
Terms of Use
, and agree to receive content that may sometimes include advertisements. You may opt out at any time.