UPDATE: Prince William and his wife Kate emerged just hours after their daughter's birth on Saturday to show the world the new princess. See photos here.
—
LONDON (TheBlaze/AP) — Prince William's wife Kate entered a London hospital Saturday and gave birth to their second child, a girl, the BBC reported.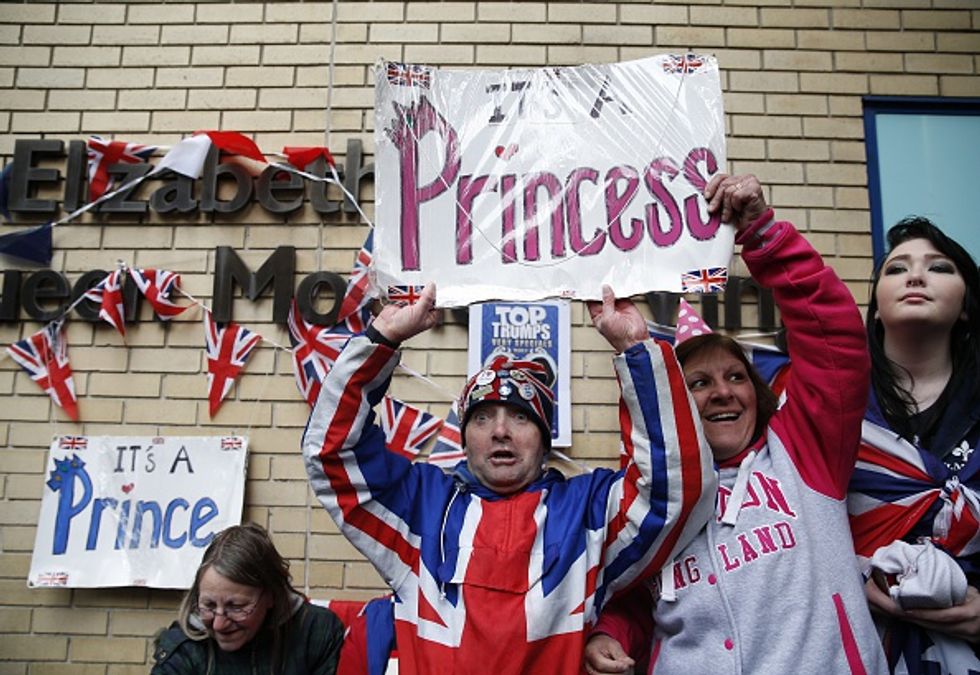 Royal fans hold up a sign the reads 'its a princess' as they celebrate following the announcement of the birth of Catherine, Duchess of Cambridge and Prince William's second child, a daughter, outside the Lindo wing at St Mary's hospital in central London, on May 2, 2015. The Duchess of Cambridge was safely delivered of a daughter weighing 8lbs 3oz, Kensington Palace announced. The newly born Princess of Cambridge is fourth in line to the British throne. (Justin Tallis/AFP/Getty Images)
Watch the announcement below:
The name of the new princess, born 8lbs 3oz, was not immediately made public.
Catherine, Duchess of Cambridge smiles during a tea party at the British High Commission on September 14, 2012 in Kuala Lumpur, Malaysia. (Credit: Getty Images)
The baby girl will be fourth in line to the throne and the fifth great-grandchild of Queen Elizabeth II.
In a brief statement, palace officials said the Duchess of Cambridge was admitted at 6 a.m. local time (0500 GMT) Saturday to the exclusive Lindo wing at St. Mary's Hospital, arriving by car with William.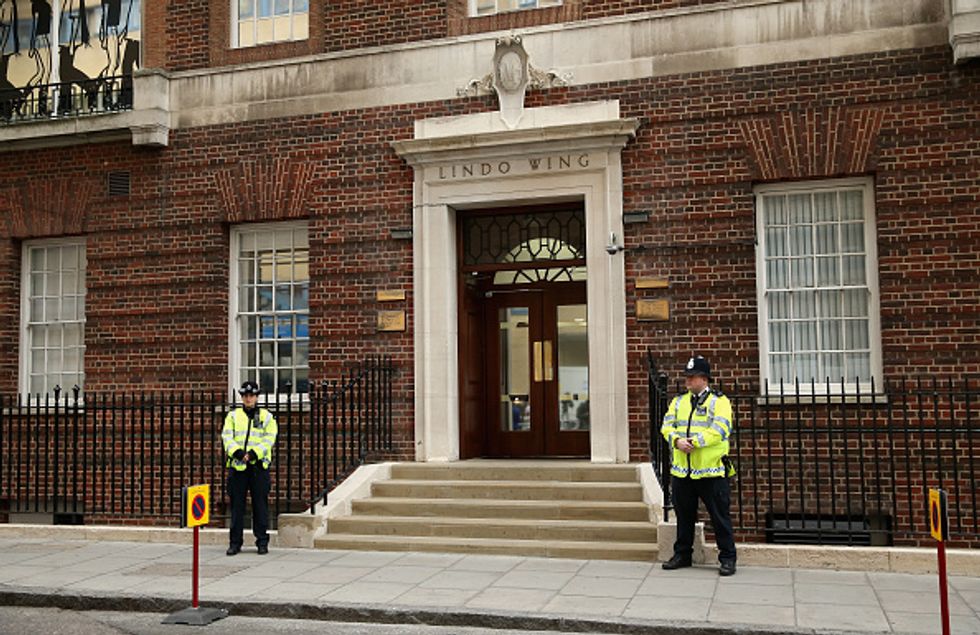 Policemen wait outside the Lindo Wing after it was announced that the Duchess of Cambridge has gone into Labour at St Mary's Hospital on May 2, 2015 in London, England. (Photo by Chris Jackson/Getty Images)
As news of the child's birth broke Saturday, British Prime Minister David Cameron tweeted congratulations to the royal couple.
Congratulations to the Duke and Duchess of Cambridge on the birth of their baby girl. I'm absolutely delighted for them.

— David Cameron (@David_Cameron) May 2, 2015
The couple's first child, Prince George, was born July 22, 2013 at the same hospital. William, who is on leave from his job as an air ambulance pilot, was at his wife's side in the hospital, as he was for George's birth.
Britain's Prince William, right, and Kate, Duchess of Cambridge hold the Prince of Cambridge, Tuesday July 23, 2013, as they pose for photographers outside St. Mary's Hospital exclusive Lindo Wing in London. (Credit: AP)
The pending birth and uncertainty about the gender — the royal couple reportedly declined to learn the sex of the baby beforehand — has been a boon for Britain's bookmakers, who say they have received thousands of bets on the newborn's gender and possible name. Betting was part suspended after Saturday's announcement, though wagers were still being placed on a name and other characteristics.
"Punters have gone royal baby betting mad and now that Kate has gone into labor, there is a huge scramble to predict the royal baby's gender, name, weight, and hair color amongst other things," Coral spokeswoman Nicola McGeady said. "Tens of thousands of bets are being placed across the nation, sparking one of the biggest gambles we have ever seen on a non-sporting event."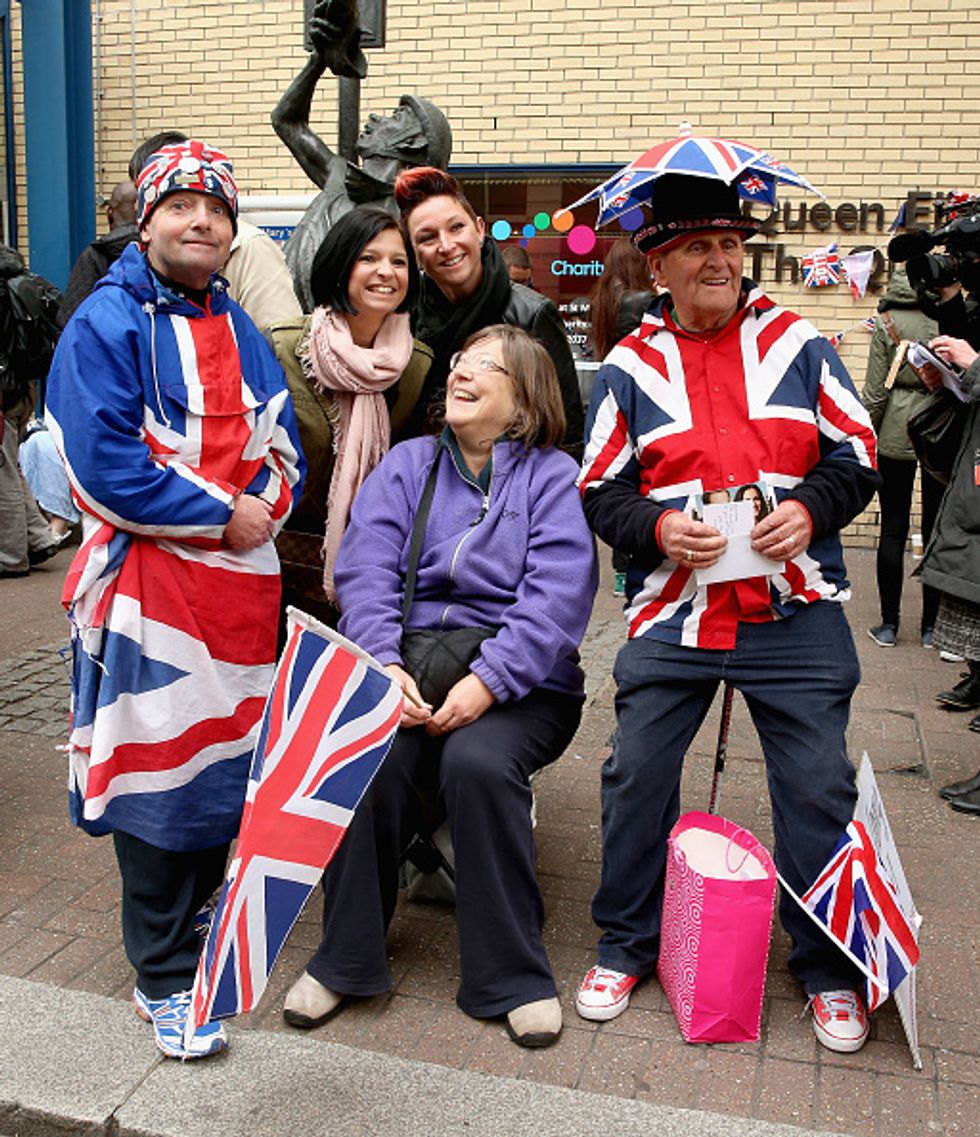 Fans dress in the Union Jack flag at the Lindo Wing after it was announced that Catherine, Duchess of Cambridge has gone into Labour and is at St Mary's Hospital on May 2, 2015 in London, England. The Duchess is expecting her second child soon. (Photo by Chris Jackson/Getty Images)
Anticipation has been building for days. Kate had told a well-wisher earlier this year that the child was due in the second two weeks of April, kicking off what the tabloid press called the Great Kate Wait.
Die-hard royal fans have camped outside the hospital, draped in Union Jack flags and waving festive banners. They have waited patiently on the sidewalk, hoping for a glimpse of the family. The Duke and Duchess sent them luxury pastries and a birthday cake at one point this week — a mark of gratitude for the fans' wish to share their joy.
"I told you it'd be a weekend baby," royal camper Kathy Martin said outside the Lindo Wing.
Town crier announces birth of new Princess pic.twitter.com/EmuaIsOpIK

— Victoria Murphy (@QueenVicMirror) May 2, 2015
Online, fans of the royals reacted with glee to the birth announcement.
Yayyyyyyyyyyy congrats!! real life princess pic.twitter.com/Hzas8s0tBc

— Luisa Zissman (@TheLuluLife) May 2, 2015
Yay! A little princess #RoyalBaby

— Zoë (@ZozeeBo) May 2, 2015
The world's media scrambled into place outside the hospital, waiting for news. The couple has been anxious to avoid the media circus that accompanied George's birth, and camera crews began setting up only after the announcement Saturday morning.
Kate will be residing in style. Each en-suite in the private maternity unit has Wifi, satellite television, a radio, a safe, a bedside phone and a refrigerator. The wing also offers a "comprehensive wine list should you wish to enjoy a glass of champagne and toast your baby's arrival."
Kate gets a 10 percent loyalty discount, as she had her first child there as well.
A suite now costs 6,570 pounds ($10,034) for a one-night stay with normal delivery —or 5,913 pound with Kate's discount. Doctors' fees are extra.
The couple has said that they don't know whether the baby will be a boy or a girl. A girl will hold her place in the line of succession, and would be the first to benefit from a change in the law which had always put men ahead of their sisters.
Betting ran heavily in favor of the child being a girl, despite the lack of any solid evidence to back that up, and those gamblers turned out to be winners.
All the top bets for the baby's name are for girls. Alice and Charlotte are the clear favorites, followed by Elizabeth, Victoria and Diana — all names with strong connections to royal tradition.
The monarchy has not welcomed a princess born this high up the line of succession for many years.
UK has 1st princess for 25 years. Girl not born this high up line of succession for nearly 65 years, since Princess Anne born. #RoyalBaby

— Jon Williams (@WilliamsJon) May 2, 2015
Princess Anne, Charles' sister, was born third in line in 1950. Princesses Beatrice and Eugenie, the daughters of Prince Andrew and Sarah Ferguson, were fifth and sixth in line at the time of their birth.
This story has been updated.