Bumps and unexpected holes across a park or large field can be dangerous territory for even naturally bipedal humans who are prone to an easily twisted ankle, but teaching a robot to traverse such a landscape is even harder.
Engineers from Oregon State University though took the ATRIAS bipedal robot for its first "walk in the park." Uphill and downhill, ATRIAS managed quite well. They even attacked it dodgeball-style with some rubber balls and it took the blows like a champ.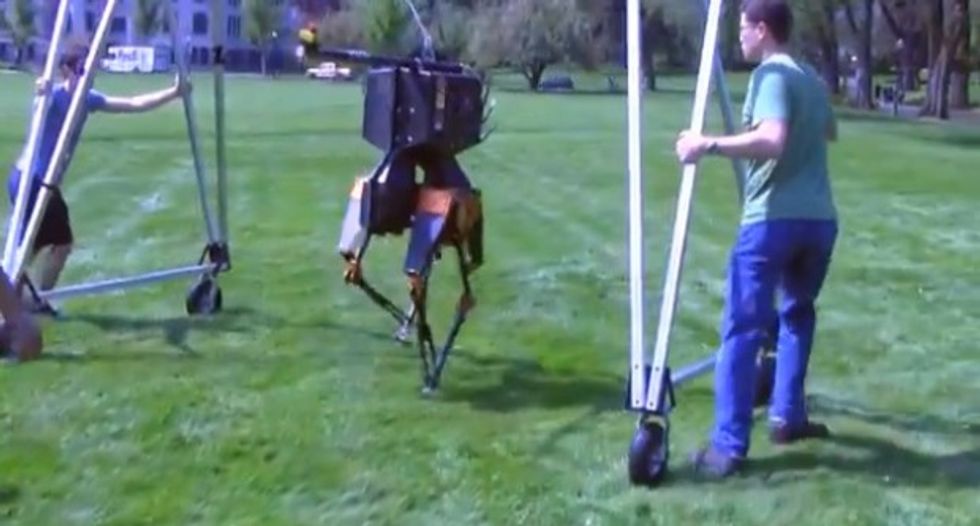 ATRIAS robot takes a walk in the park. (Image source: YouTube)
"Animals with legs sort of flow in the energy used, in which retained kinetic energy is just nudged by very efficient muscles and tendons to continue the movement once it has begun," Jonathan Hurst, Oregon State associate professor of mechanical engineering and director of the Dynamic Robotics Laboratory, said in a statement. "That's part of what's unique about ATRIAS – not just that it can walk, and will eventually run – but that it's doing so with animal-inspired fluidity of motion that is so efficient. This will ultimately allow a much wider range of robotic uses and potential than something which requires larger amounts of energy."
Watch the footage of the robot's walk in the park:
"It already appears that ATRIAS is three times more energy-efficient than any other human-sized bipedal robots," Christian Hubicki, a postdoctoral researcher, said. "And this was the first time we've been able to show its abilities outside, in a far more challenging environment than anything in a laboratory."
The harness the robot was tethered to for the test, the researchers noted, was only to catch it if it fell and save ATRIAS from costly damage.
The engineers created ATRIAS with a $4.7 million grant from the U.S. military's research arm, the Defense Advanced Research Projects Agency. The robot is being created to further research that could help people with prosthetic limbs or using an exoskeleton. It also has military and disaster response applications, the university's news release stated.
(H/T: Science Daily)