© 2023 Blaze Media LLC. All rights reserved.
Senate Minority Leader Harry Reid (D-Nev.) on Monday accused Republicans of opposing the emerging Iran nuclear agreement not for policy reasons, but because they simply want to hurt Democrats, and President Barack Obama in particular.
"Before this compromise even came to the floor, certain Senate Republicans were determined to destroy it," Reid said on the Senate floor. "A number of Senate Republicans are prioritizing presidential politics over national security. Others are simply trying to undermine President Obama."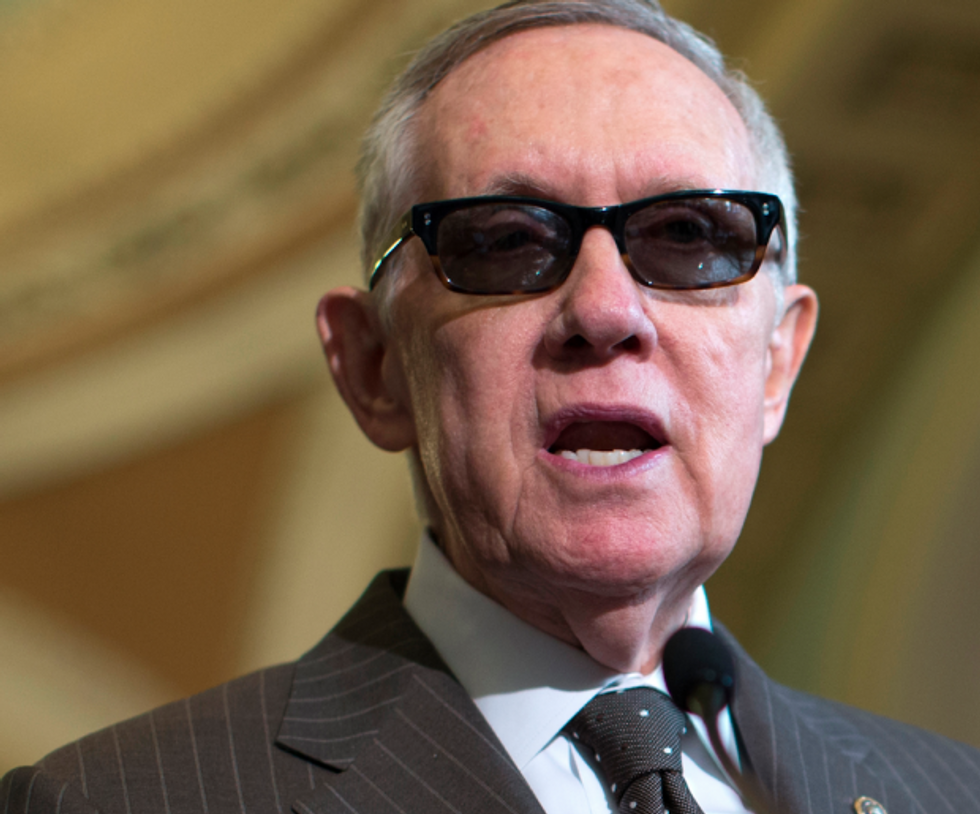 Senate Minority Leader Harry Reid (D-Nev.) said Monday that Republicans are only opposing the Iran nuclear deal to hurt Obama and other Democrats. Image: AP
Sen. Tom Cotton (R-Ark.), a prominent GOP voice against the Iran deal, has said he wants to require it to force Iran to completely close down all of its nuclear facilities, something that isn't currently required under the tentative deal announced in April. Cotton also wants it to include other provisions, such as language forcing Iran to end its hostility toward Israel, but U.S. officials have said the deal will only address nuclear issues.
Cotton and like-minded Republicans say these additions are needed to strengthen a deal that they now say lets Iran stay on a path toward a nuclear weapon, and lets it continue to sponsor terrorism. Cotton tried last week to force a vote on some of his ideas, which forced the Senate to delay its work on a bill giving Congress a chance to vote on a final agreement.
But Reid dismissed these arguments and said it all boils down to politics.
"The junior senator from Arkansas and other Republicans want to see any potential agreement with Iran crash and burn, even before we know what's in the final agreement," he said.
Reid said that even the offering of dozens of GOP amendments to that bill show that Republicans are trying to destroy the deal.
"The difference, as usual, is that Democrats want to be constructive, and Republicans continue to want to be destructive. Democrats want to pass this bipartisan bill right now, even as the junior senators from Arkansas, Florida and Texas and others work to ruin it," he said, referring to Sens. Cotton, Marco Rubio (R-Fla.) and Ted Cruz (R-Texas).
Want to leave a tip?
We answer to you. Help keep our content free of advertisers and big tech censorship by leaving a tip today.
more stories
Sign up for the Blaze newsletter
By signing up, you agree to our
Privacy Policy
and
Terms of Use
, and agree to receive content that may sometimes include advertisements. You may opt out at any time.