Mark Herman wanted to make a career move, but he didn't want to tell his employer that he was leaving. So he decided to write it on a cake instead.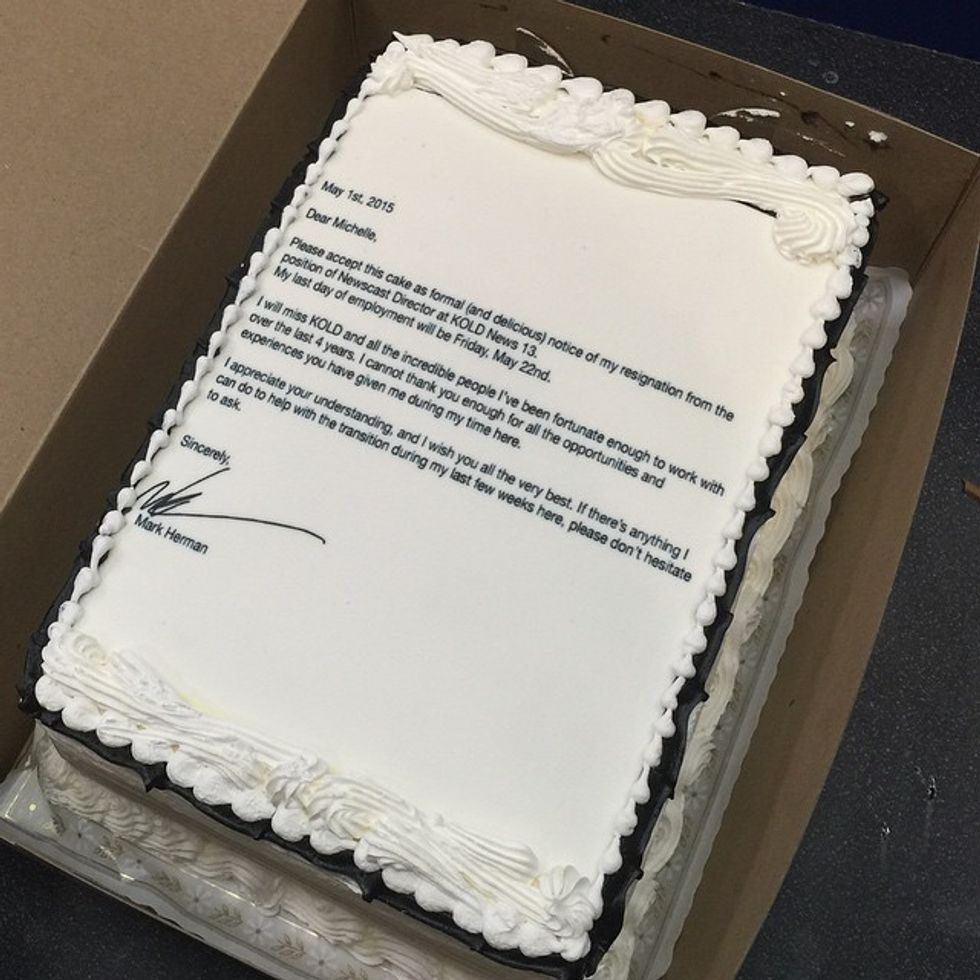 Image source: Imgur
Herman posted on Reddit Friday that he notified his employer, KOLD-TV in Tucson, Arizona, that he would no longer be working as the newscast director because he had taken a job in Nashville at WKRN-TV.
"I knew they'd be disappointed in my departure," Herman said. "So I decided that I should resign via cake –  not only because nobody can be mad or sad at a cake, but also because I'm a bit of a joker and a cake of resignation is pretty damn hilarious."
The "letter" on the white, strawberry-filled cake read:
Dear Michelle,

Please accept this cake as formal (and delicious) notice of my resignation from the position of newscast director News 13. My last day of employment will be Friday, May 22.

I will miss KOLD and all the incredible people I've been fortunate enough to work with over the last 4 years. I cannot think you enough for all the opportunities and experiences you have given to me during my time here.

I appreciate your understanding and I wish you all the very best. If there's anything I can do to help with the transition during my last few weeks here, please don't hesitate to ask.

Sincerely,

Mark Herman
So how did Herman's boss take the news?
"She laughed and said, 'No way! You crack me up!" Herman told the Huffington Post.
Herman said his boss took the cake to a news meeting and made the announcement to everyone. He said the cake helped make the bittersweet news a little bit more...well, sweet.
"I'm really lucky to have such good bosses who have a sense of humor," Herman told the New York Daily News. "There are no hard feelings on either side. They are sad to see me go and I am sad as well."
This post has been updated.
(H/T: Huffington Post)
–
Follow Jon Street (@JonStreet) on Twitter