LONDON (AP) -- Britain's newborn princess has been named Charlotte Elizabeth Diana - seen as a tribute to Prince William's parents and grandmother.
The princess is the second child of Prince William and his wife Kate, the Duchess of Cambridge. The baby will be known as Her Royal Highness Princess Charlotte of Cambridge, royal officials said Monday.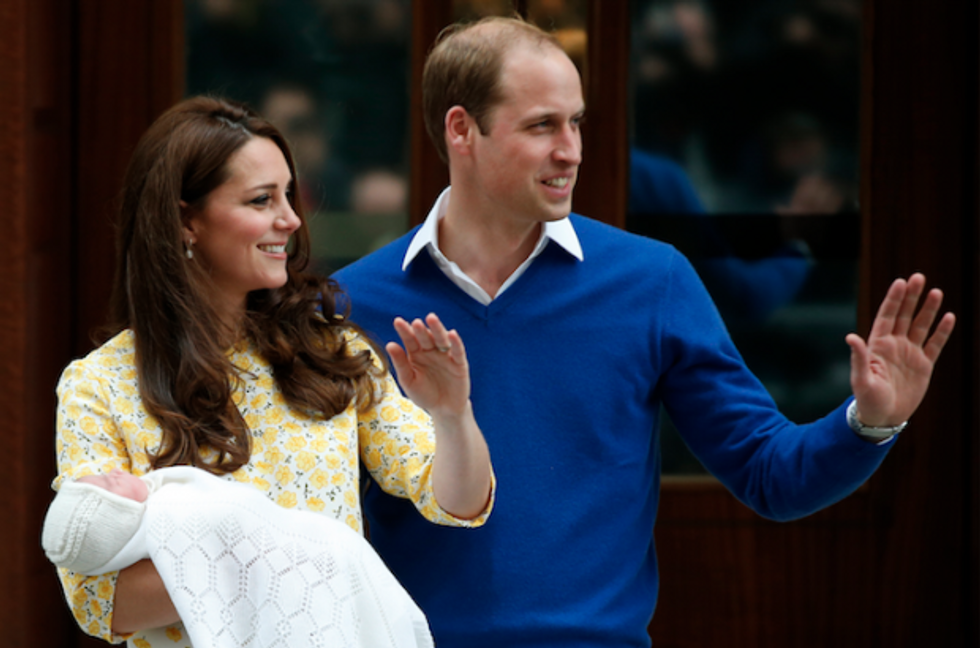 Britain's Prince William, right, and Kate, Duchess of Cambridge, pose for the media with their newborn daughter outside St. Mary's Hospital's exclusive Lindo Wing, London, Saturday, May 2, 2015. The Duchess gave birth to the princess on Saturday morning. (AP Photo/Alastair Grant)
Charlotte, the feminine form of Charles, appears to be a nod to the newborn's grandfather, Prince Charles. The middle names honor Queen Elizabeth II, the infant's 89-year-old great-grandmother, and the late Princess Diana, William's mother.
The princess is fourth in line to the throne after Charles, William and her older brother Prince George.
William and Kate introduced the baby princess to the world Saturday evening, just 12 hours after Kate checked into a London hospital to give birth. The baby weighed in at 8 pounds, 3 ounces (3.7 kilograms).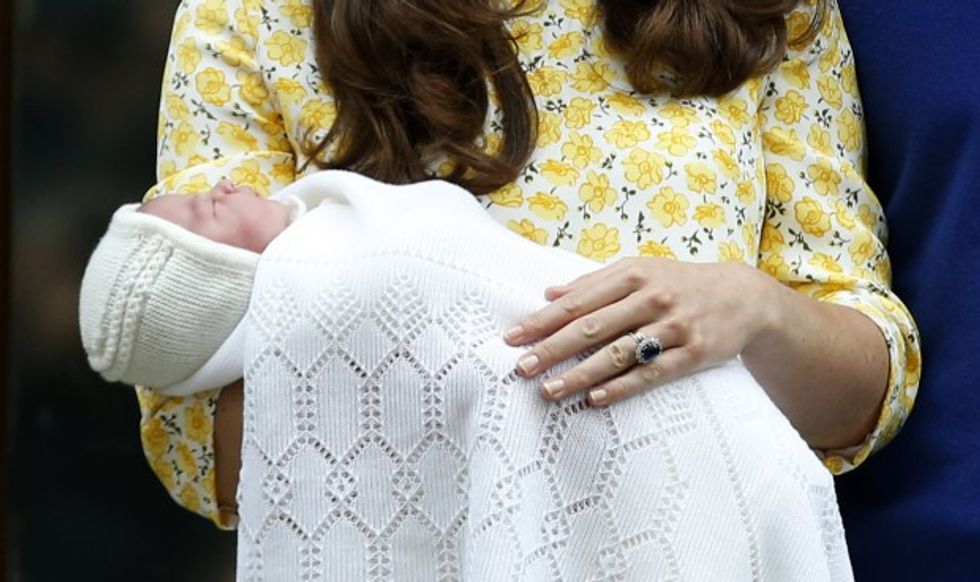 Kate, Duchess of Cambridge, holds her newborn daughter as she stands alongside Britain's Prince William outside St. Mary's Hospital's exclusive Lindo Wing, London, Saturday, May 2, 2015. (AP Photo/Alastair Grant)
The couple had kept the world guessing about the name until after both sets of grandparents got a chance to visit Kensington Palace on Sunday to meet their granddaughter.
Bookmakers had taken huge amounts of bets on the name, and Charlotte had been a favorite choice, a front-runner alongside other guesses like Alice and Victoria.
Earlier Monday, Westminster Abbey's bells pealed and gun salutes were fired across London in honor of the newborn princess. In a display of traditional pageantry, dozens of deafening volleys were fired from Hyde Park and the Tower of London to mark the occasion.
Royals traditionally look to their family tree for name ideas, and Britain's royal history has seen several Charlottes. Queen Charlotte, the wife of George III, was a keen botanist and founded London's Kew Gardens. Born in 1744, the queen had 15 children.
George IV also named his only child Charlotte in 1796, but she died in childbirth at the age of 21 in 1817, leading to a mass outpouring of grief in Britain.